Washington Capitals Trade Speculation: Is Rick Nash a Target for the Caps?
February 17, 2012

Christian Petersen/Getty Images
Average. That is the one word that can be used to describe the 2011/12 Washington Capitals season. They have been nowhere near their best, and with the team currently sitting in ninth place in the Eastern Conference, a playoff spot is no longer as much of a certainty as it has been in recent years.
Caps fans want to cling on to their team from a few seasons ago, where adversity was brushed aside as easily as anything. That isn't the case anymore.
This team needs a shakeup, and needs it now.
That shakeup would come in the form of Columbus Blue Jackets superstar, Rick Nash.
The first overall pick from the 2002 NHL Entry Draft, Nash has reached 50 points all but one time in his career. Through 57 games of the 2011/12 season, the Brampton, Ontario native has 18 goals and 21 assists, numbers that would place him at third among Caps players behind Alex Ovechkin and Nicklas Bäckström.
Nash is a prototypical power forward who brings grit, strength and a drive-to-the-net and get-in-your-face game. The Columbus captain also brings great leadership skills and good values to the rink, both qualities that would be heavily appreciated in the Capitals' locker room.
The right-winger would step onto the Caps' first-line alongside Ovechkin and Bäckström, to create a formidable unit that would immediately step in as one of the league's elite.
He won't be a free agent until the end of the 2017/18 season.
Perhaps, more than any other potential trade target for the Caps, Rick Nash would cost a fortune. The Blue Jackets, who sit at dead last in the NHL standings, will be looking to add enough young talent to one day replace their biggest offensive threat in Nash.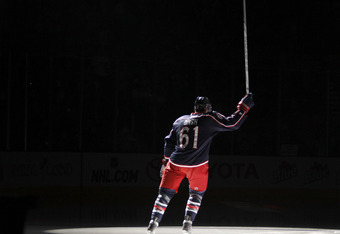 Justin K. Aller/Getty Images
They would undoubtedly demand a package including the Colorado Avalanche's first round pick (acquired by the Caps in a summer trade involving Semyon Varlamov), a top young prospect likely being a choice between Cody Eakin and Braden Holtby, and a talented young roster player, with Karl Alzner, John Carlson, Marcus Johansson, or Dmitry Orlov as options.
The Caps would also need to make a number of moves to make salary cap room for Nash, who carries a $7,800,000 cap hit.
A heavy price to pay for the Capitals long-term to say the least, but consider the fact that Nash could be the key to bringing a cup to Washington, and he could well be worth the price.
Follow Jake Ware on Twitter at @JacobWare95