Miami Marlins: Five Alternate Color Schemes That Would Have Been Preferred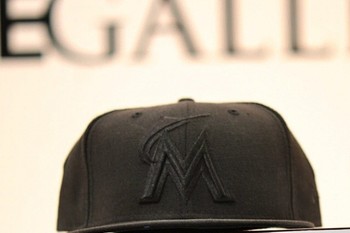 Miami Marlins "Back in Black" design (Courtesy of Shoe Gallery)
Still not feeling the new color scheme for the Miami Marlins?
Well there is something you can do get past the black, orange, yellow and sky blue color scheme the Marlins unveiled in early November.
Shoe Gallery, located in Downtown Miami, has unveiled a series of alternate caps if you feel that you can't wear the Marlins' new digs with pride.
Since the "Back in Black" cap really couldn't be an actual game hat because it has no colors, you can say would be the sixth choice among the five you are about to see.
I've always thought the logo for the Marlins had great potential but Loria and company spilled the wrong coat of paint on it and gave it the controversy it still has and will have until they decide to change course in the future.
Trust me, they will, look how long the classic teal uniforms lasted and yet diehards still wanted teal, don't worry we have a design that could interest you here. I put the over/under at six years, but for now lets see what the Marlins missed out on.
Teal and Orange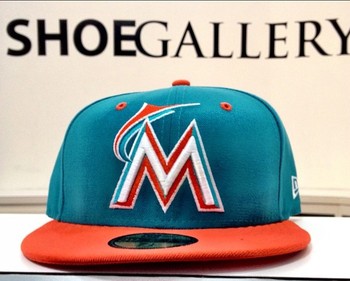 Shoe Gallery dubs this as the Miami Dolphins' version of the Miami Marlins' cap.
Personally, I'm not feeling this scheme as much as the current color scheme but I'm pretty sure it would receive love because its simple and it keeps ties to its past and pays homage to the neighboring franchise the Dolphins, with whom they shared a home for nearly 20 years.
Rating: 7/10
Black-White-Gray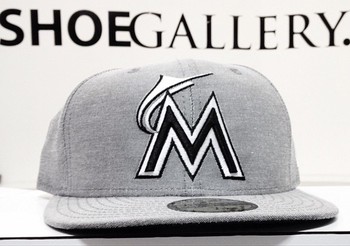 In an ordinary world, most Marlins are this particular color scheme but in Jeffrey Loria's world, not so much.
This color scheme would have been fairly simple and unique. It would have been one of the only hats in MLB to have such a light tone because most MLB hats are solid, dark colors. The logo really stands out here and really shows how much potential it had before the paint spilled on it.
Rating: 8/10
Dark Blue and White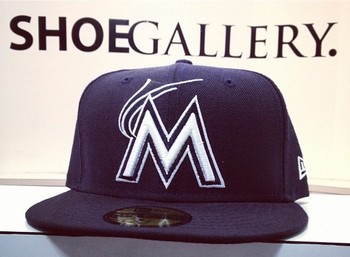 Shoe Gallery considers this a New York Yankees' version of the Miami Marlins' logo.
You'd think after Jeffrey Loria went on a managerial binge over the years, kept a grooming policy in place and went on a spending spree this offseason that he'd probably transform the Marlins into the Yankees of the National League.
After all they colored their seats blue too but in all honestly this would have been a great color scheme. It's simple, traditional and no one can complain about it being an eyesore.
Rating: 9.5/10
Green and Orange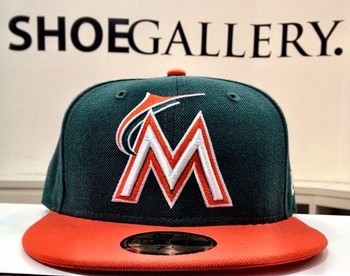 I would have loved if the Marlins had gone with the Miami Hurricanes-ladin color scheme.
Sure it would have been a complete ripoff but if you're playing at the site of the Orange Bowl, on the former turf of the Hurricanes and Dolphins, this would have been the perfect way to thank them while looking great.
It ,without a doubt, should be the color scheme if the team makes any change in the future.
Rating: 10/10
Teal and Black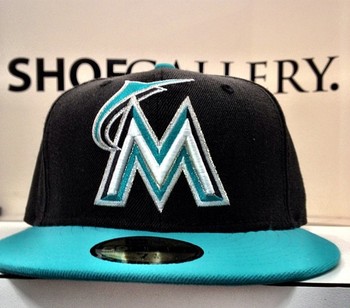 If in the future you don't switch to orange and green, well, this would have to do.
The Marlins going to a teal and black color scheme would have kept the tradition intact, instead of having an array of colors on the uniforms, you could have the teal, which fans of the franchise would have loved.
Loria felt teal was old-fashioned and a color prominent in the 80s during the Miami Vice days. But fans, even young ones, would appreciate if this was the color scheme.
There is no denying that this one would be loved by everyone and no controversy would be heard at all.
Rating: 10/10
Keep Reading

Miami Marlins: Like this team?