College Basketball's Top 25 Programs…If You Want to Make Millions in the NBA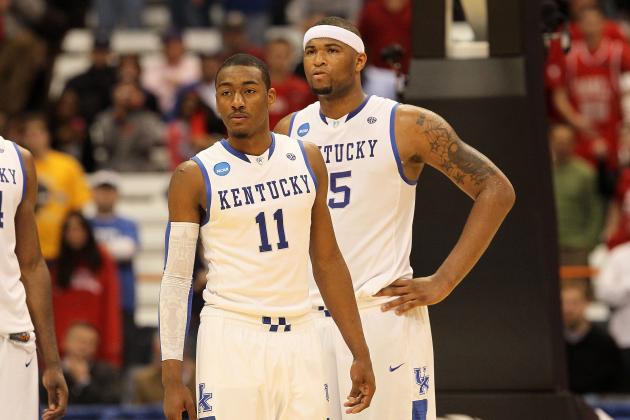 Jim McIsaac/Getty Images

The argument over which is the best basketball school in the nation may never be decided, but an interesting study has been performed to determine which has had the best talent.
A recent Wall Street Journal study listed how much money each school in America's alumni have earned in the NBA since 1985. The year was chosen because 1985 marked the expansion of the NCAA tournament to 64 teams.
In the study, every player who entered the NBA during or after 1985 was included, so missing would be likes of Michael Jordan, Magic Johnson and Larry Bird.
The list produced some predictable results, but a few surprises from non-major conferences made their way in.
Notable omissions include Ohio State, Illinois, Texas, Notre Dame and Indiana.
Coming in dead last at No. 269 was the Lebanon Valley College Dutchmen, with Andy Panko earning $5,000 for his one minute of play in 2001, just in case you were wondering.
With that out of the way, on with the top 25.
Begin Slideshow

»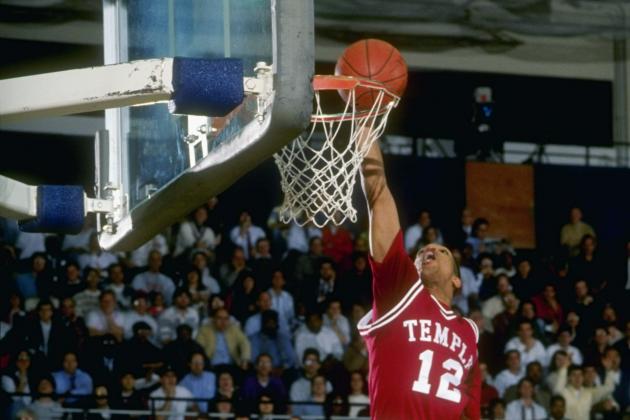 Doug Pensinger/Getty Images
Mark Macon throws one down
Combined Salaries: $236,517,395
Top two earners: Eddie Jones, Aaron McKie
The Temple Owls edged out Utah by $11 million for the No. 25 spot. Other notables include Mark Macon and Pepe Sanchez, neither of which made a big impact in the NBA, but the money is guaranteed, so it doesn't really matter.
Temple has qualified for the NCAA tournament 19 times since 1985 and made it to five Elite Eights during that span, most recently in 2001.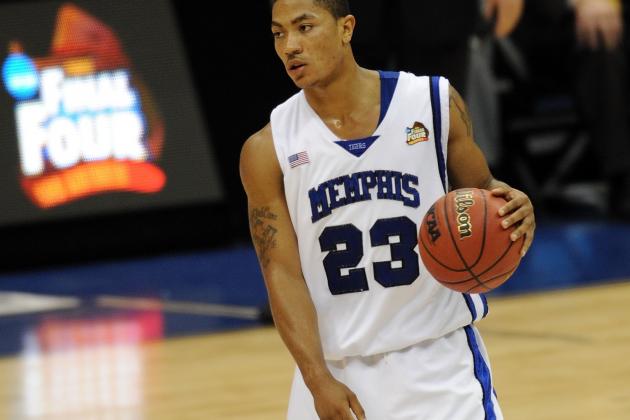 Ronald Martinez/Getty Images
Derrick Rose at the Fianl Four
Combined Salaries: $261,103,508
Top two earners: Penny Hardaway, Lorenzen Wright
While Memphis may not be happy with vacating its 2008 NCAA runner-up status, it can thank John Calipari for this No. 24 ranking.
Coach Cal placed a handful of Tigers in the NBA, but none bigger than the reigning NBA MVP, Chicago Bull Derrick Rose, who will supplant Hardaway and Wright once it's time to renew his contract.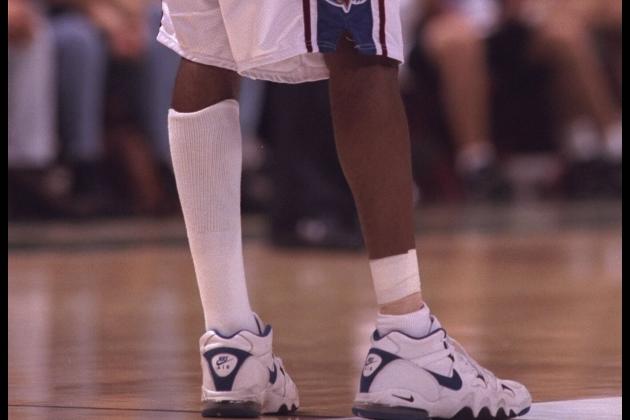 Jed Jacobsohn/Getty Images
Remember this fashion statement?
Combined Salaries: $270,966,890
Top two earners: Tim Thomas, Kerry Kittles
Villanova's NBA talents may not be household names, save for Kittles, but its alumni's blue-collar efforts makes them desirables. The Wildcats have had 16 of its players drafted since 1985, which also happens to be the year Villanova pulled off one of the biggest upsets in NCAA tournament history, with its shocking win over Georgetown in the final.
Other standouts include Ed Pinckney and Kyle Lowry.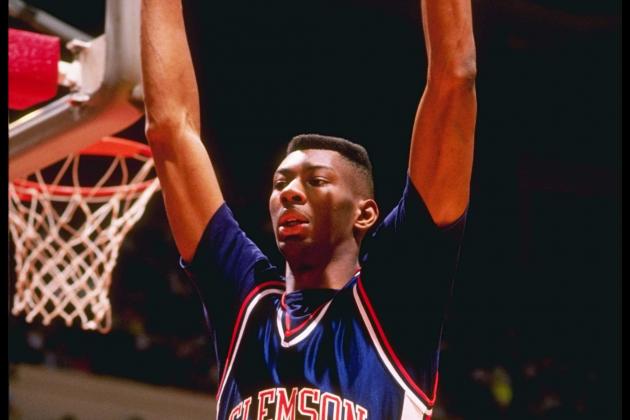 Stephen Dunn/Getty Images
Elden Campbell in all his glory.
Combined Salaries: $276,686,450
Top two earners: Dale Davis, Elden Campbell
One word comes to mind when ruminating about Clemson Tigers in the NBA: physical.
Campbell, Davis, Horace Grant and even Trevor Booker send a no-nonsense message that when you draft a Tiger, you're getting a ham-and-egger.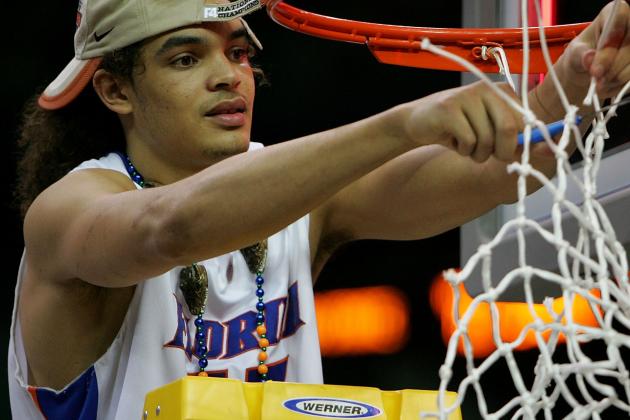 Andy Lyons/Getty Images
Joakim Noah cut down the nets two times in his Gator career
Combined Salaries: $279,035,720
Top two earners: Mike Miller, Jason Williams
Florida's back-to-back NCAA Championships in 2006 and 2007 moved the Gators from under the radar to perennial NCAA contenders. The Gators have made four Final Fours since 1994, lost to Michigan State in 2000 and became the first and only team to win two championships with the same starting lineup in '06 and '07.
That kind of success is going to produce some NBA talent. Notables include Matt Bonner, Udonis Haslem, Al Horford, Miller and Joakim Noah, among others.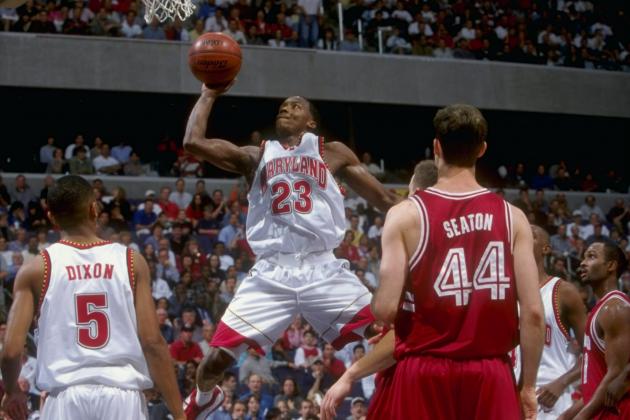 Jamie Squire/Getty Images
Steve Francis in action
Combined Salaries: $299,107,191
Top two earners: Steve Francis, Joe Smith
The Maryland Terrapins have been a national force at times and mediocre at others. In 2002, Juan Dixon led the Terps to a national title, and the school has enjoyed 17 tournament appearances.
While Francis and Smith lead the money board, it's worth mentioning that Len Bias had the potential to eclipse any numbers had he not died two days after being selected by the Boston Celtics with the second overall pick.
21 Terrapins have been drafted to the NBA since 1985. Notables include Smith, Francis, Walt Williams, Dixon, Chris Wilcox and, surprisingly enough, Steve Blake.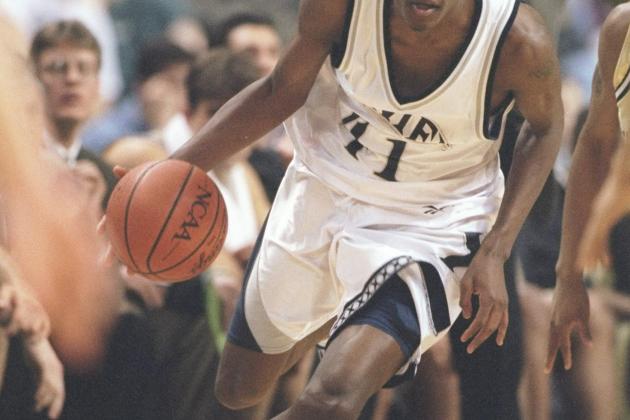 Jonathan Daniel/Getty Images
James Posey drives the lane.
Combined Salaries: $301,886,181
Top two earners: Brian Grant, Tyrone Hill
Just breaching the $300 million mark, the Xavier Musketeers have been the mouse that roared. Just as impressive as Xavier's position on this list is a glance at the coaches who have patrolled its sidelines such as Pete Gillen, Skip Prosser and Thad Matta.
Others joining Grant and Hill in NBA's ranks include James Posey, David West and Jordan Crawford.
Craig Jones/Getty Images

Combined Salaries: $305,406,757
Top two earners: Kenyon Martin, Nick Van Exel
The Bearcats have had a bit of a rough go since Bob Huggins was replaced in 2007, but the program seems to be back on track.
The New Jersey Nets chose Martin first overall in the 2000 NBA draft. Five picks later, the Atlanta Hawks picked his teammate, DerMarr Johnson.
Of note is Corie Blount, who was a first-round pick of the Chicago Bulls in 1993, not for his play, but for living up to his last name in 2008 by getting arrested for possession of 29 pounds of marijuana.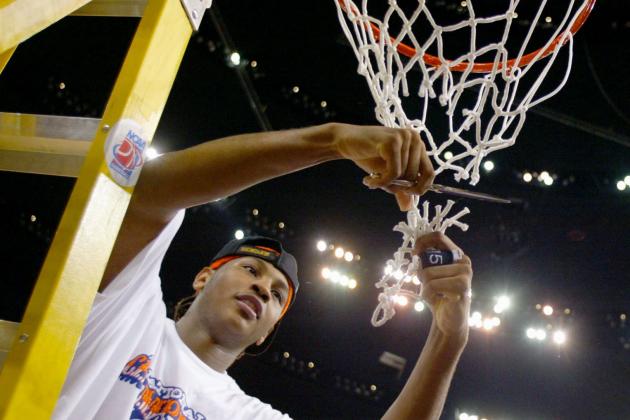 Craig Jones/Getty Images
Carmelo Anthony gets his piece of the championship net.
Combined Salaries: $344,036,690
Top two earners: Derrick Coleman, Carmelo Anthony
With all the players who have played for Jim Boeheim over the years, it's hard to believe Syracuse isn't higher on the list. It could mean that Boeheim did more with less or that being dominant in college doesn't always translate to the pros or any number of meanings.
The New Jersey Nets took Derrick Coleman with the first overall pick in the 1990 draft and amazingly, Coleman found a way to consistently get paid.
Notable Syracuse entries to go with Coleman and Anthony include Rony Seikaly, Sherman Douglas, Hakim Warrick and Etan Thomas.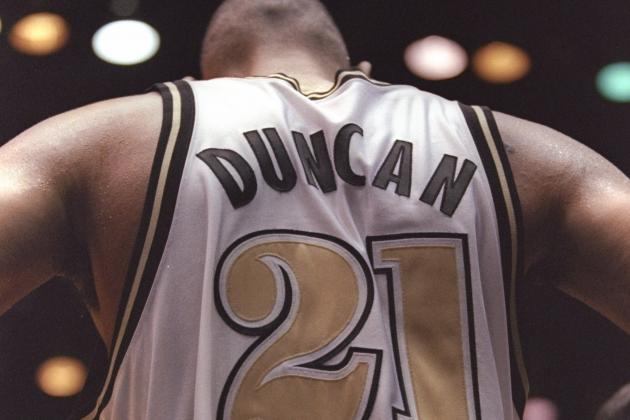 Brian Bahr/Getty Images
Duncan=dominance
Combined Salaries: $348,249,657
Top two earners: Tim Duncan, Chris Paul
The Demon Deacons may not be the caliber of its other North Carolina conference mates, but when it churns out a star, it really churns out a star. Most schools dream of having a Duncan or a Paul in a lifetime. Wake Forest had both within seven years of each other.
Also of note: Muggsy Bogues and Josh Howard.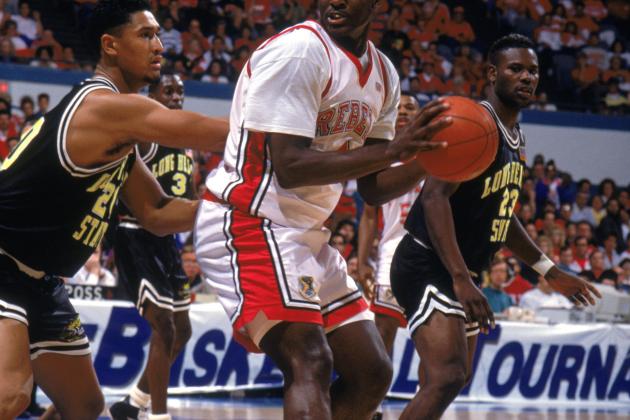 Ken Levine/Getty Images
Grandmama preparing to wreak havoc
Combined Salaries: $353,843,187
Top two earners: Shawn Marion, Larry Johnson
The Runnin' Rebels are another team that fell on hard times but are starting to break out once again, as indicated by UNLV's upset win over then No. 1 UNC in the early season.
UNLV had four players drafted in 1991, with three (Johnson, Stacey Augmon and Greg Anthony) in the first round and George Ackles as the second pick in the second round.
Armon Gilliam was pretty good in his own right, drafted second overall in 1987 by the Phoenix Suns.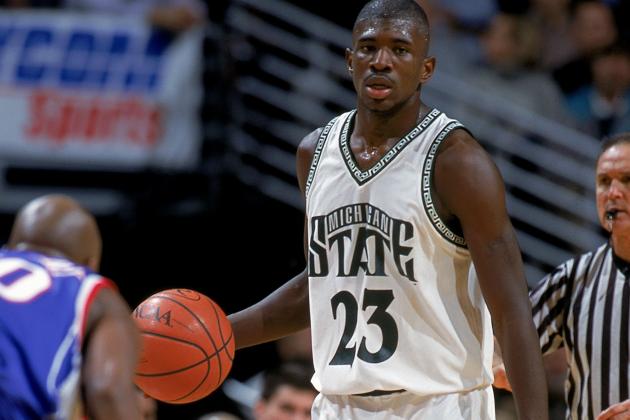 Jonathan Daniel/Getty Images

Combined Salaries: $389,190,509
Top two earners: Zach Randolph, Jason Richardson
Michigan State is odd because the players you thought might have a chance to be pretty good, such as Mateen Cleaves, didn't pan out, yet Eric Snow played in the NBA for 13 years.
There have been many Spartan greats since 1985, but Magic Johnson, Scott Skiles and Steve Smith stand a little higher than the rest, so to speak.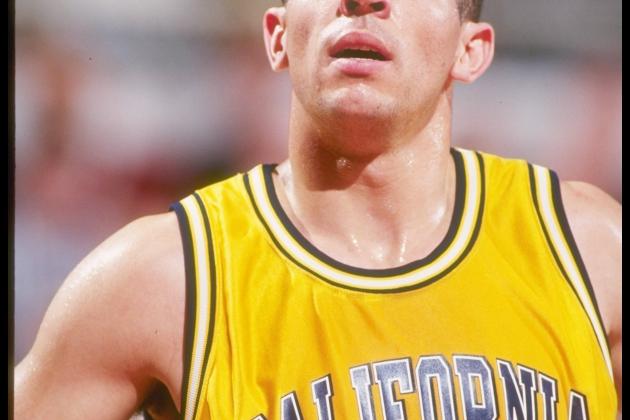 Otto Greule Jr/Getty Images
This Kidd guy wasn't so bad
Combined Salaries: $404,240,093
Top two earners: Jason Kidd, Shareef Abdur-Rahim
All I can say about the Golden Bears is that Jason Kidd has been so good that he made you forget that there was another awesome guard out of Cal who was drafted just a few years before him.
Do you remember who he was?
You get a point if you answered Kevin Johnson, who also happens to be the current mayor of Sacramento.
Getty Images/Getty Images
Chris Jackson was a force for LSU
Combined Salaries: $449,204,234
Top two earners: Shaquille O'Neal, Stromile Swift
LSU has had its share of stars, but, since 1985, none have been, nor will they ever be bigger than Shaq. With that being said, LSU had some pretty darn good talent right before "The Big Aristotle."
Stanley Roberts was pretty good and Chris Jackson, who later became Mahmoud Abdul-Rauf, was as unstoppable as anyone I've seen in college basketball.
Anyone who knows college hoops knows I'm not overstating his talent.
America was not ready for Abdul-Rauf's conversion to Islam and shunned him when he refused to honor the national anthem. Abdul-Rauf has spent the last 10 years playing overseas on and off and currently plays in Japan.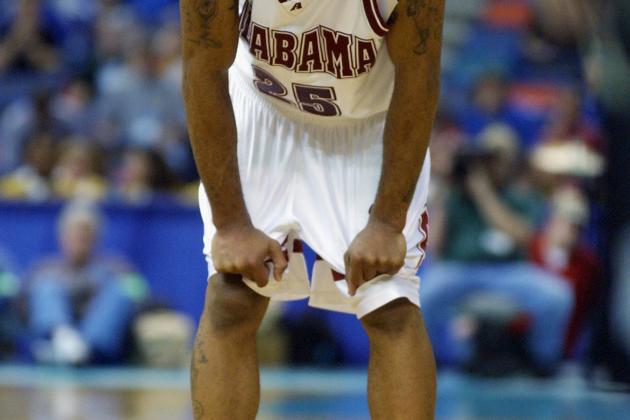 Doug Pensinger/Getty Images
Mo Williams takes a breather
Combined Salaries: $462,571,154
Top two earners: Antonio McDyess, Latrell Sprewell
There's really nothing that special about Alabama that it would appear so high on this list, but a look at its talent and it's understandable.
Robert Horry, McDyess, Sprewell, Gerald Wallace and Mo Williams have all exclaimed, "Roll Tide!"
Tom Hauck/Getty Images
Baron Davis looks funny without the beard, doesn't he?
Combined Salaries: $496,856,577
Top two earners: Baron Davis, Reggie Miller
Take your pick with UCLA. From Miller to journeyman Jack Haley, Bruins have made their mark in the NBA.
Just some of the more recent Bruins include Russell Westbrook, Kevin Love, Jordan Farmar and Trevor Ariza.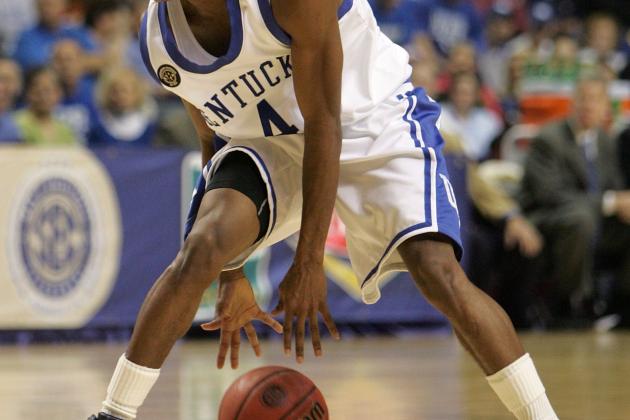 Andy Lyons/Getty Images
Rondo could ball back then, too.
Combined Salaries: $553,592,560
Top two earners: Antoine Walker, Jamal Mashburn
Kentucky is due to skyrocket up this list considering it has donated six first-rounders and two second-rounders in just the past two years, with more to come this year.
There are so many players from Kentucky that I only have two thoughts.
First, I wonder where Rajon Rondo will rank in all-time players to come out of Kentucky when his career is done.
Second, how in the #$%& did Antoine Walker make more money than any other Wildcat and still manage to blow it all?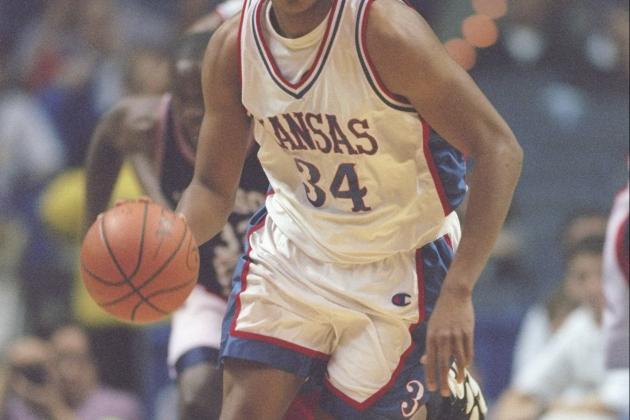 Stephen Dunn/Getty Images
A more spry Paul Pierce runs the court
Combined Salaries: $553,601,581
Top two earners: Paul Pierce, Raef LaFrentz
Edging out Kentucky by just under $10,000 is the Kansas Jayhawks. Kansas has placed an amazing 32 players in the NBA since 1985—most recently the Morris twins, Markieff and Marcus.
Notables include Danny Manning, Greg Ostertag, Pierce, Drew Gooden, Kirk Hinrich and many, many more.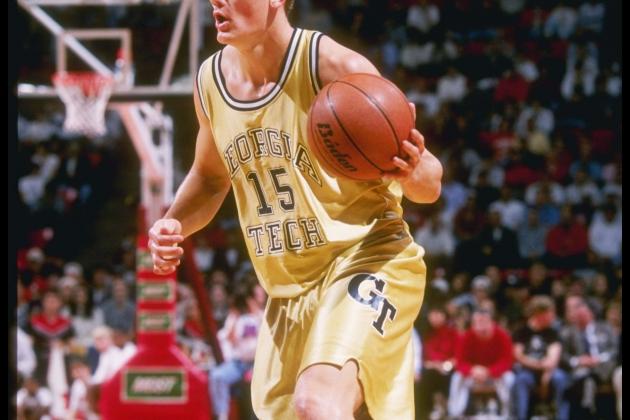 Doug Pensinger/Getty Images
Matt Harpring contemplates his next move
Combined Salaries: $567,393,499
Top two earners: Stephon Marbury, Chris Bosh
The Yellow Jackets have been steadily producing NBA talent for a long time, but they've been very good at supplying guards such as Marbury, Kenny Anderson and the tireless Mark Price.
John Salley, Dennis Scott and Matt Harpring were no slouches either.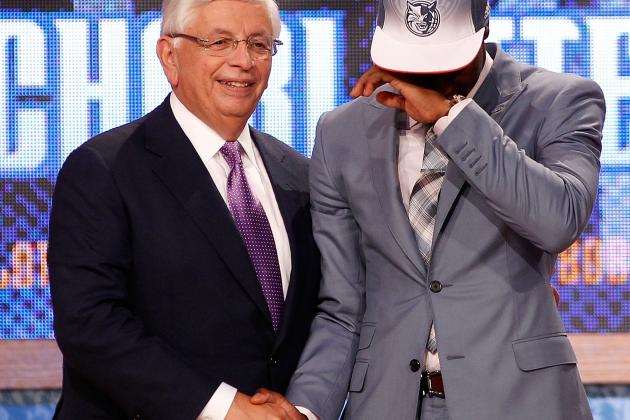 Mike Stobe/Getty Images
Kemba Walker wipes away his tears
Combined Salaries: $678,809,430
Top two earners: Ray Allen, Richard Hamilton
Taking a $100 million leap over Georgia Tech is UConn. The Huskies won NCAA titles in 1999, 2004 and 2011 and have managed to steadily create NBA talent for years.
Besides Allen and Hamilton, UConn has offered Caron Butler, Ben Gordon, Donyell Marshall, Emeka Okafor and Cliff Robinson.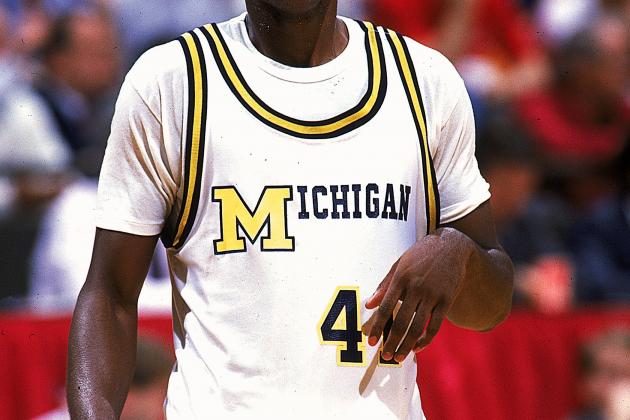 Getty Images/Getty Images
Glen Rice wasn't so bad
Combined Salaries: $715,449,222
Top two earners: Chris Webber, Juwan Howard
With all the talent of the Fab Five, the big joke used to be whether the players would make more money at Michigan or the NBA.
It would seem the NBA was the right choice for the likes of Webber, Howard and Jalen Rose.
Not to be forgotten was a guy by the name of Glen Rice, who led the Wolverines to the NCAA title in 1989 against Seton Hall.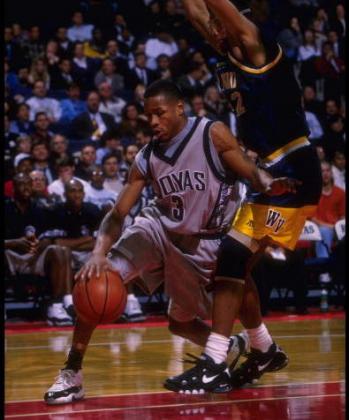 Doug Pensinger/Getty Images
Why does Iverson at Georgetown feel like it was 50 years ago?
Combined Salaries: $727,262,515
Top two earners: Allen Iverson, Alonzo Mourning
Patrick Ewing is the guy who really got the ball rolling. He was the first ever lottery pick in the NBA draft, which created a murmur that the draft lottery was fixed so that the Knicks would get Ewing.
Dikembe Mutombo, Mourning and Iverson are some of the other stars. Guys like Jeff Green, Greg Monroe and Roy Hibbert are looking to keep the Hoya tradition alive.
The more I look at that number, I realize that Georgetown did not have that many superstars come out. Those guys at the top most certainly brought the curve up.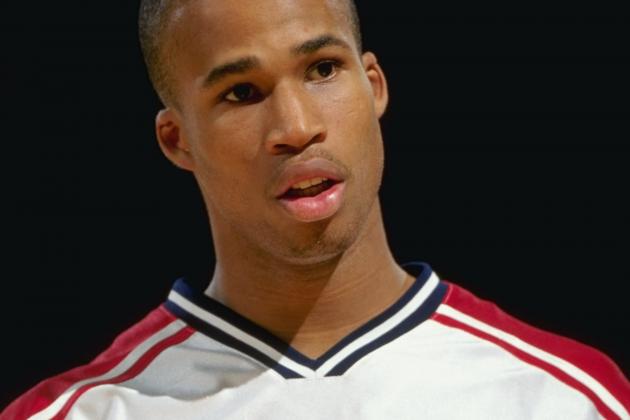 Otto Greule Jr/Getty Images
A younger Richard Jefferson
Combined Salaries: $737,802,141
Top two earners: Mike Bibby, Gilbert Arenas
Looking back on Arizona's last 30 years, it's hard to believe they didn't win more titles that just that one in 1997.
The guard talent alone is a virtual NBA All-Star team, but the Wildcats are so much more.
The list includes Steve Kerr (who, by the way, was a dagger at Arizona), Sean Elliott, Damon Stoudamire, Bibby, Jason Terry, Richard Jefferson and Andre Iguodala—and that's just scratching the surface.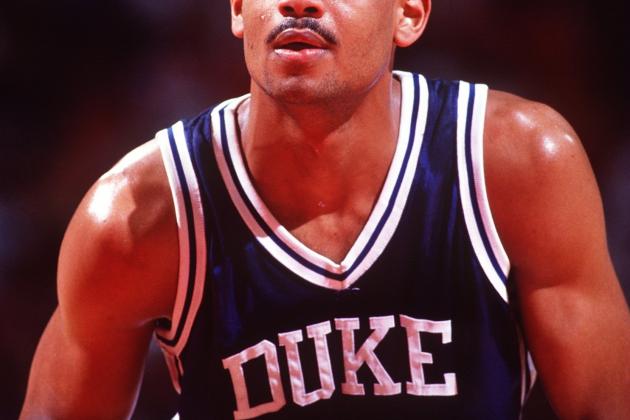 Doug Pensinger/Getty Images
Grant Hill looking from the charity stripe
Combined Salaries: $808,900,881
Top two earners: Grant Hill, Elton Brand
I won't even waste your time explaining anything about Duke. The Blue Devils are a NCAA machine and a NBA factory.
I wouldn't even know where to start in listing Duke players—maybe Hill or Brand, perhaps Carlos Boozer...even Mike Dunleavy, Jr., a forgotten Dukie in the grand scheme of things, has been a pretty productive pro.
Yes, all is well at Duke and probably will be forever.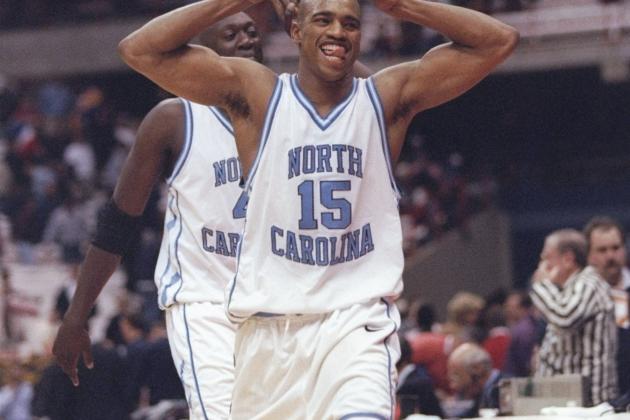 Jed Jacobsohn/Getty Images
Befor Lin-sanity there was Vin-sanity
Combined Salaries: $852,902,514
Top two earners: Rasheed Wallace, Vince Carter
Of course it was UNC. As I mentioned in the beginning, this is pretty astounding considering Jordan, Worthy and others are not included.
Since 1985, 35 Tar Heels have gone on to the greener pastures of the NBA. You know all the big ones, so I'll address some of the forgotten one.
There's Brad Daugherty, who was a dominant force until injuries shortened his career. Kenny Smith wore Carolina blue as well as anyone.
J.R. Reid Charlotte Hornets jerseys used to sell like hotcakes.
Even Hubert Davis was a Tar Heel. Come to think of it, Davis, Smith and Daugherty have all gone on to broadcasting careers. Perhaps Syracuse needs to look out for the new broadcasting school in town.
I wonder what Eric Montross is up to.