NFL Combine 2012: Devon Still and More Players That Need Huge Showing
February 17, 2012

Justin K. Aller/Getty Images
The NFL draft process is a sprint of just a few events with the combine being the biggest of them all. Players will be thrown into the Lucas Oil stadium waters and forced to sink or swim, and Devon Still is just one of many that needs a tremendous showing. 
There will be amazing feats of speed in the 40-yard dash and some remarkable shows of strength in the bench press. 
The exciting "gauntlet" drill should be intriguing and there is always the vertical leap to waste some time. Through it all, a bunch of exercises that fans over-hype is getting overvalued by scouts.
Forget that running a straight 40 yards hardly gets used in the actual games or that the bench press proves nothing about skill, scouts will put great importance on what goes down next week.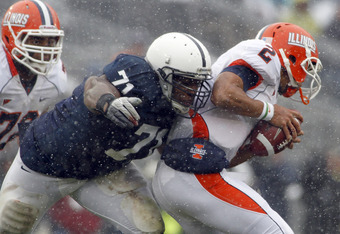 Justin K. Aller/Getty Images
That gives the following players a perfect opportunity to have their bigger issues forgotten with a victory over several days in Indy. 
Devon Still
The book on Still is all over the place. There is the obvious flattering notes that he is quick and explosive, a player that would be a welcomed addition to any front. 
Then there are those that see an inconsistent nightmare waiting to happen. Still has been known to take plays off and that is the last thing you want from a defensive end. 
That is the position that you want to feature a player that is a beast on each and every play. With a showing of his physical traits, most scouts will err on the side of taking him in the first round. 
Luke Kuechly
This is a thin year for linebackers which makes it perfect for Kuechly to find himself well into the first round, possibly even a top-15 pick. 
There continues to be questions on his speed and size ahead of the combine. If he blows people away with his power and speed numbers, the first round is his to dominate. 
Ryan Tannehill
Some have Tannehill rising as high as the first round, I am not among them. He is far too raw for my taste to land that high. 
However, a strong combine coupled with an amazing pro day should put all of that to rest. He could surprise with a day one splash in the first round. 
Lamar Miller
I like Miller the more the process continues, but questions on his second level continue. He will quiet any talk about acceleration when he shows how dominant he can be with his top speed in the 40-yard dash.