College Basketball: Rematch of Ranked Big-Ten Teams Take the Spotlight Thursday
February 16, 2012

Joe Robbins/Getty Images
For those looking for a defensive battle, they will be pleased by the game headlining tonight's college basketball action.
The No.1 defensive scoring team and 17th-ranked Wisconsin Badgers travel to East Lansing, Michigan to take on the 12th-best scoring defense and eighth-ranked Michigan State Spartans.
At the same time, the 21st-ranked Florida State Seminoles will look to avoid a letdown against the Virginia Tech Hokies.
For the nightcap, the North Carolina State Wolfpack will head to Cameron Indoor Stadium to try to pick up a résumé-boosting win against the fourth-ranked Duke Blue Devils.
The other night games will showcase teams looking to keep their hopes alive for the tournament as the Mississippi Rebels host the Vanderbilt Commodores.
And finally, the "Backyard Brawl" will be in its last edition as a Big East game when the Pittsburgh Panthers take on the West Virginia Mountaineers.
It all starts off in what will be a struggle for points between the Badgers and the Spartans.
Two to Focus On
No. 17 Wisconsin Badgers (19-6, 8-4) at No. 8 Michigan State Spartans – 7:00 ET ESPN
Key to the Game: Putting the ball through the basket
Mike Ehrmann/Getty Images
When these two played in Wisconsin, it was a great battle that saw the Spartans edge out the Badgers in overtime.
And not too shockingly, these teams only scored 50 points each at the end of regulation.
Defense is obviously both of these teams' specialties. However, the winner of this game is going to be whoever can overcome their weaknesses and make a few shots.
Tom Izzo is an excellent coach and one of the best in the game today. Due to this fact, it's shocking to me that even with the limited offensive talent they have—specifically their inability to hit the three—they are so average on offense. Izzo has over 150 offensive sets, each with a counter to it. Yet this team has been very sporadic in producing points.
Also, the Spartans are only 31-30 in the last five seasons against ranked opponents.
The Badgers haven't fared much better in that span as they come into this game with a 24-26 record against ranked opponents in the last five years.
The Badgers' offense is one that shoots a far amount of threes and did so the last time these two faced each other (22 attempts). On the season, Wisconsin is shooting 35.7 percent but is 12-0 when shooting 39.1 percent or better.
Senior point guard Jordan Taylor is the best offensive player for the Badgers. In wins this season, Taylor is shooting 35.8 percent from behind the arc.
In losses, Taylor is shooting only 30.6 percent.
The three-pointer is clearly something that fuels this Badgers attack. The Spartans are smart on defense though and know how to contest shots. Michigan State is coming off a huge victory against Ohio State, causing the Buckeyes to shoot 13.3 percent from downtown.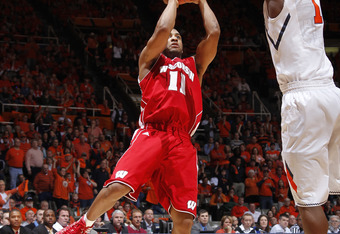 Joe Robbins/Getty Images
If the Spartans can continue to shutdown the three (they also rank 12th in the nation in three-point field goal percent defense at a 28.9 percent clip), then they should be able to defeat the Badgers yet again.
This will be a very hard-fought game, but in the end, I expect Draymond Green and the Spartans to overcome by a narrow margin.
Final Score Prediction: Wisconsin 55, Michigan State 58
North Carolina State Wolfpack (18-7, 4-3) at No. 4 Duke Blue Devils (21-4, 8-2) – 9:00 ET ESPN3
Key to the Game: Lorenzo Brown vs. Austin Rivers
Duke, like always, is a very dangerous team at home.
On the season, they are 11-2 at home, have an average margin of victory of more than 16 points per game and were held under 70 points only once.
So, how in the world is North Carolina State going to stop Duke?
Well, the Wolfpack can look at three games to try and figure out a blueprint for slowing down this Duke offense: the Virginia, Florida State and Miami games.
The common theme from these three games is that Duke had a relatively slow start. The Blue Devils shot only 36.4 percent from the field and averaged six turnovers in the first half of those three games. That is more than eleven percentage points down from their field goal average each game and right on par for the number of turnovers they have each game.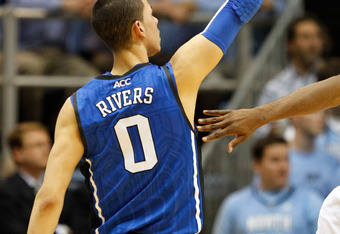 Streeter Lecka/Getty Images
Duke is lead by freshman Austin Rivers at point guard which can be very good (see the North Carolina game) but also bad at times. With a talent like Rivers, Mike Krzyzewski will take the good with the bad. It could be something that spells doom for them in a game like this though.
Rivers will be going against sophomore Lorenzo Brown in this game. Brown, who possesses excellent size for the point and solid athletic ability, is second in the ACC in steals per game. Brown is also more than capable on the offensive end, where he is averaging 11.8 points per game and 6.7 assists per game, good for sixth in the nation.
This will be the key to the game. Rivers' defensive abilities are nothing to write home about, whereas Brown is a complete point guard. Brown has the ability to really disrupt the flow of the Duke offense if he can keep Rivers in check.
Duke is favored by ten in this game, but I view this game as being much closer than that. I think the Blue Devils will edge out the Wolfpack due to their superior ability inside, but the Wolfpack are a solid team. If Lorenzo Brown can have his way with Austin Rivers, it might just be enough for the upset.
Final Score Predication: North Carolina State 71, Duke 75
Three to See
Virginia Tech Hokies (14-11, 3-7) at No. 21 Florida State Seminoles (17-7, 8-2) – 7:00 ET ESPN2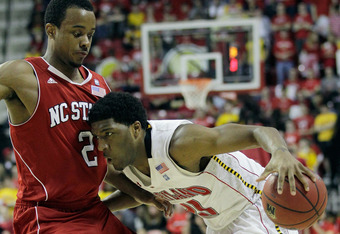 Rob Carr/Getty Images
These two teams are trending in opposite directions. The Hokies are 3-8 in their last 11 and haven't topped 70 points once in that span. The Seminoles, on the other hand, are 8-1 in their last nine that began with a 63-59 win in Blacksburg over Virginia Tech. Both of these teams are great on defense, but Florida State has the clear edge in talent.
They have actually flashed the ability to score points against good teams, unlike Virginia Tech. The Seminoles have an array of big guys to use and should dominate the glass against a Hokies team that struggles to rebound. Expect Florida State to win this one by good margin.
Vanderbilt Commodores (17-8, 6-4) at Mississippi Rebels (15-9, 5-5) – 9:00 ET ESPN2
Here is a game that both teams need badly. Vanderbilt has struggled as of late, going 1-3 in their last four. Ole Miss has not fared much better as they are 2-3 in their last five. The Commodores still boast a solid RPI and four wins over RPI top 50 teams, but Ole Miss is only 2-6 against the RPI top 50 teams.
Either way, this would be a big win for either team to increase their odds of getting to the "Big Dance." The Rebels have been very good at home this year, so expect a very close game.
I actually expect Ole Miss to pull the upset here. They are 9-1 this season when shooting 44.9 percent or better, and Vanderbilt allows opposing teams to shoot 42.3 percent. Jarvis Summers is a freshman point guard with a lot of talent, and I expect this to be a good game for him. The Rebels will need to keep Jeffery Taylor and John Jenkins in check, but they play solid defense. It should be a back-and-forth game, but I can see the Rebels escaping with this one.
West Virginia Mountaineers (16-10, 6-7) at Pittsburgh Panthers (15-11, 4-9) – 9:00 ET ESPN
It's unfortunate that this is the last time the "Backyard Brawl" will have conference implications. These two have played each other every year since 1918. It's a tragedy to college sports that this series may not continue every season.
I digress though. Tonight's game should be a very good game between two teams looking to pick up some momentum before the Big East Tournament. West Virginia is a bubble team but a good bet to get in right now. Pitt needs to win the conference tournament.
I think this game will come down to which star player, Kevin Jones or Ashton Gibbs, performs better. For the Pitt Panthers, I think this will be good news. Darryl "Truck" Bryant is going to have his hands full attempting to guard Gibbs. Gibbs has not had a huge game yet in his career against West Virginia (had a good one in 2010), but it's better late than never. Gibbs has shot 50 percent in his last two games against the Mountaineers, and I expect him to keep that efficiency up tonight.
Mid-Major Flavor
Lehigh Mountain Hawks (19-7, 7-3) at Bucknell Bison (20-6, 10-0) – 7:00 ET CBSSN
Two of the top teams in the Patriot League will be on display tonight. Neither Lehigh nor Bucknell have a key win this season, but Bucknell are winners of twelve straight and Lehigh has an explosive offense. The Mountain Hawks are a balanced offensive attack with star C.J. McCollum leading the way.
McCollum drives this Lehigh team. He leads the team with 21.7 points per game, 6.7 rebounds per game and 2.6 steals per game and is also the second on the team in assists with 3.4 per game. The last time these two met, the Bison managed to limit McCollum to only 14 points. Bucknell has had success limiting the top player on opposing teams and will need to do so again if they want to remain perfect in conference. Neither of these teams are serious threats to shake up brackets if they win the Patriot League, but I would not count either of them out.
If you want more college basketball insight from me, you can either leave a question or comment below or follow me on Twitter! You can look me up on Twitter under @MisterSideline and I will reply to any questions or comments you have in a timely matter!