2012 NBA Trade Deadline: NBA Trades so Crazy They Just Might Work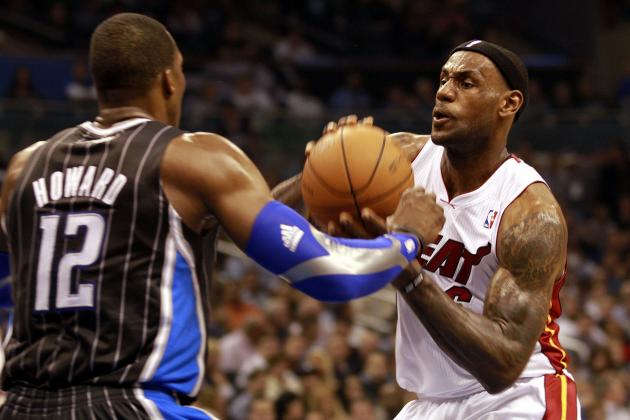 Marc Serota/Getty Images

The NBA Trade Deadline is March 15th, which means we are less than a month away. Last year's deadline was headlined by Carmelo Anthony forcing his way to the New York Knicks and Deron Williams coming to New Jersey after they themselves failed to win the Melo Sweepstakes.
This year the talk surrounds Dwight Howard, and the New Jersey Nets and Los Angeles Lakers pursuit of the All-Star Center. But why stop the talk of league shaking trades with just Dwight? Here are a couple of ideas of major trades that would change the landscape of the NBA and see big names changing uniforms.
Begin Slideshow

»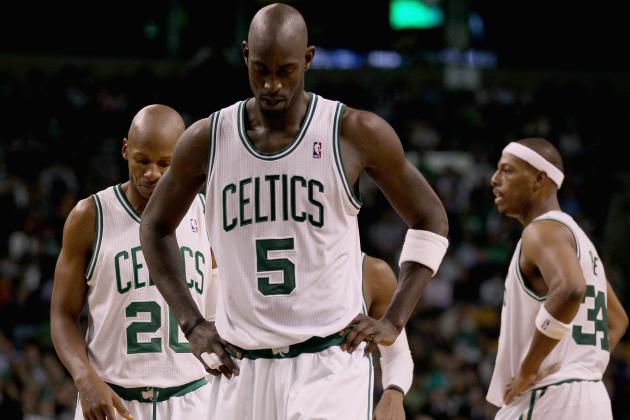 Elsa/Getty Images

The Celtics Get:
Joe Johnson, SG, Atlanta Hawks
Josh Smith, PF, Atlanta Hawks,
Andre Iguodala, SF, Philadelphia 76ers
Why Would Boston Do This?
Boston starts the rebuilding process by acquiring three All-Stars. Not Bad. They would like to allow Paul Pierce to finish his career in Boston, but its a sacrifice that may need to happen to acquire Andre Iguodala, an elite defender who is seven years younger than Pierce. They also get an incredible athlete and human highlight machine in Josh Smith who would excel with Rajon Rondo. Joe Johnson would also do well surrounded by a cast like this. Financially, Boston would be taking on a lot of money, but they would actually be paying less for Johnson, Smith and Iguodala then they did Garnett, Pierce and Allen this year.
The Hawks Get:
Kevin Garnett, PF, Boston Celtics
Evan Turner, SG, Philadelphia 76ers
First-Round Pick from Boston (Originally Clippers 1st Round Pick)
Why Would Atlanta Do This?
Atlanta would probably would like to get out of Joe Johnson's contract. The chances of him keeping his level of play where it is currently over the next five years (and $90 million dollars) seems slim. They believe they have a shot to land Dwight Howard, should he hit free agency, and shedding both Joe Johnson and Josh Smith's contracts would give them bountiful cap space.
In addition, Kevin Garnett's $21.2 million comes off the books at the end of this year. They would also acquire young and talented SG Evan Turner to replace Joe Johnson. The first-round pick they received certainly won't be lottery pick, but it would replace the first rounder that Atlanta does not have in 2012.
Philadelphia Get:
Paul Pierce, SF, Boston Celtics
Ray Allen, SG, Boston Celtics
Why Would Philadelphia Do This?
Philadelphia has played well this year by all accounts, but they are a young team that lacks a true "superstar." Paul Pierce is an upgrade offensively over Andre Iguodala and almost as good defensively. He, along with Ray Allen, would provide a veteran presence on a very talented 76er's team. Considering how badly the Philadelphia 76ers were recently beaten by the Miami Heat, it wouldn't be surprising to see a change coming.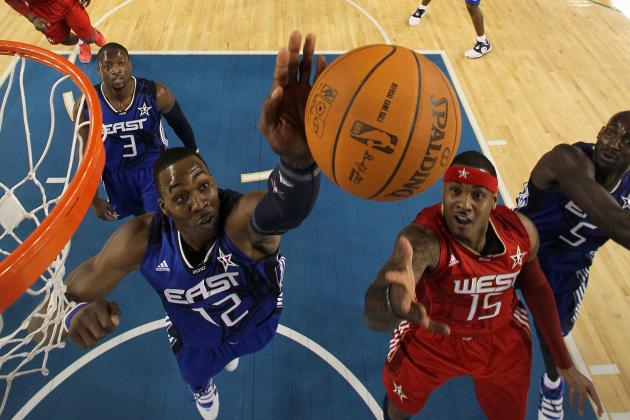 Jed Jacobsohn/Getty Images

The Knicks Get:
Dwight Howard, C, Orlando Magic
Hedo Turkoglu, SF, Orlando Magic
J.J. Redick, SG, Orlando Magic
Why Would the Knicks Do This?
Amare and Dwight would compliment each other perfectly. Despite both being 6'11", they play almost entirely opposite styles. Amare depends on his finesse while Dwight plays physical. Dwight dominates the paint, Amare is an excellent perimeter shooter.
Combining these two with newly minted superstar Jeremy Lin would be fearsome. The trio would run a nearly unbeatable pick-and-roll. The Knicks would take Turkoglu purely to get him off the Magic's books. J.J. Redick would also join the Knicks in order for the cap figures to work.
The Magic Get:
Carmelo Antony, SF, New York Knicks
Tyson Chandler, C, New York Knicks
Iman Shumpert, G, New York Knicks
Why Would the Magic Do This?
Orlando Magic owner, Richard DeVos, is 85 years old. He does not want to watch the team slowly rebuild. He wants a contender now. Getting a superstar in Carmelo Anthony would give him a better chance to win soon than the players involved in the Lakers or Nets offers.
Andrew Bynum and Brook Lopez may be valuable, young prospects, but they are years away from leading a contender to the Finals. Tyson Chandler is a high-character, high-motor guy who would help to compensate for the defense and rebounds that would be leaving with Dwight Howard.
Shumpert is young and has the potential to be a defensive stud. He is a good piece to have on any roster. They also get rid of Hedo Turkoglu's awful contract, which will help them in signing a free agent this summer.
Streeter Lecka/Getty Images

The Lakers Get:
John Wall, PG, Washington Wizards
Why Would the Lakers Do This?
They need a point guard. An offense with John Wall, Kobe Bryant and Pau Gasol would be lethal. Losing Andrew Bynum would be a tough pill to swallow, but when is the next chance they are going to have to get one of the elite, young point guards?
The Wizards get:
Andrew Bynum, C, Los Angeles Lakers
Why Would the Wizards Do This?
The only Center currently on the Wizards is Javale McGee, who is more known for his dumb choices than his actual talent. Bynum is one of the best centers in the league, and the Wizards would have to think long and hard about passing on this deal, even if it means trading their star player and future of the franchise, John Wall.
Washington will have a lot of cap space in the next few years and multiple lottery picks to pair with Bynum and forward Jan Vesely, who also has a ton of potential.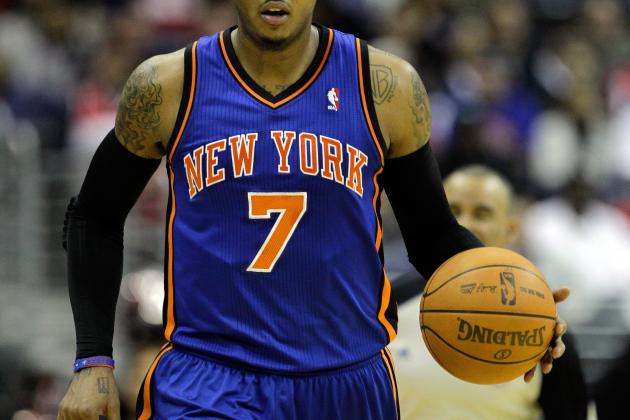 Rob Carr/Getty Images

The Knicks Get:
Rudy Gay, SF, Memphis Grizzlies
O.J. Mayo, SG, Memphis Grizzlies
Marreese Speights, C, Memphis Grizzlies
2012 First-Round Pick
Why Would New York Do This?
A lineup of Jeremy Lin, O.J. Mayo, Rudy Gay, Amare Stoudemire and Tyson Chandler is better than one that has Anthony and Iman Shumpert in the Forward and Shooting Guard positions, respectively. They would be able to pick up center depth, a first-round pick and improve their line up.
The addition of Jeremy Lin and his incredible court vision makes having more scoring options considerably harder to defend. Memphis is currently a lottery team and that pick would give the Knicks more young depth to improve their team.
The Grizzlies Get:
Carmelo Anthony, SF, New York Knicks
Why Would Memphis Do This?
The front court of Carmelo Anthony, Zach Randolph and Marc Gasol would be one of the best in the league. Tony Allen is a more than capable replacement for O.J. Mayo who may leave after this season and has been plagued by numerous trade rumors throughout 2011 and 2012.
Carmelo is also better than Rudy Gay. They would be giving up a first-round pick, but in the long run it may not be that important considering they would have a proven superstar in their lineup. They would be losing some depth, but that would be a necessary sacrifice when acquiring a superstar in Carmelo Anthony.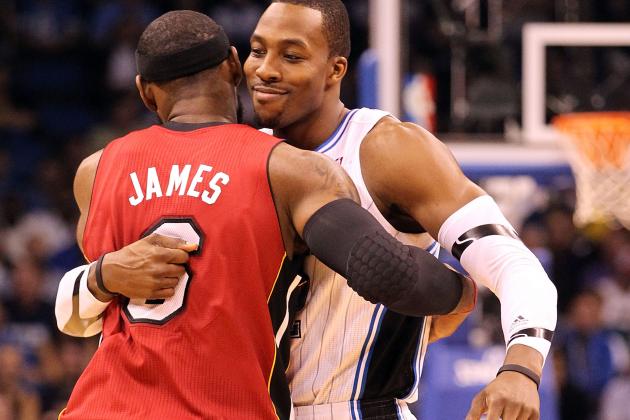 Sam Greenwood/Getty Images

The Magic Get:
LeBron James, SF, Miami Heat
Why Would Orlando Do This?

The only player of equal position to Dwight Howard in the NBA is LeBron James. He would give the Magic the best shot at rebuilding now. Dwight is not going to be in a Magic uniform next year so they move him for the best player available.
The Heat Get:
Dwight Howard, C, Orlando Magic
Why Would Miami Do This?
They would pair a top 3 power forward, Chris Bosh, with the best center in the NBA, Dwight Howard. Dwayne Wade and Mike Miller are more than capable outside shooters. This would eliminate the argument of who takes the final shot, rumors of poor team chemistry, LeBron's Team vs. D-Wade's team, etc.
Dwight Howard, until this season, has never had a problem with chemistry. He's a good team player and a perfect fit on the Heat.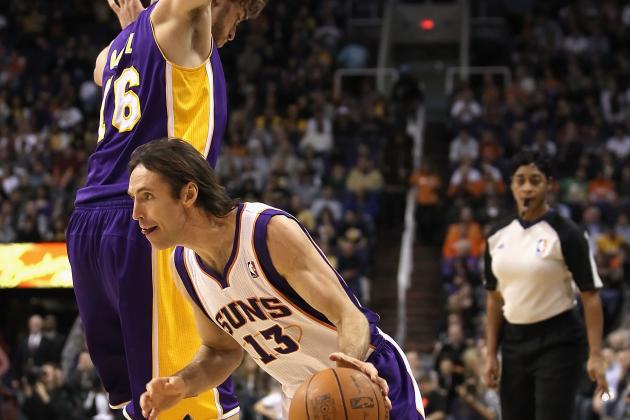 Christian Petersen/Getty Images

The Lakers Get:
Steve Nash, PG, Phoenix Suns
Josh Childress, SF, Phoenix Suns
Hasheem Thabeet, C, Houston Rockets
Why Would Los Angeles Do This?
They would get a point guard they desperately need. Steve Nash running an offense with Kobe Bryant and Andrew Bynum would be spectacular. They take on the bad contracts of a Josh Childress and Hasheem Thabeet in order to make it work and acquire Nash.
Playing with Kobe and having one last chance at a title is exactly what Nash wants, and he'll probably re-sign with the Lakers after this year to make sure that comes to fruition. Its a win-win for both Nash and the Lakers.
The Suns Get:
Kevin Martin, SG, Houston Rockets
Luis Scola, PF, Houston Rockets
2012 First-Round Pick from Los Angeles (From Dallas)
2012 First-Round Pick from Houston (From New York)
Why Would Phoenix Do This?
Besides Steve Nash, the Suns do not have a lot of talent on this roster. They get two reliable starters and two first-round picks for a player that was leaving after this season anyway. Not Bad. They also can get rid of the $6 million they owe Josh Childress over the next few years, clearing a little more cap space to continue the rebuild.
The Rockets Get:
Pau Gasol, PF, Los Angeles Lakers
Metta World Peace, SF, Los Angeles Lakers
2012 Second-Round Pick from Los Angeles (From Chicago)
Why Would Houston Do This?
Houston wants Pau Gasol. Badly. The Chris Paul to L.A. trade had Pau going to Houston. The alleged Dwight Howard to L.A. trade had Pau Gasol going to Houston. The writing is on the wall. They swap bad contracts with L.A., but it does work to their advantage to have Metta World Peace, who would start for them immediately. They also pick up a second rounder in the process.
The deal does favor L.A., but Houston firmly believes that the combination of Samuel Dalembert and Pau Gasol is a good one and are willing to make the necessary sacrifices to make that happen.