Most Electrifying Athletes in Sports History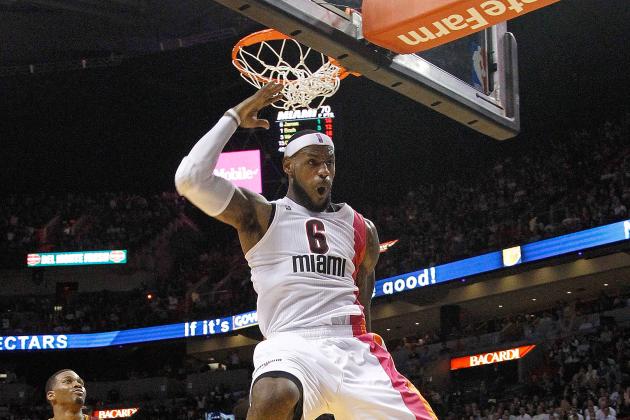 Mike Ehrmann/Getty Images

The one trait that puts an athlete above the rest is their ability to electrify us.
Does this go hand-in-hand with greatness? Some would argue yes, as the most talented athletes of our time have taken their games to a level where we just have to stop and stare.
When there is a player that can make a play that will stick in our minds forever, we know that athlete has an extraordinary skill to go above and beyond the rest of the field.
The following athletes are the most electrifying athletes we have ever seen.
Begin Slideshow

»
The things that Shaun White does on a snowboard—heck, even a skateboard—are quite astonishing.
Even if you are not a fan of extreme sports and have no idea what the difference is between the tricks, watching White is still amazing.
Much like win, he just keeps getting better with age.
White has won 12 X Games gold medals, while also taking home the gold at both the 2006 and 2010 Olympic games. And he likely isn't done yet.
Tennis can be an extremely slow sport to those who don't have any interest in the game, but watching former world No. 1 Rafael Nadal move on the court is a completely different experience.
The guy has no off switch, as he grinds through every point until the match is over.
Whether he is playing a low-level opponent or having an epic battle against Roger Federer, Nadal always makes the shots that can capture any viewer's attention.
Swimmer Michael Phelps has dominated the Summer Olympics since arriving on the scene in 2004.
Phelps has claimed 14 gold medals in 16 events and will likely be adding plenty more to his trophy case.
Phelps has held the most records by any swimmer—39 in total—but he currently just holds seven. Those are the 400m individual medley, 4x100m freestyle relay, 200m butterfly, 4x200m freestyle relay, 100m butterfly, 4x100m medley relay and 4x100m freestyle relay.
While it remains to be seen where Phelps will go after 2012, there is no doubt that we should get more brilliant performances at this year's games.
While Reggie Bush has had his fair share of highlight reel moments in the NFL, his most electrifying moments came during his days as a USC Trojan.
Bush was regarded as one of the best running backs in the country, as well as a dangerous return man. When he was passed up for Mario Williams in the NFL Draft, many were astonished.
Bush went on to play for the New Orleans Saints, where the team won the Super Bowl.
He was traded to the Miami Dolphins before the 2011 NFL season, where he had his first 1,000 yard season.
The highlight reel is likely just getting started now.
To ride a motocross bike like Travis Pastrana, one has to be pretty crazy.
Pastrana is one of the most prominent names in extreme sports, and the guy is an innovator for the sport. That was even more apparent when he went for the first ever double back flip on a motocross bike.
While shows like SportsCenter are dominated by things like basketball and football, Pastrana's daredevil mentality has pushed himself and extreme sports into the forefront of sports.
Barry Sanders was one of the greatest running backs to ever hit a football field.
For the Detroit Lions, Sanders ran for 15,269 yards over 10 seasons. His biggest year was 1997, two seasons before he retired, when he ran for 2,053 yards with 11 rushing touchdowns.
While some will argue that he retired prematurely, Sanders still stands above many running backs from the past and present.
Unfortunately for fans everywhere, we didn't get to see more of what No. 20 could do on the field.
While there have some extraordinary talents to hit the soccer field over the course of time, no player stands above No. 10, Pele.
The Brazilian legend is the Michael Jordan of soccer, and nobody was more electrifying to watch than him.
Over his career, he had 1,152 goals between Santos and his brief two-year stint in New York with the Cosmos.
Just like with Jordan, many will be compared to Pele, but nobody will ever be the same.
Arguably one of the greatest players to ever hit the ice, Bobby Orr was one of the most exciting players to watch in the NHL.
With the Chicago Blackhawks and Boston Bruins, Orr had a total of 915 points through 657 games. Orr spent 10 of his 12 seasons with the Bruins, where he had over 130 points in both 1970-71 (133) and 1974-75 (135).
More impressively, Orr had over 100 points for six straight years from 1969-75.
While he finished his career with the Blackhawks on a low point—just 26 games and 27 points—Orr's legacy as one of the best still lives on.
One of the beastliest men to ever play running back in the NFL was Chicago Bears' great Gale Sayers.
Sayers holds many NFL records, most prominently most touchdowns in a game with six. Sayers was also an animal in the return game, as he returned a total of six kickoffs for a touchdown. The only man that stands before him is fellow Bear Devin Hester.
Sayers was only around for seven seasons, as he was forced to call it quits after a nagging knee injury got the best of him.
Who knows how much more damage he could have done if he stayed around, or even if he could have stayed healthy.
While he is looking for a new job in the NFL, Minnesota Vikings and New England Patriots standout wide receiver Randy Moss is one of the best wide receivers to ever play in the NFL.
Moss has been with two of the best quarterbacks in their prime—Daunte Culpepper and Tom Brady.
While he was never without controversy, there are not that many other wide receivers who have made the kinds of ridiculous catches and plays that he has.
The last few years haven't been as kind to No. 84, but perhaps he can still return to his former glory.
Before there was Ricky Rubio or Steve Nash, there was a man by the name of Pete Maravich who tore things up and made it a new kind of game for point guards in the NBA.
Maravich was known for his trick passes and running jumpers, as he was a threat to any player—or players, at that—who had to play defense on him.
While he wasn't a high flying dunker, Maravich set a precedent for play-making guards that still exists to this very day.
Whether or not you have a problem with Philadelphia Eagles quarterback Michael Vick, when it is all said and done there is no doubt that he may go down as the most electrifying player to ever play in the NFL.
Not only does he have a huge arm, but the man can move like a running back on his feet.
With the Atlanta Falcons in 2006—the year before he was suspended—Vick ran for 1,038 yards while also passing for 2,474 yards. He had 20 passing touchdowns with another two coming on the ground, proving to be the most dynamic player in the NFL.
His return with the Eagles in 2009 has been promising thus far, but those two years missed in 2007-08 were perhaps going to the golden years of No. 7's career.
During the days of Michael Jordan, Larry Bird, Charles Barkley and many other star players, it was hard to stand out in the NBA. One man who nobody could miss was Earvin "Magic" Johnson.
Magic—who played every position from point guard to center—lived up to his name, as he made exactly that happen on the court.
He was a phenomenal dribbler and was able to weave through the defense while either finding a man open or just going up with it himself.
Magic won five NBA titles over his career, as well being named the league's MVP three times. With a career average double-double (19.5 PPG/11.2 APG), the man who donned the purple and gold his entire career is still the most electrifying Laker of all time.
Julius Erving—or, as most would call him, Dr. J—is one of the kings of the dunk.
With the New York Nets (ABA) and the Philadelphia 76ers, Erving was just a monster when he came anywhere near the rim.
Heck, he could have been over 10 feet away and was still ready to take launch.
With the 76ers, he was an 11-time All-Star, as well as the league's MVP during the 1981 season.
Over the course of his career, he averaged 24.2 points per game and is currently ranked fifth on the NBA's all-time scoring list when his ABA numbers are taken into account.
Even without that spot, he is still highly regarded as one of the best NBA players of all time.
Wayne Gretzky, also simply known as "The Great One," is regarded as the greatest hockey player of all time—and rightfully so.
Gretzky is by far the most electrifying player to ever play the game, as he had three straight seasons from 1983-86 where he had over 200 points a season. That included the 1985-86 season, where he set the record for most points in a season with 215.
He still holds the record for the most career points, as he stands almost 1,000 points over Mark Messier with 2,857 points.
As it holds, it will certainly be a long time before we ever see somebody top his greatness.
I think if we asked Ricky Henderson if he was electrifying during his MLB career, he'd simply respond "Ricky Henderson is the most electrifying player in the world."
Well, I guess he isn't wrong. Considering that there are not many ways to be consistently electrifying in baseball, Henderson's 1,406 stolen bases over his career—a MLB record—is pretty much the best we are going to get.
Sure, home runs are exciting, but pretty much everyone who has been stellar over the last few years have been linked to steroids.
Henderson's accomplishments on the base paths stand in a league of their own.
With 18 kick returns of a touchdown, Chicago Bears' wide receiver/return specialist Devin Hester has had some of the biggest, most exciting plays in NFL history.
It isn't easy to return a kick, as most of the time the player has to go from one side of the field to the other. For Hester to hold the record for return touchdowns, and accomplish them the way he has (look at the video), it is hard to argue his place in history.
Hester, who is just 29 years old, will likely continue to separate himself from the rest, as he will have plenty of more opportunities to increase his current mark of 18.
This ride is just getting started, so don't be surprised to see Miami Heat forward LeBron James continue to electrify us for many seasons to come.
Arguably one of the most athletic players to play in the NBA, James has been a highlight reel every night. Whether it is dunks, clutch shots or insane blocks, James has been above the rest for many years now.
With a career average of 27.7 points per game with seven assists and seven rebounds, James will undoubtedly continue to be a force.
His highlights have become even more highlight worthy now that he plays with Dwyane Wade in Miami, where the two have had their fair share of alley-oops and crazy plays.
He "floats like a butterfly and stings like a bee," but what he failed to mention is that he will knock you out like a bull who sees red.
Muhammad Ali, arguably the greatest boxer of our time, was always a pleasure for anybody to watch—whether it was during his actual time or watching highlights.
Watching him just move smoothly across the canvas and throw in a huge hook here and there is just like watching perfection.
Ali finished his career with a record of 56-5, 37 of which were by TKO. He took down guys like George Foreman and Joe Frazier—just to name a few.
Boxing is always an electrifying event, but nobody did it like Ali.
Is there a doubt in anybody's mind that Michael Jordan was going to top this list?
The former star guard of the Chicago Bulls won a total of six NBA titles, and he did so in electrifying fashion.
His Airness was known for his high-flying dunks, clutch game-winning shots, and epic performances.
The drama is what made Jordan great, and one situation will always stand above the rest: the flu game.
In 1997 in the NBA Finals against the Utah Jazz, Jordan entered Game 5 with either food poisoning or the stomach flu. Either way, he wasn't in good shape. With the series tied at 2-2, it was important that Jordan close out the game for the Bulls.
Jordan scored 38 points, including a three-pointer that put the team ahead by three points with 25 seconds left in the game. The Bulls won the game, while Jordan just added another chapter to what was an epic career.