New York Giants: Predicting Starters at Every Position for the G-Men in 2012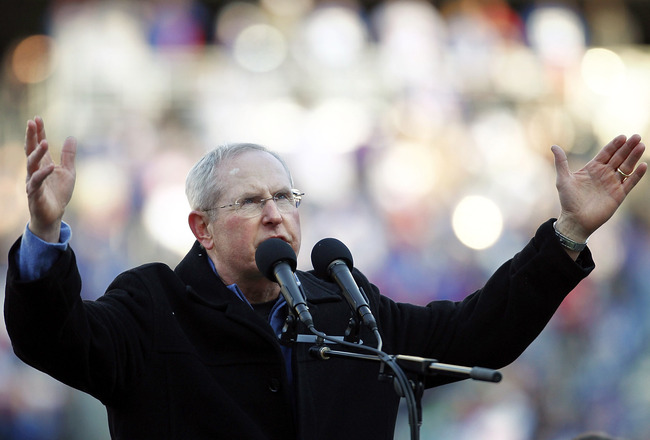 Jeff Zelevansky/Getty Images
The New York Giants are coming off another incredible Super Bowl run, and now their focus becomes how to maintain the success.
What players do they keep? Who do they send packing? Will they draft any starters in April? How active are they going to be in free agency?
These questions are all valid, but it is likely there will be some turnover since the Giants are expected to be over to the cap when the NFL moves in to their 2012 calendar.
With that in mind, here are the projected starters for the 2012 season. For the offense I used a standard formation: QB, RB, FB, TE, two WRs and five OL. The defense is the Giants' standard 4-3 defense.
Quarterback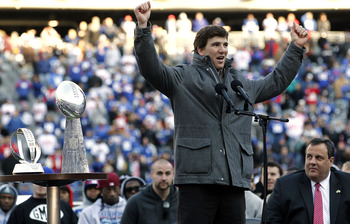 Jeff Zelevansky/Getty Images
There is nothing to discuss here—Eli Manning is an elite quarterback and is not going anywhere.
Running Back and Fullback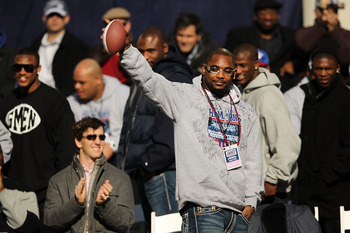 Spencer Platt/Getty Images
Running Back: Ahmad Bradshaw
Not much to discuss here either. Bradshaw missed some games last year, and the Giants clearly missed his production. They almost lost Bradshaw to free agency in 2011, but with Brandon Jacobs taking a pay cut, the Giants were able to lock up Bradshaw for four years.
Fullback: Henry Hynoski
"The Hynoceros" really improved as the season went along, becoming a nice safety blanket out of the backfield for Eli Manning. He is a true fullback who should anchor the Giants' running game for a while.
Wide Receivers and Tight End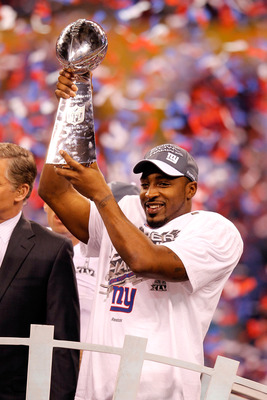 Rob Carr/Getty Images
Wide Receivers: Hakeem Nicks and Victor Cruz
Things have been fairly easy so far, haven't they?
Both Nicks and Cruz had more than 75 catches and 1,100 yards last year, so there is no reason to believe anyone else will be the starters, even if the Giants somehow hold on to Mario Manningham.
Tight End: Dwayne Allen, Clemson (via Draft)
This is where things start to get a little dicey.
I've mentioned several times now that the Giants' tight end situation is dire with Jake Ballard likely to miss some or all of the 2012 season. Bear Pascoe is a restricted free agent, so the Giants have to find someone in free agency or draft a tight end.
Well, as I mentioned in the introduction slide, the Giants are going to have trouble signing big-name free agents with their cap situation unless they get rid of some contracts. So, they will likely turn to the draft to fix the position.
To justify the Giants going with a tight end in Round 1, I want to point you to a terrific article by Cody Swartz. He researched every single first-round pick from the 2000 draft on, and determined whether every pick was a successful one in terms of their career and how many successful seasons that pick had.
Tight end was the overwhelming favorite, as they had successful careers 80 percent of the time.
Moral of the story? Drafting a top tight end in the first round is almost a sure thing.
Offensive Line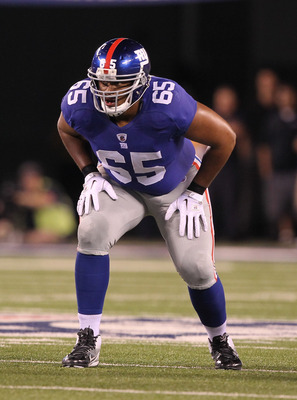 Al Bello/Getty Images
Left Tackle: Will Beatty
Although Beatty did not have a great season in his first year as the starter and was lost for the season in Week 10, the Giants still like him as a left tackle for the future. I don't see anyone challenging him for the position.
Left Guard: Kevin Boothe
You have no idea how much I want to put Mitch Petrus here. If you have read any of my articles regularly, you know I believe the resurgence of the Giants' offensive line late in the season had to do with Petrus' insertion into the lineup with David Baas injured (Boothe played center during the stretch).
However, when Baas returned, the Giants kept Boothe in at left guard instead of Petrus. The former combination with Boothe and Petrus seemed to work best, but the Giants were not willing to trust Petrus.
Petrus is a much better run-blocker than Boothe, but Boothe is the better pass-blocker. Passing wins out.
Center: David Baas
Nothing to say here. The Giants gave him a five-year, $27 million deal last offseason—he is their guy.
Right Guard: Chris Snee
Again, not much to say. Snee has been a staple at right guard for a while now and is the Giants' best offensive lineman.
Right Tackle: James Brewer
I have a strong feeling the Giants are not going to re-sign Kareem McKenzie and cut David Diehl. Neither had good seasons in 2011, McKenzie is a free agent and Diehl is scheduled to make $8 million over the next two years.
The Giants drafted Brewer in the fourth round last year, and unless they take a guy in the first round to replace McKenzie, the job is Brewer's.
Defensive Line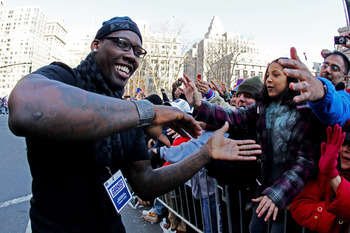 Al Bello/Getty Images
Left End: Justin Tuck
Left Tackle: Linval Joseph
Right Tackle: Chris Canty
Right End: Jason Pierre-Paul
I would say something about each player, but the front four is such a given that I feel like I would be insulting your intelligence by explaining each pick.
These four—along with Osi Umenyiora, Mathias Kiwanuka, Rocky Bernard and Dave Tollefson—were a major factor in the Giants' run to the Super Bowl.
The front office will do whatever they can to bring everyone back, but Bernard and Tollefson are unrestricted free agents, and Osi is a distraction.
We'll see what happens when free agency begins next month.
Linebackers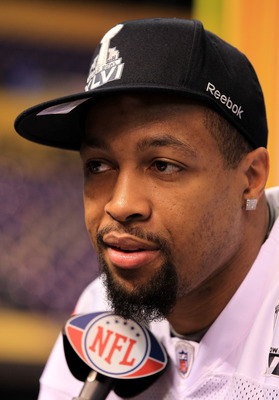 Scott Halleran/Getty Images
WILL Linebacker: Michael Boley
Boley emerged as the main leader of the Giants' defense last season.
Though the group had many leaders, Boley was the main man for defensive coordinator Perry Fewell. He made the calls in the huddle, made adjustments prior to the snap and also elevated his play in 2011.
MIKE Linebacker: Jonathan Goff
Goff tore his ACL prior to the 2011 season, but before that, the Giants were expecting a breakout campaign from the Vanderbilt product.
Goff was one of Pro Football Focus' best run-stopping linebackers in 2010, so the job is his if he can prove he is recovered from the ACL. He is a free agent, but I believe the Giants can sign him.
SAM Linebacker: Jacquian Williams
I know most of you are expecting Mathias Kiwanuka here, but I believe, with the Giants cap situation, they are going to try and trade Osi Umenyiora.
Osi played very well last season and in the playoffs, so the Giants would be successful if they put him on the market. Kiwanuka would then be moved back to defensive end—his original position—with Williams stepping in.
Williams played very well for a rookie and got better as the season went along. With a full offseason under his belt, he should get even better next season. He has all the tools to be a successful linebacker, and the Giants may have gotten a steal with him in the sixth round last year.
Secondary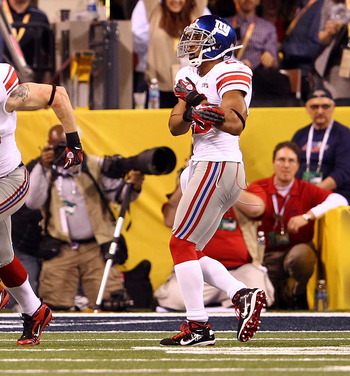 Al Bello/Getty Images
Corners: Corey Webster and Terrell Thomas
Sources say Terrell Thomas and the Giants have begun preliminary discussions to re-sign him, and if that happens, the Giants will definitely put Thomas back in the starting lineup.
Aaron Ross was one of the worst corners in the 2011 regular season and is a free agent himself. I highly doubt he will keep his starting spot.
Safeties: Kenny Phillips and Antrel Rolle
No surprise here. These two have been the starters for the past two seasons, and that will not change in 2012.
Special Teams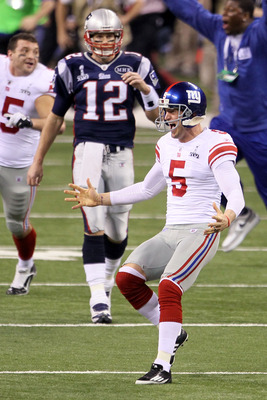 Jeff Gross/Getty Images
Punter: Steve Weatherford
Weatherford is a free agent, but there is no way the Giants are going to let him go anywhere. He was a huge and underrated factor in the Giants' six-game winning streak to end the season, including the four playoff wins.
Kicker: Lawrence Tynes
In my last article, I speculated that the Giants could go after a kicker in the final round, but that is just a pipe dream. Truth be told, the Giants are happy with Tynes and will probably keep him around in 2012.
Long Snapper: Zak DeOssie
When you make it to a Pro Bowl as a long snapper, you're doing a pretty good job.
Return Specialist: Jerrel Jernigan
The Giants' return game featured as many players as their entire offense, or at least it felt that way. Nine different players returned kicks and punts last year, but maybe this season they will get some continuity.
Devin Thomas looked good on kickoffs, but the Giants drafted Jernigan in the third round last year with the hopes of adding a home run threat as a returner. If he can shrug off the rookie jitters he seemed to have when fielding punts, he will get that opportunity in 2012.
Keep Reading

New York Giants: Like this team?