2012 New York Mets: Things to Get Excited About and Look out for
February 16, 2012

Nick Laham/Getty Images
Being a New York Mets fan sure is tough, isn't it? While expectations are extremely low, there are still things to get excited about. Sure, the team won't likely be winning a World Series anytime soon, nor will it be hoisting a division banner soon, either. Even so, fans sticks by their team through adversity.
With that, let's look at six things of excitement to look forward to in the coming season.
A full season of Lucas Duda and Ike Davis
Lucas Duda is better than most people believe. He gets little attention, yet that will, hopefully, change this coming season. In 100 games and just 301 at-bats last year, Duda hit a solid .292/.370 with 10 home runs and a fine 50 RBIs. For having just 301 at-bats those are all great numbers,and should certainly draw interest.
Likewise, Ike Davis was tearing it up before his injury after just 36 games. His .306/.383 line was fantastic, along with his .925 OPS.
If all else fails, Mets fans can at least look forward to the continued growth of these two young players.
The walls have been lowered
Something fans and players alike have been clamoring over since Citifield was up and running in 2009—and what ownership recently took note of—was the lowering of the walls. The hope here is this can be a boost to David Wright and Jason Bay's numbers, which is certainly possible.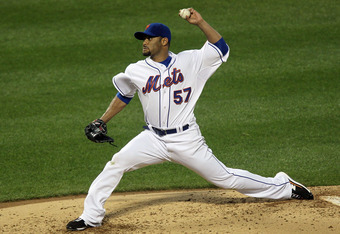 Jim McIsaac/Getty Images
If nothing else, this will provide an interesting look to the element of how a stadium affects players and their numbers.
The return of Johan Santana
Even the most optimistic of fans acknowledge there's little chance Johan Santana regains his previous dominating form. After all, shoulder injuries and resulting surgeries are often some of the worst a pitcher can suffer. Still, Johan's return should still spark some excitement as we see how much—if any—he still has left in the tank.
The revamped bullpen
Every Mets fan knows that one of the biggest problems the team has dealt with since 2007 is the bullpen. Once the starting pitcher came out of the game, collective groans could be heard as fans knew there was a good chance relievers would cough up the game. GM Sandy Alderson addressed this quickly, adding a great reliever in Ramon Ramirez and signing Jon Rauch and closer Frank Francisco.
While a better bullpen is not something that's all that thrilling, at least it's a much-needed change and improvement from what the Mets have become used to over the years.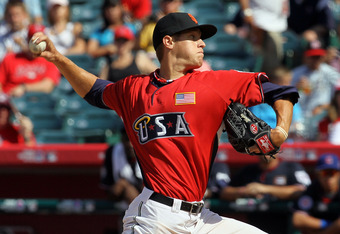 Stephen Dunn/Getty Images
Daniel Murphy and walk years
Daniel Murphy was an absolute animal before going down for the rest of the season. Through 109 games and 391 at bats, he put up an incredible .320/.362 line. At the time Murphy was among the upper elite of high average hitters. Terry Collins has all but anointed him the starting second base job, and so we will see if this was just a fluke or the start of something amazing.
Something else to consider are the players entering or soon to be in their walk years. Mike Pelfrey is in his final year before hitting free agency. Many players put up great numbers in their walk year, so it will be interesting to see if Pelfrey is capable of doing the same.
David Wright is in an interesting situation as well. He still has one more club option remaining next year. If Wright wants his big pay day, he needs to settle down and put up his big numbers now like he used to as his last few years have not been superstar material.
The trade deadline
Last year Alderson stole Zack Wheeler from the Giants for Carlos Beltran. An amazing trade that little thought would be possible at the time, it showed that Alderson is capable of getting what he wants—but can he do it again?
Last year trading Jose Reyes and Beltran was the big topic, and this year it will obviously turn to Wright. Will he deal him if the package is right? Technically, it makes less sense as the club option for next year is invalidated if he's traded, but the media will make this a big story for sure.
The Mets are unlikely to provide any sort of magic of a miracle run or certainty of a playoff push, aggravated by the fact they play in a very tough division now. Still, fans will, as they always have, look past this shortcoming of winning and focus on other things of intrigue.