UFC: Condit vs. Ellenberger Has to Happen and It Will Be Amazing!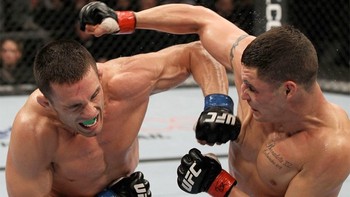 http://www.google.com/imgres?um=1&hl=en&sa=N&biw=1280&bih=667&tbm=isch&tbnid=fAR0rCMIxeHvQM:&imgrefurl=http://www.heavy.com/&docid=Bm7qO3pOeJnvgM&imgurl=http://media.heavy.com/img/thumbnails/253931-20120216-103335-640x360.jpg&w=640&h=360&ei=9Vs9T6SONM_ysgacssngBA&zoom=1&iact=rc&dur=327&sig=107105758060653382555&page=2&tbnh=106&tbnw=188&start=15&ndsp=20&ved=0CNUBEK0DMBk&tx=137&ty=65
Jake Ellenberger is on a six-fight winning streak, including wins over Jake Shields, Diego Sanchez and Mike Pyle. As always, many fans are discussing whether this win will lead to a title shot.

I hope it does.

Ellenberger vs. Condit is a fight that has to happen for the Interim Welterweight title with the winning fighting facing a returning Georges St. Pierre.
Who Else?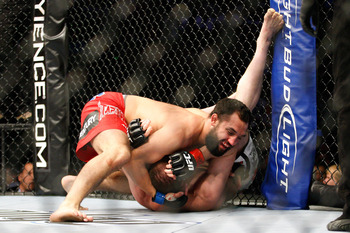 Johny Hendricks is ranked number 4 in the world by most people.
Richard Wolowicz/Getty Images
This fight is one that makes the most sense in the division for both fighters. Apart from themselves, Josh Koshcheck and Johny Hendricks are probably the highest ranked active fighters. But they are due to fight each other. Any other fight for either of them would be a step down.

Jake Ellenberger's last two fights have been wins over Jake Shields and Diego Sanchez, who were probably ranked top five in the division. Condit has a recent win over the fighter ranked No. 1, Nick Diaz. These wins make them easily the best active fighters in the division.

The two fighters have to fight each other; it is the fight that they have both earned.
First Fight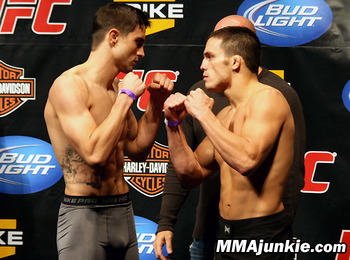 http://mmajunkie.com/news/16191/ufc-fight-night-19-official-fighter-weigh-in-photos-an-mmajunkie-com-image-gallery.mma
Their first fight was one of the fights of 2009. Condit won a contested split decision over Ellenberger.
Ellenberger knocked Condit down numerous times and had him in trouble but was unable to finish Condit. Condit would come back and win a split decision (29-28 29-28 28-29).

The fight could have gone either way, and I'm sure many fans would love to see a rematch where, hopefully, a more decisive result could obtain. A rematch has needed to happen ever since the first fight, and the timing couldn't be any better.
Styles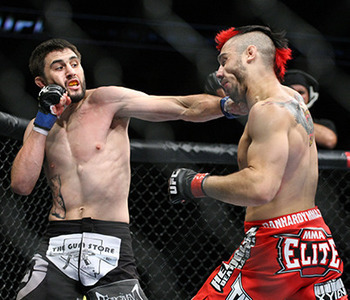 http://www.google.com/imgres?um=1&hl=en&sa=N&biw=1280&bih=667&tbm=isch&tbnid=btkxQskRbgz5hM:&imgrefurl=http://bleacherreport.com/articles/888782-ufc-137-fight-card-5-things-carlos-condit-must-do-to-upset-georges-st-pierre&docid=i7Xg-m0RX7dY6M&imgurl=http://cdn.bleacherreport.net/images_root/slides/photos/001/413/366/8eba8_UFC120_ConditHardy_176_display_image.jpeg%253F1318343990&w=350&h=300&ei=k5I9T5TCIcr48QPDtY2PCA&zoom=1&iact=rc&dur=339&sig=107105758060653382555&page=3&tbnh=142&tbnw=172&start=39&ndsp=21&ved=0CJMCEK0DMCo&tx=75&ty=41
With the styles of the two fighters, the fight is an interesting stylistic matchup. Both have good striking. Ellenberger is a big hitter with the power to knock out any welterweight. Condit is probably the more refined striker with a vast array of weapons that he can knock you out with.

Ellenberger has his base with his wrestling skills. He is a two-time NCAA Division II wrestling champion and has successfully taken his UFC opponents down 16 times. Condit is equally adept on the ground being a purple belt in Brazilian Jiu-Jitsu.
Reward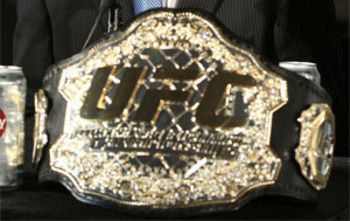 http://www.google.com/imgres?num=10&um=1&hl=en&biw=1280&bih=667&tbm=isch&tbnid=Ect1JNXH6oVarM:&imgrefurl=http://www.heavy.com/mma/ufc/2012/02/georges-st-pierre-hosts-ufc-fight-club-qa-today/&docid=C5it65Da83fE3M&imgurl=http://media.heavy.com/media/2010/12/stpierrebelt.jpg&w=300&h=400&ei=lpU9T9rXMsXHsgbprsTaBA&zoom=1&iact=hc&vpx=180&vpy=128&dur=3388&hovh=259&hovw=194&tx=98&ty=122&sig=107105758060653382555&sqi=2&page=1&tbnh=157&tbnw=113&start=0&ndsp=19&ved=0CEQQrQMwAA
How much would both of these men love a chance to fight GSP? Condit has twice been scheduled to fight GSP, but neither fight has actually taken place. Maybe it's going to be third-time lucky for Condit.

This fight would almost definitely crown the No. 2 welterweight in the world, and an interim world title is impressive on any resume. Both these fighters have impressed, winning fights they were not supposed to. And a fight with GSP is the ultimate chance to do that.
Increase TV Buy Rates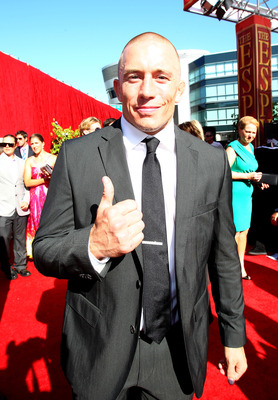 Alexandra Wyman/Getty Images
The reward for the UFC if they do this fight will likely be an increased buy rate for when the winner does fight GSP. In the original interim title fight between Condit and Diaz, everybody was concentrating on Diaz; there wasn't much attention paid to Condit.
With this fight there can be increased attention for Ellenberger and Condit.

Moreover, this fight will doubtless increase viewer interest. The fight should headline UFC on Fox 4 or 5, as neither fighter has a particularly huge name on their own, and this will give them a chance to increase their profile.
The UFC should capitalize on this chance.
Keep Reading