2012 NFL Mock Draft: 7-Round New Orleans Saints Predictions
Chris Trotman/Getty Images

It's officially NFL Draft season! Historically this has been my favorite time of the year. Or course, it can be combined with March Madness, The Master's, MLB's Opening Day and, if you stretch it out, the NHL and NBA Playoffs.
But as a football commentator the NFL Draft trumps them all.
I love to think of it as the one time in the entire league year where there is a formalized competition between all 32 teams. In essence each team is competing for each player.
Of course, the analogy breaks down a bit when you consider teams like New England who have no desire to actually draft players. Instead, Bill Belichick infuriates the rest of the NFL by playing the Mad Scientist, acquiring draft picks to acquire draft picks to acquire draft picks.
He never actually uses them, and when he does they always fail. And he is noted for having a draft board the size of my little pinkie (if you haven't seen it, it is rather shriveled due to a birth defect—don't worry I'm okay).
Yet, Belichick still counts because he's competing; he's just playing a different game with a different goal and a different scoring value system. In his mind, he's winning and we'll just keep that little secret from him that he's not (yet somehow he keeps getting his team to the Super Bowl...ARRRRGGGHHH!!!).
In previous mock drafts, I assumed the Saints would be taking away a selection from Miami due to the Reggie Bush trade. We've since learned the teams will actually be swapping fourth-round selections, meaning the Saints will hold the 8th or 9th selection of the fourth round, and seven total selections in the 2012 NFL Draft.
Here are my opinions on what those selections should be.
Begin Slideshow

»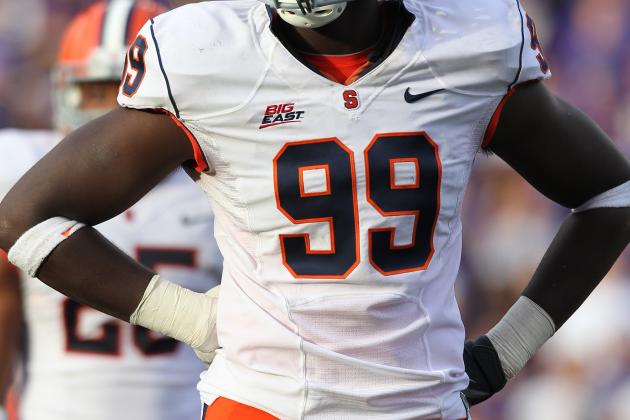 Otto Greule Jr/Getty Images

There is a great necessity in New Orleans under Steve Spagnuolo for elite pass-rushing talent. Currently, the Saints have about 1.5 good pass-rushers. The Giants proved this year it takes at least three guys.
The good news is that Jones makes up more than half the difference. He would be at least one whole, meaning the Saints only would need another 0.5 to get close to the requisite number.
I keep promising a scouting report on Syracuse's Chandler Jones. It is coming. For now, please trust my selection of him at this spot as my endorsement of his abilities.
Briefly I can tell you this. He's a great athlete who has been very productive when healthy. He would instantly come in and be the guy for the Saints as a pass-rusher (assuming they don't sign someone along the lines of Mario Williams or Cliff Avril).
Of course, there is no guarantee Jones will still be available at No. 59, but if he is, he may be the most automatic selection of the entire draft for any franchise.
Other Considerations: None assuming Jones is available.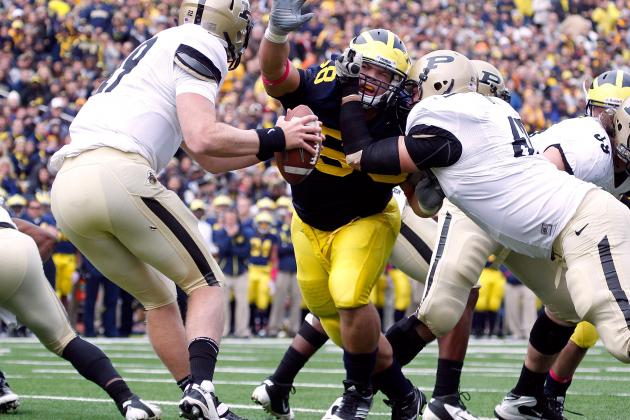 Gregory Shamus/Getty Images

To say the Saints need help along the defensive line might be the understatement of the year. It's not only that their 2011 roster of linemen didn't execute as expected, but also that Steve Spagnuolo has such high expectations for this unit that improvement is beyond necessary.
At 6'3", 308 lbs, Mike Martin combines a lot of girth with superior effort and a high motor. You can also count on him being a well-coached player after succeeding in new defensive coordinator Greg Mattison's pro system this past season.
With all the traits Martin possesses, he promises to improve the defensive line immediately. As a junior, he had 2.5 sacks despite playing with a severely sprained ankle and the limits of a 3-4 defense.
Then he exploded as a senior. He had 64 tackles—including a career high 10 in his final collegiate game at the Mercedes-Benz Superdome against Virginia Tech in the Sugar Bowl.
He also had two sacks against Purdue and finished the season with at least 3.5 (college numbers tend to be ambiguous compared to the NFL). He was voted second team All-Big Ten in his junior and senior seasons.
He fits best as a backup to Sedrick Ellis as a three-technique defensive tackle, but could also play the nose when the Saints use a three-down alignment. A more detailed scouting report on Martin will follow in the coming weeks.
Other Considerations: RB LaMichael James, Oregon; OT Brandon Mosley, Auburn; WR Tommy Streeter, Miami.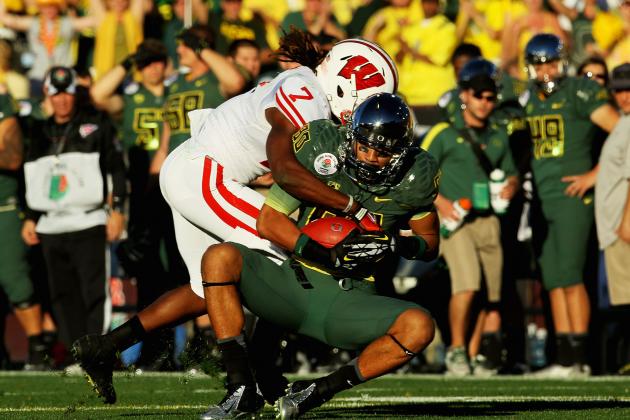 Stephen Dunn/Getty Images

To say the Saints need help at the safety spot is an arguable proposition. One could make the argument that between Roman Harper and Malcolm Jenkins the Saints possess one of the most talented safety duos in the league (my argument).
Others would say that even if that argument is true Harper doesn't fit the bill of what Spagnuolo wants in a safety (which is flat untrue). Nonetheless, Spagnuolo runs a defense that regularly tries to get a third safety on the field, which fits the Saints perfectly.
For two years, I've been proposing Malcolm Jenkins' role should be as a hybrid safety/corner player. Drafting a safety—aside from the off-chance they are able to sign a player such as Dashon Goldson—would provide them that third player they need to free Jenkins to do what he does best.
Right now, Henry appears to be the best fit for the Saints. As with Martin and Jones, a full scouting report is sure to follow. For now, take this please: Henry is ranked as the third best free safety by nfldraftscout.com.
Considering there is greater need for defensive line help, the Saints could not afford to take a safety until now. But getting the third best free safety target is a nice prize for the Saints exuding one of life's most difficult virtues (patience, of course).
Other Considerations: TE Cory Harkey, UCLA; C Michael Brewster, Ohio State; WR/KR T.Y. Hilton, Florida International.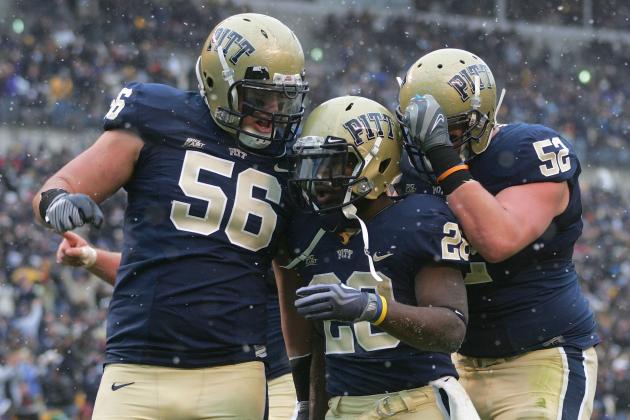 Jared Wickerham/Getty Images

The New Orleans Saints love to find players in the later rounds who come from a place of relative obscurity. And they may need to be replacing a Nicks in their alphabetical roster as well as their offensive line depth chart (let's hope not, though).
Either way, Lucas Nix from Pitt is a player who fits the profile of what the Saints like in offensive linemen. He played for a program that has had success. And the offensive line was a unit for Pitt which helped create one of the better traditional running games in college football in the last four years.
Nix was a huge part of that and would come in and fit in with the Saints right away.
Other Considerations: TE Deangelo Peterson, LSU; WR Marvin McNutt, Iowa; TE Brian Linthicum, Michigan State.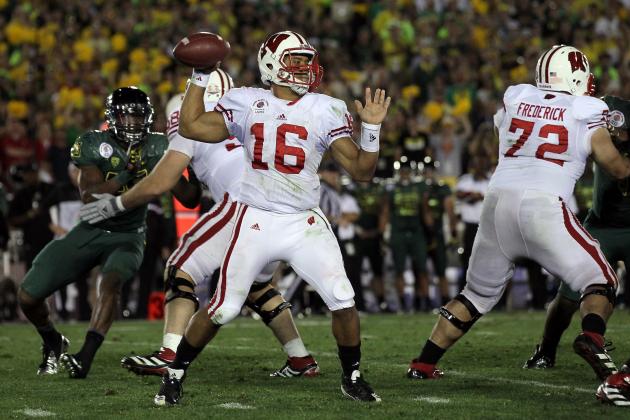 Stephen Dunn/Getty Images

In his book The Packer Way, Ron Wolf discusses the ways to build a successful franchise. If you have any interest in learning more about football and the decision-making processes for a general manager, I highly recommend that book.
One of Wolf's key contributions to the game of football, and specifically the Packers' organization, is the idea of consistently drafting a quarterback in the later rounds. Once a young quarterback was brought in, he was granted the ability to learn in what amounted essentially to an internship under the tutelage of some great quarterback minds—Andy Reid, Jon Gruden and Steve Marriucci to name a few.
These coaches taught the Packer Way to play quarterback, which of course was very successful for many years. Under Ted Thompson and Mike McCarthy, the Packers have regained such an attitude and ability to develop quarterbacks (if you haven't heard, Matt Flynn is a highly coveted free-agent target this spring).
The point is that you do everything in your power to find a player who can develop into something special—first in case your guy goes down, and second in the hopes you can trade him for a mid-round draft pick (which are so valuable in the NFL).
I have been begging (in my articles on Bleacher Report) the Saints to do this for years. Much like those old and current Packers teams, they have a great starting QB, wonderful QB teachers (Sean Payton, Pete Carmichael and Joe Lombardi) and a backup ready to be traded away for a high pick likely in another year.
With all that said, Russell Wilson is probably the best answer to who the Saints should take in this draft. He is most reminiscent of the kind of player the Saints already possess in Drew Brees and Chase Daniel. None of the three are tall with out-of-this-world arm strength. All are insanely intelligent, though, with underrated athleticism and tremendous leadership abilities.
Wilson just makes sense—especially after I've soured on Boise State's Kellen Moore.
Others Considered: DE Jacquies Smith, Missouri; S Tysyn Hartman, Kansas State; QB Chandler Harnish, Northern Illinois.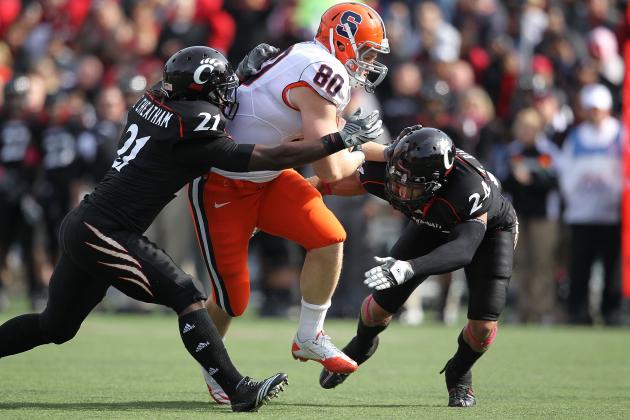 Andy Lyons/Getty Images

The New Orleans Saints desperately need a backup tight end who can come in and compete with Dave Thomas for that second tight end spot. Thomas will maintain that spot assuming he comes back healthy in 2012.
But should he or Jimmy Graham get injured, a major aspect of the Saints' offense would be dead. Versatility and flexibility are the two keys to what makes the Saints' offense great. Provo is an able run-blocker and pass-protector. He also provides an excellent ability to line up out wide and catch the football.
As I've previously mentioned, he would benefit from having played in Doug Marrone's system; thus, he'll know exactly what he's doing when he encounters the playbook Sean Payton hands him in late April.
Others Considered: OLB Tank Carder, TCU; DT Jaye Howard, Florida; TE/FB Brad Smelley, Alabama.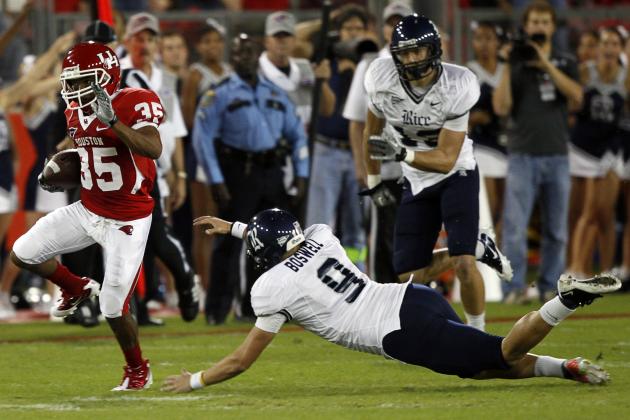 Bob Levey/Getty Images

With their seventh-round selection, the Saints can literally take the best player available. Let's hope the Saints are at least able to re-sign Marques Colston, since they were unable to acquire the talents of a young receiver in this mock draft.
As for Solomon, he was the highest rated player at a position of relative need who was available at the slot the Saints were picking at. That is why he got the call.
Others Considered: S Eddie Pleasant, Oregon; DB Quenton Washington, South Florida; OG Joe Looney, Wake Forest.