MLB Los Angeles Dodgers: 10 Bold Predictions for 2012 Season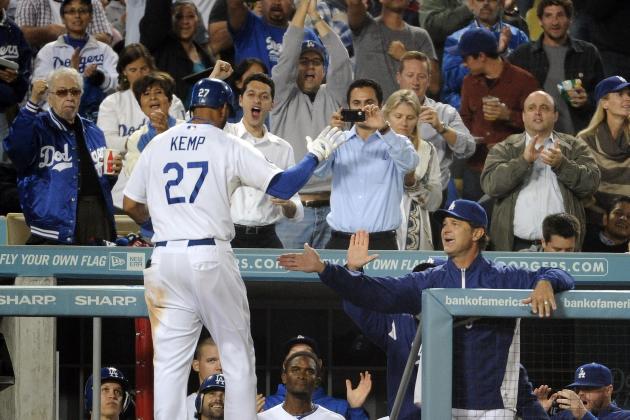 Harry How/Getty Images
Can Kemp lead the Dodgers to the playoffs in 2012?
While most viewed the Los Angeles Dodgers' 2011 season to be a failure, they actually had success hidden underneath all the failure. With swirling rumors behind Frank McCourt's divorce and misuse of the team's funds, the Dodgers actually finished with a winning record of 82-79.
They finally found their key players in Matt Kemp and Clayton Kershaw, and neither is predicted to regress this season. The Dodgers finally locked up Kemp for the long term, signing him for eight years at $160 million.
The team is in the process of selling to new owners, and it is presumed that one of baseball's most storied franchises will be under new ownership for the start of the 2012 season. After the team sells, the new owners will be able to re-negotiate their television contract, à la the Miami Marlins. After the TV deal is completed, the franchise will finally have money to spend on next season's free agents, a list that includes Cole Hamels, Matt Cain, Josh Hamilton, B.J. Upton and Shane Victorino.
While the 2013 season looks like the Dodgers' start of a new era, 2012 looks about the same. The Dodgers' payroll is currently at $105,112,432, with $21,712,432 committed to: Manny Ramirez, Andruw Jones, Rafael Furcal, Juan Pierre, Jon Garland, Hiroki Kuroda and Casey Blake.
Kemp and Kershaw have to lead the Dodgers for the entire season, while rookies such as Dee Gordon and Jerry Sands have to step up to the plate.
What does this season have in store for the Dodgers? Let's find out.
Begin Slideshow

»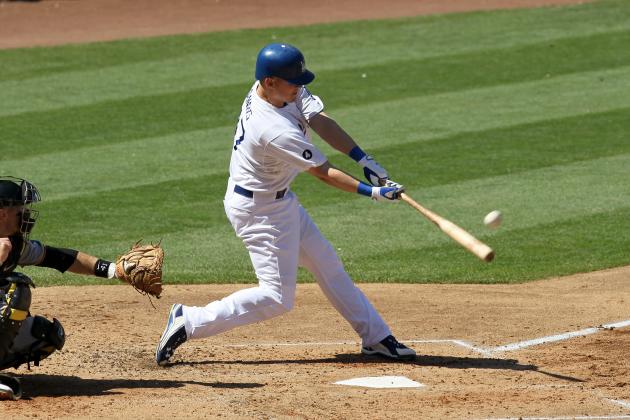 Stephen Dunn/Getty Images
Sands going yard vs. the Pirates
When Sands did get playing time last season, it was sporadic at best. If his 2011 numbers hold true, Sands is only projected to hit 11 home runs for the 2012 season. However, Sands had a .576 slugging percentage in the minors, and a .952 OPS.
Given those numbers, Sands would be projected to hit 37 home runs in 2012. His real home run total lies somewhere between 11 and 37; but given his track record, I wouldn't be surprised to see Sands hit 30 homers if he is given regular playing time.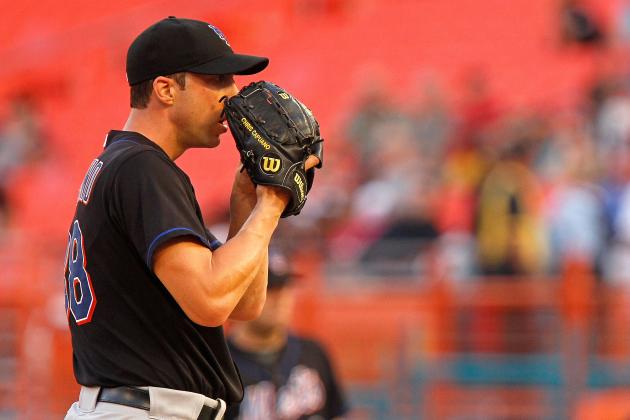 Mike Ehrmann/Getty Images
Capuano, ready to step up for the Dodgers.
Call me crazy on this one, but Capuano's numbers have not been that bad. He has only posted an ERA under 4.00 once in his career, and his career ERA sits at 4.39.
However, he has averaged 186 innings per season over his career, and he has a pretty decent strikeout rate. Given that he is moving to a pitcher's park in Dodger Stadium, I wouldn't be surprised to see him post a reputable ERA.
Stephen Dunn/Getty Images
The Buzzsaw at Work
I honestly think that Chad Billingsley is the most important part of the Dodgers' 2012 season. He has been hyped to be one of the better starters in the National League, however, he has disappointed the Los Angeles faithful since his rookie season. He looked promising, posting a 3.14 ERA in his first season starting. Now, the only thing that the Buzzsaw is know for is the 4.21 ERA he posted last season.
This might truly be the season he breaks out. Billingley's career numbers suggest that his 2011 season is to be an outlier. He has an above-average strikeout rate and a decent K/BB ratio, and he is coming into his age-27 season, when most players are believed to be in their prime. He needs to be more consistent to be an ace, but maybe this season Billingsley puts it together.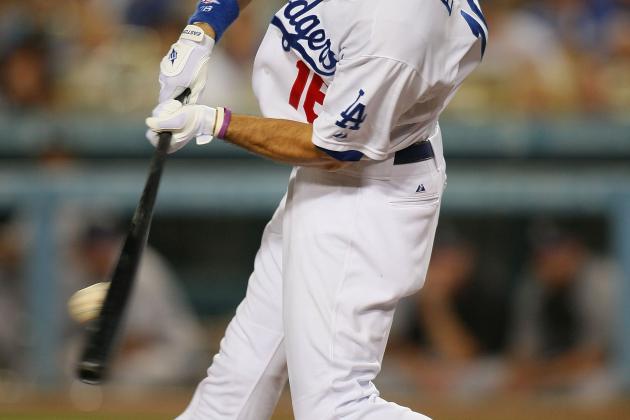 Victor Decolongon/Getty Images
Time to put it all together, Andre.
Hasn't everyone wondered when Ethier would finally lead the league in batting? We've been through all of his phases, the months where he hits .380 (March of 2011), and the months where he hits .188 (September of 2011.)
Despite his inconsistency, Ethier is a career .291 hitter, with the ability to be an All-Star. He needs to stay healthy and play at full capacity, but his ability has never been doubted.
With all the pressure on Matt Kemp this season, Ethier could thrive.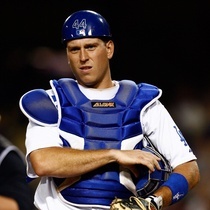 Ellis is ready to become the catcher of the future. Jeff Cross/Getty Images
Ever since the Carlos Santana-Casey Blake trade, the Dodger's catching tandem has be comprised of post-prime players such as Dioner Navarro and Brad Ausmus. This year, the Dodgers will be shooting with the young tandem of Ellis and Tim Federowicz.
Ellis has the ability and the frame to be a great catcher, standing at 6-foot-2 and weighing 225. He posted an above-average OPS last season (.769) in limited playing time. Although he does not profile to be the next Piazza, a triple slash line (BA/OBP/SLG) of .280/.370/.400 is not out of the question.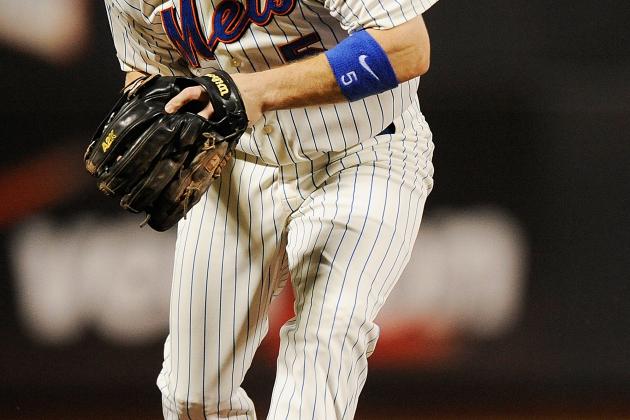 Patrick McDermott/Getty Images
David Wright, future Dodger?
The Dodgers are a perfect fit for David Wright. While the Mets are going through their own personal ownership scandal, Wright is one of the few select Mets who has trade value.
A player like Wright would fit perfectly into the Dodgers' system. Wright is a great clubhouse presence and should effect the growth of players like Jerry Sands, Dee Gordon and Nathan Eovaldi.
The Dodgers have great pitching depth in their lower-level minor league systems and hopefully (under the new ownership) to have the cap room to fit Wright.
The Mets are in need of a talent infusion at their lower levels, and the Dodgers could be a perfect fit.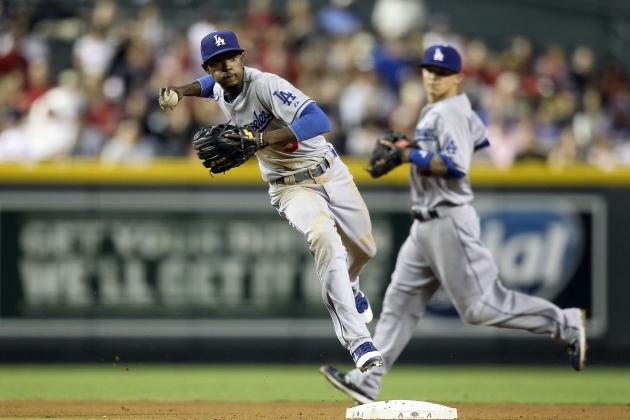 Christian Petersen/Getty Images
@SkinnySwag is going to steal 50 bases.
This really isn't that bold of a prediction. Gordon stole 24 bases last season in limited playing time. Given that he gets 600 plate appearances, he should easily steal 60 bases.
Michael Bourn, watch out for your competition for the stolen base crown.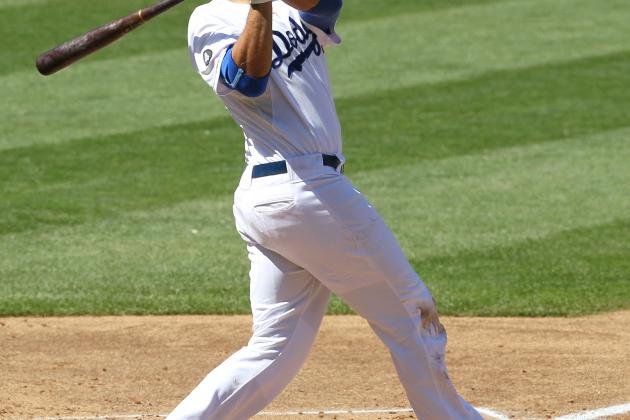 Stephen Dunn/Getty Images
James Loney's 2011 season may be his last in Dodger Blue
This is going to happen. I've been trying to believe in Loney since his rookie year, yet every season he disappoints Dodger Nation. This is Loney's last chance in Dodgertown before his contract is up, and he needs to perform in order to stay as a starter.
He doesn't hit for much power, he doesn't play extraordinary defense and he doesn't drink and drive. What does he do?!
He's never cracked 15 homers, 100 strikeouts or 100 RBI. In a weak National League first base pool, he is merely mediocre. I want him to prove every single statistic that I've written here to be wrong.
So, here's to you, Loney. Keep the bobblehead on my desk in Dodger Blue.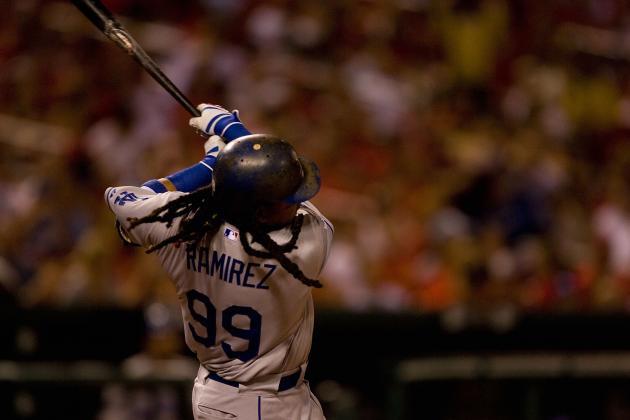 Dilip Vishwanat/Getty Images
The Dodgers are still playing Manny Ramirez $8 million this season.
Frank McCourt could possibly have been one of the worst owners in the history of owners. Here's a list of the players he acquired this offseason:
- Todd Coffey
- Chris Capauno
- Mark Ellis
- Adam Kennedy
- Jerry Hairston
- Aaron Harang
This is just depressing for every Dodgers fan. This is how the franchise has functioned for years, and this may finally be the year that they stop signing these types of players to multi-year deals. It's unbearable, and it ruins the balance of the payroll.
Hey, at least they're not paying Jason Schmidt anymore.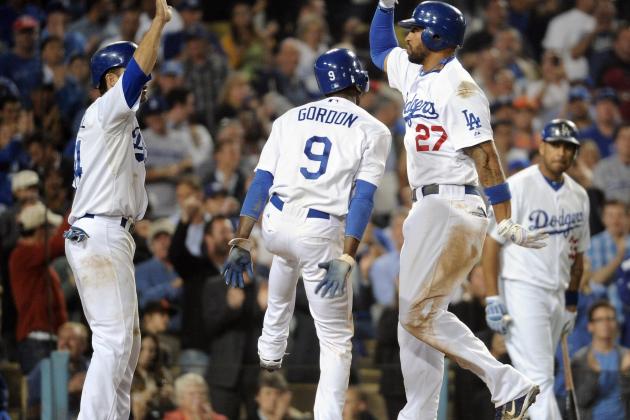 Harry How/Getty Images
Its go time in Dodger Town!
This might be the boldest one yet. They have the star power and the kind of supporting cast to continue playing in October. This may be the way the lineup shapes up by the end of the season:
1. Dee Gordon, shortstop
2. Mark Ellis/Juan Uribe, second base
3. Andre Ethier, right field
4. Matt Kemp, center field
5. David Wright, third base
6. Jerry Sands, left field
7. James Loney, first base
8 A.J. Ellis, catcher
and their rotation might go as follows:
- Clayton Kershaw
- Chad Billingsley
- Ted Lilly
- Aarong Harang
- Chris Capuano
As long as the bullpen does their job, this rotation is going to do fairly well in terms of innings pitched. They have the kinds of starters that will give quality starts and continue to pitch deep in games. They lack the depth in the lineup last most teams do, but they aren't that far off from competing in October. They must beat out the rest of their division—which has become surprisingly strong—but they have the opportunity to win.
Viva Los Doyers!