2012 NFL Mock Draft: Studs, Stars and Phenoms Bound for 2nd Round
February 16, 2012

Darren Carroll/Getty Images
We had it all wrong. That is what we will be thinking when we see some certified first-round talent slink into the reaches of the later rounds on draft day. Here are the most prominent. 
What we have here is your average, run-of-the-mill mock draft peppered with some future low lights. We will target the players in this draft that may actually get overlooked on Day 1 and see their stock plummet. 
Don't be surprised when you see some of the next talent that is being lauded as first-round guarantees slip horribly from the start of the draft. 
1. Indianapolis Colts (2-14): Andrew Luck, Stanford, QB
Andrew Luck is not only as safe as you get for a first rounder, but as a first-overall selection as well.  
2. St. Louis Rams (2-14): Matt Kalil, USC, OT
Matt Kalil is still my pick for the Rams despite the probability they deal this pick to the multiple teams that crave Robert Griffin III. Kalil will keep Sam Bradford healthy for years. 
3. Minnesota Vikings (3-13): Morris Claiborne, LSU, CB
The Vikings are in dire need of a playmaker that can handle the corners. Claiborne is a big athletic talent that will be a star. 
4. Cleveland Browns (4-12): Trent Richardson, Alabama, RB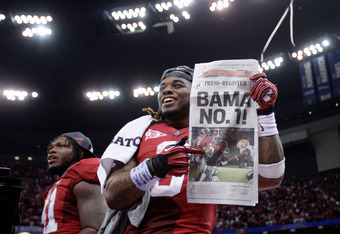 Andy Lyons/Getty Images
Trent Richardson is a well-built running back that is hard to get onto the ground. He is elusive with a low center of gravity and will be a star at the next level. 
5. Tampa Bay Buccaneers (4-12): Dre Kirkpatrick, Alabama, CB

I still say Dre Kirkpatrick is a top-10 pick, mostly for the Buccaneers needs at corner. He is a smarter defender that finds himself in the right place at the right time. 
6. Washington Redskins (5-10): Robert Griffin III, Baylor, QB
The Redskins are targeting just one player right now, and that is Robert Griffin III. The Baylor standout has the arm to win and the charisma to win over every last fan. 
7. Jacksonville Jaguars (5-11): Justin Blackmon, Oklahoma State, WR 
The book on him is that he has average speed for his size, but I beg to differ. If we aren't amazed by his 40-yard dash time, we may be looking at some great power numbers. This guy is a brute at the point of contact with corners.  
8. Carolina Panthers (6-10): Quinton Coples, North Carolina, DE
Coples nailed the Senior Bowl. It will be easy for scouts to forget thoughts on his consistency. Most have him pegged as the real deal, and his Senior Bowl solidifies his status as a top-10 draft choice.
9. Miami Dolphins (6-10): Riley Reiff, Iowa, OT
Reiff is as solid and dependable as they come. The Dolphins could be another team to trade up for quarterback glory in RG3, but they could also use a great deal of help on the line.   
10. Buffalo Bills (6-10): Luke Kuechly, Boston College, LB
Luke Kuechly is the real deal when it comes to a player that will give you all he has on every single snap. However, I could see him slide, especially after the combine. There are looming questions about his speed and size. 
11. Seattle Seahawks (7-9): Michael Brockers, LSU, DT
Michael Brockers is a big player that plays like he is out to prove something. I like him to beef up the Seahawks' front. 
12. Kansas City Chiefs (7-9): Jonathan Martin, Stanford, OT

The best part about Martin is his run-blocking, which should help the Chiefs move the ball all next season. If he has a great showing in the combine, we could see his stock rise to top-10 standards. 
13. Arizona Cardinals (8-8): Vontaze Burfict, Arizona State, LB
Second-Round Alert
Burfict is all over the place on draft boards. I am confident that the guy is a stud who will be an amazing find at the next level. There are others that are just not sold on his mental makeup. That's why I wouldn't be surprised if he drops big time. 
If he can handle his emotions, he is a true superstar in waiting. I continue to think that his on-the-field anger issues actually give him an edge that may be harnessed in the right way at the next level. 
14. Dallas Cowboys (8-8): Courtney Upshaw, Alabama, OLB

Courtney Upshaw is exactly the player the Cowboys need. Dallas needs to get tougher and deeper on defense, and they could use a workhorse who is as versatile as he is tough. Upshaw is a hungry player that would uplift a spiraling franchise. 
15. Philadelphia Eagles (8-8): Zach Brown, North Carolina, LB
Philadelphia was abysmal up the gap last season. Zach Brown is the kind of gritty player that will fill the holes and tackle anything he gets near. This is the perfect man for the job. 
16. New York Jets (8-8): Mark Barron, Alabama, S
The safety is getting a lot of love right now and fits the bill for the Jets. Barron covers ground well and has a nose for the ball. This pick would add depth to a team that could use a strong safety to allow a more versatile approach on defense.  
17. Cincinnati Bengals (via 8-7 Oakland Raiders): Alfonzo Dennard, Nebraska, CB
Second-Round Alert
The combine presents a huge opportunity for Dennard who will sink or swim immediately. Questions remain on his speed and ability to cover star receivers. 
He does a great many things things well, but nothing great.  
Dennard is big and powerful and can dominate receivers at the line, but he was suspect on double-move coverages at the Senior Bowl. 
18. San Diego Chargers (8-8): David DeCastro, Stanford, G

Philip Rivers needs a healthy and deep line to make sure the brutal string of games he endured last season is negated in 2012. DeCastro is a reliable lineman that will get the job done. 
19. Chicago Bears (8-8): Michael Floyd, Notre Dame, WR 
I would love the Bears to get Michael Floyd, a hard-working player that has superstar written all over him. This is a deep draft for the position so he may slide this far. I could also see him flirting with a top-15 future.  
20. Tennessee Titans (9-7): Cordy Glenn, Georgia, G

A big body to stick on the line is never a bad thing. Glenn is a looming presence that stays in front of rushers with top-notch footwork. 
21. Cincinnati Bengals (9-7): Lamar Miller, Miami, RB
Second-Round Alert
I am feeling Miller a lot more as the process continues. I am excited to see what he has to show us in the next couple months.
Miller is a burner that will no doubt kill it at the combine. The worry for me in his rookie year is that he is a back that really kills you in getting to that second level. He will fight to find holes in year one. 
The other problem is that running back might be a position most teams wait to solve in the later rounds. If Miller doesn't amaze at the combine, the Bengals, or someone else, could address a much more pressing need. 
22. Cleveland Browns (via 9-6 Atlanta Falcons): Devon Still, Penn State, DE 
Second-Round Alert
Devon Still could have answered a great deal of questions at the Senior Bowl but was out with a sprained toe. 
That week of practices might have gone a long way towards answering just what plagues him at the moment. Many have issues with his consistency and habit of taking some plays off. 
Defensive ends, more than any position, need to be beasts each and every play, and Still may not have that in him. The very question could see teams pass on him well into the second round. 
23. Detroit Lions (10-6): Janoris Jenkins, North Alabama, CB
Janoris Jenkins may have wrapped up a trip to the first round with fine Senior Bowl practices. He is just as fast and explosive as you would hope and isn't getting fooled. Character-issue questions aside, we may have ourselves a small-school first-rounder.  
24. Pittsburgh Steelers (12-4): Zebrie Sanders, Florida State, OT
The Steelers' offensive line needs depth after a season mired in inconsistency. Sanders was my pick heading into the Senior Bowl, and he remains so now. He may lack some lower body strength, but I love everything else about him. 
25. Denver Broncos (8-8): Ryan Tannehill, Texas A&M, QB
Second-Round Alert 
The Broncos may need some insurance behind Tim Tebow, so I understand the pick most people have here, but I have questions about Tannehill. For one, he has durability problems in the form of a recent toe injury. 
Versatility is nice, but the former receiver is still raw at quarterback, and there is no certainty that he will manage to pick up an uncanny ability to read defense. He has a great upside but too many questions for the first round. 
26. Houston Texans (10-6): Dontari Poe, Memphis, DT
A bit raw, but I love Donatari Poe for the Texans. He is big and strong, making him the perfect person to clog the middle. The Texans' marvelous defense in 2011 gets all the more fierce. He is the perfect huge asset to stick in their 3-4 scheme. 
27. New England Patriots (via 12-3 New Orleans Saints): Whitney Mercilus, DE, Illinois
Mercilus had a great year where he finally figured out how to use his size and wingspan. His dynamic reach will affect a great many passes at the next level. 
28. Green Bay Packers (15-1): Fletcher Cox, Mississippi State, DE/DT

Fletcher Cox fights for every last tackle and is adept at getting to the backfield to make them. He is not getting a lot of run right now, but the secret should be out shortly. 
29. Baltimore Ravens (12-4): Kendall Wright, Baylor, WR
I say Wright has the hands and speed to be a superstar. The blazing speedster should destroy the competition at the combine. 
30. San Francisco 49ers (13-3): Jared Crick, Nebraska, DE
San Francisco gets a versatile machine in Crick. He will go nicely with the new team motif of killing quarterbacks.  
31. New England Patriots (13-3): Markelle Martin, Oklahoma State, S

The Patriots held the Giants in check for most of the Super Bowl. It would have been nice to have depth in the secondary to cover Mario Manningham though. This portion of the field has to be the first thing the Pats target.  
32. New York Giants (9-7): Andre Branch, Clemson, DE
The offensive line looks stout, and, with no great picks at this point, we head to defense. There is a good chance that a solid linebacker comes falling to the back of the first round, but, if not, Branch is a solid pick. He doesn't fill a specific need but is the best player out there.