NBA Rumors: Chris Kaman Joining Heat Would Be PR Nightmare for NBA
February 16, 2012

Doug Pensinger/Getty Images
The Miami Heat need a center and the New Orleans Hornets are looking to get Chris Kaman off their hands.
Might there be some sort of correlation here?
Actually, yes. According to Chris Tomasson of FoxSports.com, the Heat are very much interested in acquiring Kaman. He's been on the trading block in recent weeks, but the Heat's best chance at acquiring Kaman would be to sign him after the Hornets buy out his contract.
That, apparently, is a legitimate possibility. Per Tomasson, "the belief" is that Kaman's $14 million contract could be bought out if the Hornets can't find a trading partner to take him off their hands. That would allow the Heat, who don't have the pieces to trade for Kaman, to scoop him up.
"If they could get him, that would solidify the championship,'' said a source.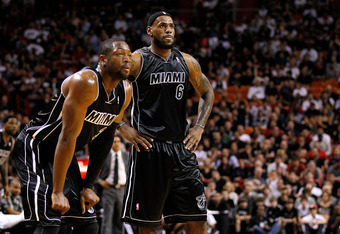 Mike Ehrmann/Getty Images
There's no argument there. The Heat already are one of the best teams in the NBA. Give them a true center with some skill like Kaman, and they'll be the best team in the NBA. Hands down.
And that would be a problem for the NBA.
The elephant in the room is not hard to spot here. The league famously blocked Chris Paul from going to the Los Angeles Lakers in December. The deal was nixed for "basketball reasons."
Roughly translated, the deal was nixed because of a half-baked notion to maintain competitive balance within the league, and to send a message to players that they aren't allowed to dictate where they're going to play.
There was a lot of outrage amongst the public and the punditry when the Paul trade was killed. If the NBA, which owns the Hornets, lets Kaman walk so he can join the Heat, the league will invariably be accused of blatant hypocrisy.
This situation would be a little different, mind you. Buying out Kaman's contract could be perceived as a sound business decision if and when it happens. After he is bought out, Kaman will be free to sign with whichever team he likes. He would be well within his rights to sign with the Heat.
But reality and the perception of reality are two different things. Buying out Kaman's contract may be a sound business decision, but the perception will be that the NBA enabled Kaman to sign with the Heat. 
Next thing you know, Ken Berger will accuse the NBA of being a second-rate bush league all over again.
It may end up being worth it, though. If Kaman were to join the Heat and they go on to win the NBA Finals, it wouldn't take long for people to start saying LeBron couldn't have done it without Kaman.
That would be priceless.