Jeremy Lin's Success: An Analysis
February 16, 2012

Chris Trotman/Getty Images
Jeremy Lin, the new sensation everyone is talking about.  But is he really as good as people make him out to be?
Objectively, I truly believe the whole hype about Jeremy Lin is due in no small part to the attention-seeking media outlets in US.  They're constantly looking for things to talk about.  Now that Linsanity is taking over the NBA, what happened to Dwight Howard's trade talk? Or the presumed hype over LA Clippers?  Or the downfall of Lakers?  How about the hating on Heat?  Or the fact that window will be closed for the Celtics? That has all disappeared because of Lin.

Now, I'm not saying Jeremy Lin is a bad player.  During a shortened season after an ugly lockout,  this is what the fans need, and this is what NBA needs.

But calling him "the savior of Knicks", the "MVP" or "the first person to average xxx since xxx," I think is hype after hype after hype.  Yes, he's been playing out of his mind, and yes he's helping Knicks reach new grounds in this otherwise disastrous season.  But is he really what everyone thinks he is?  No one can really answer the question, but I don't think anyone will be able to argue the fact that he can play.  He has tremendous potential and he has a terrific work ethic.  And don't fool yourself, he knows what to say in front of the mic too (which is absolutely vital).

At the same time, you have to wonder how on earth Lin went from cut by two teams to being a starter producing at this level? He has been very, very fortunate.  I will be the first to admit, it has all been D'Antoni, good or bad.  Mike D'Antoni does not have a great track record without a solid point guard to run his "less-than-7-seconds offense."  In fact, he was fired in the last lockout-shortened season with the Nuggets.  His next stint as head coach? Steve Nash and company.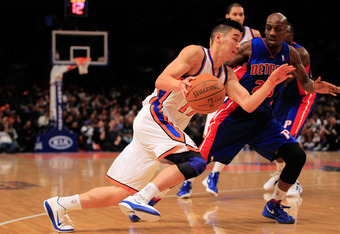 Chris Trotman/Getty Images

Now with the Knicks, they have over 50 million dollars committed to Amare and Melo over the next 5-6 years.  This is a very tricky situation, as both are face-up mid-range players.  Amare works best in pick and roll, Melo in isolation on the block.  The fact is, these two have completely polar opposite games and honestly, Melo halts D'Antoni's system. 
Last year, Knicks were hot because Amare ran the pick and roll perfectly with Raymond Felton.  This was supplemented by shooters like Gallinari, Toney Douglas and Landry Fields. This strategy opens the space for them, but Melo takes it all away.

How does Jeremy Lin tie into all this?  Well, they lost Raymond Felton through the trade with Melo.  That's the only point guard on the Knicks roster who can push the ball and run the pick and roll.  They then acquired Billups through the trade. 
It worked to some degree late last season, and allowed them to at least sneak into the playoffs.  But then Billups was amnestied.  So who's been Knick's point guard before Lin showed up?  Mike Bibby, Toney Douglas, Iman Shumpert, and the ever-injured Baron Davis.

Acquiring Mike Bibby to run the D'Antoni system is absolutely absurd.  Bibby's record on offense has never been pass-first.  Look no further than last season with the Heat.  Spolstra felt more confident with Chalmers simply because he can push the ball.  Bibby doesn't function that way.  Think back in the good old days in Sacramento where he was known as the Iverson-type player.

Toney Douglas, he has potential as he's a much better shooter than distributor.  Add in Iman Shumpter, who was a terrific scorer at Georgia Tech, but not really the pick and roll PG D'Antoni needs.  So who else do they really have?  None of these PGs can run the pick and roll properly.  And the Knicks considered picking up Mike James (by dropping Lin)?  Really—Mike James?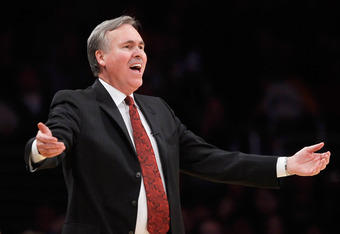 Jeff Gross/Getty Images
This is when Jeremy Lin decided to show the world what we're all missing.  But the truth is, Lin is in a fortunate position.  He's been a great PG in Harvard, who has run the pick and roll with proficiency.  He has enough of an outside shot to force his defender to pick his poison.  Add in the fact that Amare and Melo out, this is the perfect opportunity.  The team is desperate to play.  Look at Tyson Chandler.  He's running the floor like he did in Dallas.  Reason?  They all stood and watched Melo and Amare play isolation ball.  They want to play too.  Who doesn't, especially in a free-for-all D'Antoni system?
Why can't Jeremy Lin be stopped?  The teams he has won against so far are all terrible pick and roll defending teams.  The Lakers are notoriously bad at this.  They simply can't defend the pick and roll ran by a quick and speedy PG.  The other teams, well, just aren't good teams defensively.

I hope Lin continues to be a solid PG for the Knicks and carve himself a solid NBA career.  But the truth is, the hype needs to die down and all the comments needs to be realistic.
You have to consider the whole situation. There are a lot of other PGs in the NBA (and D-League) who are very capable of doing what Lin is doing if they were in his situation.  I'm not going to name them, but I know of many players who are stuck at the end of the bench or still as free agents simply because no one took the chance on them.  Jeremy Lin is a fairytale because he was lucky.  If Ishmael Smith had the same fortune  it would've been him in  Lin's position.
I just hope people realize this and start thinking of basketball as a team sport, and not a one-man system.