NCAA Tourney: 5 Teams Playing Their Way Backwards into Bubble Status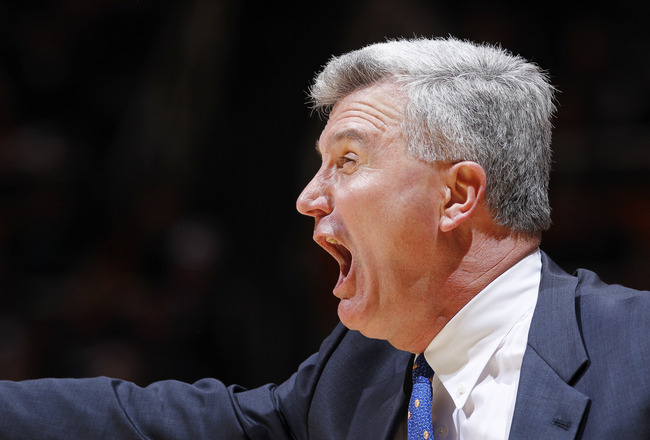 Joe Robbins/Getty Images
The bubble talk for the NCAA Tournament is really starting to heat up as we hit mid-February. This is the point in the season when teams need to buckle down and show the selection committee they are one of the 68 teams who belong in the dance.
Unfortunately, around this time of year is when some teams show us that maybe they don't actually belong in the tourney, which is not what a team wants to hear as we come down the stretch.
It is happening again this year as we all thought that these five teams a month ago were almost locks for a spot in the dance, but now not so much.
Each team, of course, still has a shot of getting in, but their play must improve in the final few weeks to secure a spot in March Madness.
Alabama Crimson Tide (16-9, 5-6 SEC)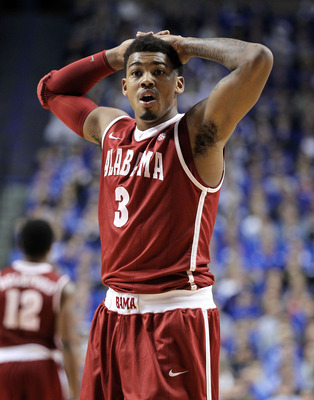 Andy Lyons/Getty Images
RPI: 36, SOS: 20
After another national championship for the football team, folks in Tuscaloosa were looking towards basketball season because the Tide were playing some very good ball.
However, in the past few months the Tide have played bad basketball and are finding themselves right on the bubble.
The Tide got off to a great start as they headed into SEC play with an 11-3 record with wins over Maryland, Wichita State and Purdue in route to the Puerto Rico Tip-Off title and a solid win over VCU.
Then SEC play came, and everything has gone south. The Tide head into the weekend at 5-6 in the SEC with their best win being against Arkansas at home—yikes. Throw in suspensions to a total of four players for conduct detrimental to the team, and things get really messy.
The good news is that 'Bama has a soft schedule down the stretch as three of their last five are at home with the most difficult being vs. Mississippi State at home.
The Tide can't falter too much down the stretch because the shaky play recently has hurt them. If they win four of the last five, they should feel very comfortable about getting into the tourney.
Final Verdict: In
Connecticut Huskies (16-9, 6-7 Big East)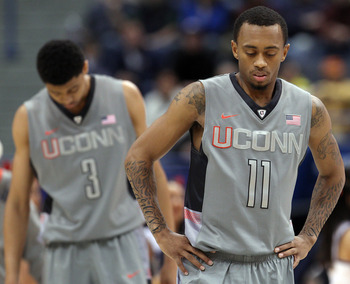 Elsa/Getty Images
RPI: 20, SOS: 1
Heads up—the defending national champions are in trouble.
It seems like ages ago that the Huskies were 12-1 and ranked in the Top Five in the country. That hot start had the Huskies looking like another potential title was in the window as they beat Florida State, Arkansas and Harvard in three straight games.
Since then, however, a 4-8 record (4-7 in Big East play) has put the Huskies in the bubble conversation. The best win of those four is at Notre Dame, but the Irish were not the team in mid-January that they are now. What's even more disturbing is that in too many of the losses, the Huskies have looked like they don't even care.
To make matters worse, Jim Calhoun had to take a leave of absence for spinal stenosis problems, and he's out at least two more games if not more.
UConn still has chances to improve their resume with home games against Marquette and Syracuse remaining. Other than those two games, the Huskies can win the other three—and they're going to need to, just to keep their chances above the bubble line.
Final Verdict: In
Cincinnati Bearcats (18-8, 8-5 Big East)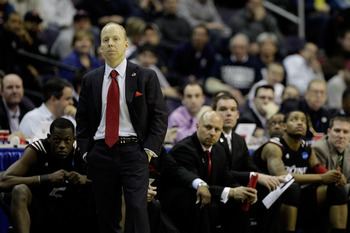 Rob Carr/Getty Images
RPI: 89, SOS: 161
Cincinnati has been a difficult team to figure out this year. They began the year ranked in the Top 25 and were picked to finish near the top of the Big East.
However, the team started 5-3 with home losses to Presbyterian and Marshall. That third loss was, of course, the infamous brawl against Xavier that saw Yancy Gates throw a solid right hook and left eight players in total suspended for some period of time.
After the brawl, though, the Bearcats found a spark, winning 10 of 11 with wins over Notre Dame, Georgetown and Connecticut. That stretch put the Bearcats at 15-4 and 5-1 in the Big East.
Since that UConn win, Cincy has been disappointing, going 3-4 with the three wins coming against the bottom feeders of the league.
Of the last five games, three are at home, including Marquette and Louisville. Cincy has no room for mistakes as their computer numbers are not very strong.
Final Verdict: Out
Kansas State Wildcats (17-8, 6-7 Big 12)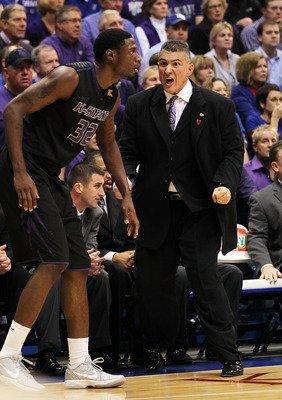 Jamie Squire/Getty Images
RPI: 59, SOS: 86
You can't say it's not awesome to see Frank Martin when he's upset. Best facial expressions in college basketball? The problem is that he probably doesn't like having to pull them out with how his team has struggled lately.
The Wildcats began the season with lower expectations than the past few years due to the loss of key players, including Jacob Pullen. However, they got off to a 12-2 start with wins over Alabama, Long Beach State and Missouri.
That Missouri win came in a stretch with Kansas, Missouri and Baylor in three straight. The Wildcats came out of it 1-2 and 12-3 overall. Since then, the team is 5-5 with two losses to Oklahoma, and the best win was against Texas at home.
They are again in the middle of a Kansas, Missouri and Baylor three-game stretch, and they've already lost at home to Kansas. The Missouri and Baylor games come on the road before a tricky home game against Iowa State, and two more after that.
The Wildcats would probably be in for good if they can take one of the games against Missouri or Baylor and not falter too badly in the other four. If they can't get one of those two, then things get a little more difficult.
Final Verdict: In
Illinois Fighting Illini (16-10, 5-8 Big 10)
Joe Robbins/Getty Images
RPI: 55, SOS: 22
Illinois has to be one of the most baffling teams to play this college basketball season.
The Illini got out of the gates quickly with a 10-0 start that included a home win over Gonzaga. In mid-January they were 15-3, 4-1 in the Big 10, with two of the losses coming against UNLV and Missouri. They also beat Ohio State at home in a brilliant performance by Brandon Paul (43 points).
Since then, Illinois has gone 1-7, with the only win coming in one of the ugliest games of the year at home over Michigan State.
After the last loss earlier this week against Purdue, Bruce Weber said some regretful things about his team that he later apologized for. In the past week, Weber also did not get the vote of confidence from his AD for next season.
The schedule gets no easier down the stretch as the Illini play three of five games that include at Ohio State and Wisconsin and a home game against Michigan.
To turn things around, the Illini will have to win four of their final five and win two of the above mentioned games, or the season (and Weber era) may be over in Champaign.
Final Verdict: Out
Keep Reading