Patrick Kane Rumors: Why Jeremy Roenick's Trade Suggestion Is Insane
February 17, 2012

Christian Petersen/Getty Images
Jeremy Roenick's idea that the Chicago Blackhawks should trade Patrick Kane is completely asinine. 
Roenick has a great mind for the game of hockey and is one of the best players of all time. However, when he went on "The Waddle & Silvy Show" on ESPN 1000 in Chicago and suggested that the Blackhawks move the All-Star forward for a top level goaltender, he was completely off base. 
Here is what Roenick said about Kane:
"Everybody knows I am a huge Patrick Kane fan, there's no question about that. But when you're talking something of this nature, is Patrick Kane, um, dealable? I'm gonna have to come out, as much as I don't want to say it, they can afford to get rid of Patrick Kane. They can afford to -- with the season he's having -- maybe with his off-ice reputation, maybe with the skill they have on their team, it's doable. 

"Do I like it? No, because I love Patrick Kane. He is one of the most talented and one of the best players in the NHL. But if you really want a top-end goaltender, you're going to have to give up somebody. Is that Patrick Kane? God I hope not. But some people might think so."
Young Talent 
While Kane isn't a rookie, he is still only 23 years old and is one of the younger players on the team. 
But, for Roenick to say that Chicago should give up on him at this young stage after only five seasons with the Blackhawks is absurd. 
Kane has showed his immaturity at times—as just last year he was being referred to as "Party Kane" by the Chicago media—but, that did not hold him back from posting his usual stat line of 27 goals, 46 assists and 73 points.  
With only 12 goals, 33 assists and 45 points through 57 games, Kane is having a down year compared to his previous four seasons. However, in his last 10 games Kane has six points, with four of those points coming in their last seven contests.  
Kane has another 10-to-15 years left in his career, and it would be foolish of the Blackhawks to move him now only to watch him carry another franchise to a Stanley Cup championship. 
Stanley Cup champions with a no-name goalie 
When pressed about the Kane trade, Roenick's response was that the Blackhawks would get a top-level goalie in return.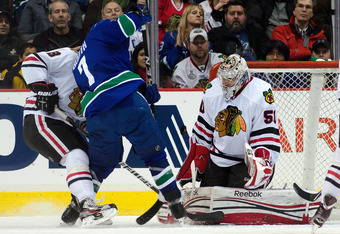 Rich Lam/Getty Images
However, when the Blackhawks won the Stanley Cup just a mere two seasons ago, they did it with a goalie playing in his first full season with the team, Antti Niemi.  
Without a household name in front of goal, the Blackhawks plowed their way through the Western Conference in the playoffs and defeated the Philadelphia Flyers with Kane and a solid core of forwards and defensemen.  
In terms of their goalie play, are they struggling in their last 10 games?  
Yes. However, there is still a month-and-a-half of hockey left to play.  
If Ray Emery or Corey Crawford can get hot during the playoffs, they can carry this team deep into the playoffs. Just like last season, when Crawford won three straight against the Vancouver Canucks before losing 2-1 in overtime in Game 7 of the first round. 
Blackhawks need a defenseman at the trade deadline 
Chicago needs a player who can help fix their penalty killing woes that have this unit ranked 27th in the league. It's not like Chicago is taking an absurd amount of penalties, as they have only been penalized 176 times, which puts them in the bottom third of the NHL.  
But, while they are killing just 77.8 percent of those penalties, they let those goals add up in bunches. In fact, over their last 10 games, the Blackhawks have given up eight goals on 30 attempts. 
This poor result isn't the fault of Kane, or the goaltending. Furthermore, a top-level goalie—as was suggested by Roenick—wouldn't fix this problem either.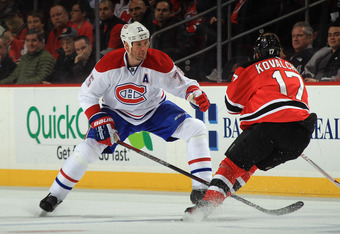 Bruce Bennett/Getty Images
Instead, a shutdown defender, like Montreal Canadiens' Hal Gill, would help this struggling unit.  
Gill is being shopped around by the Canadiens with the trade deadline looming. He is a shot-blocking machine; with 122 blocked shots this year, he is in the top 15 of the NHL. This ability has helped the Canadiens become the top penalty-killing team in the league.  
Having Gill would give Chicago a huge boost to this struggling penalty-killing unit. Plus, taking on Gill would be a low-risk move for the 'Hawks
According to CapGeek.com, Gill would be $2.05 million cap hit against the Blackhawks salary cap, which has $22 million available.   
Kane must stay a Blackhawk

Despite the rumors swirling around on the Web, like the Kane-for-Ryan Miller talk, Chicago must stick with the young superstar and their current netminders.
If Kane continues on the pace he has set for himself, he will finish his career as one of the Blackhawks' all-time best. 
I feel the same way about Roenick as he speaks about Kane, "I am a huge Patrick Kane fan." Roenick was a great player and is a great TV personality. However, he needs to stay away from trade suggestions.  
Moving Kane from the Blackhawks is about as smart of move as Jon Favreau remaking the movie "Swingers" with Roenick as one of the lead characters. That idea, like Kane being traded, is all sorts of awful.