Jeremy Lin: No. 17 Lin Rookie Card to Sell for $75,000?
February 16, 2012

Last Monday, a bold 29-year-old Yair Rozmaryn from the Upper West Side made a gamble. He bought a signed Jeremy Lin rookie card, with a piece of Lin's jersey embedded in the card.
Rozmaryn appeared on WFAN's Boomer and Carton radio show on Thursday morning.
Rozmaryn bought the card for $1000 on February 6, before "Linsanity" was gracing the covers of newspapers and websites across the world.
Now he looks to turn a gutshot investment into $75,000. 
Your eyes did not deceive you: $75,000.
Although Lin's rookie card can already be found on ebay.com for thousands of dollars, Rozmaryn feels his profit will trump all of the other ones being sold.
His card is numbered 17, Lin's jersey number.
There are two sets of the most-valued rookie cards. In the first set, 99 cards were manufactured and signed. The second set—of which Rozmaryn's card is a part—was limited to only 25 cards that are not only signed but have a piece of Lin's jersey in them.
A card that sold for a few dollars two weeks ago now has the capacity to make one lucky guy tens of thousands of dollars. 
It is remarkable how fast the Lin story has captivated the world, and now there is going to be a small percentage of people who are going to be able to cash in on it.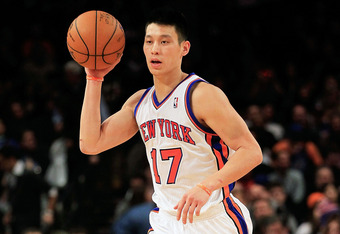 Chris Trotman/Getty Images
The question for Rozmaryn and other Lin card owners now becomes when is the right time to pull the trigger on selling the card. The New York Daily News reported that Rozmaryn was going to post it online Wednesday night at a starting bid of $12,000. 
Some might wonder if there was a better time to sell the card; for example, perhaps after one of the two New York comebacks that had everyone buzzing.
The Lin coverage continues to grow, however, so now is just as good a time as any.
The card might have bids as as high as Rozmaryn hopes simply because of the international attention focused on Lin and his success.
"Linsanity" is no longer just confined to New York City or to NBA fans. It is a worldwide phenomenon and it will only continue to grow during the Knicks' current homestand.