Fan Forum: The Best AFC North Message Board Posts and Debates, 2/16 Edition
February 16, 2012

Justin Edmonds/Getty Images
The pulse of the AFC North can be best taken by examining what the fans are discussing at their teams' message boards around the web.
Today, it appears that fans of the Steelers, Ravens and Browns have a lot on their minds regarding the future of their respective offenses, while Bengals fans are concerned about their defensive backs and the latest legal troubles plaguing a member of the team.
Fans at the Steelers Fever forums are discussing whether wide receiver Jerricho Cotchery should remain with the team in 2012.
Also a hot topic on the Steelers Fever forums is the future of Hines Ward, whose status with the team is still undetermined.
Baltimore Ravens fans at the Ravens24x7 forums are wondering what many have this week—could wide receiver Randy Moss be a good fit for the Ravens?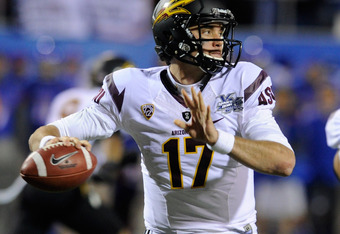 Ethan Miller/Getty Images
Fans at the Cleveland Browns message board The Browns Board are more concerned with a running back, namely Trent Richardson and whether he will be the team's first-round draft pick this April.
They're also discussing the possibility of drafting Arizona State quarterback Brock Osweiler in a later round.
Cincinnati Bengals fans at the Jungle Noise boards are discussing the latest legal troubles for one of the team's players, namely Rey Maualuga's involvement in an alleged assault.
Less concerned about the state of their offense, fans at Jungle Noise are discussing the future of their young defensive backs, Kelly Jennings and Brandon Ghee.