New York Jets: After 3 Years, Who Is Mark Sanchez?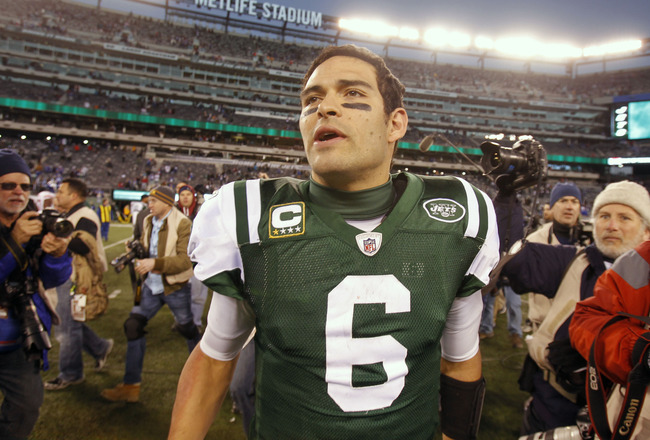 Rich Schultz/Getty Images
The task here is simple: Vet Mark Sanchez through his closest statistical comparisons, the quarterbacks since the merger with similar early-career numbers.
The reason for the task is more complicated.
The Jets find themselves at a crucial, and under-reported, crossroads this offseason.
In a sense, nothing has changed. They are as they were each of the past two years, a team torn between the win-now urgency of a veteran core and the uneven development of their young quarterback.
In past offseasons that incongruity went unmentioned, plastered over by moderate playoff success and Rex Ryan's bravado.
But when that same formula culminates in a .500 finish and a locker-room meltdown, more penetrating criticism begins to percolate.
Whether 2011 was a blip or the opening act of a sustained decline depends on the future play of Sanchez.
It isn't surprising or even intelligent to say a football team's fortunes rise and fall with its quarterback, but in New York nothing is as easy as it sounds.
Sanchez is young, handsome, Mexican-American and plays in the country's biggest media market. Inevitably, his supporters and detractors get sucked into the media-fueled vortex of subjective analysis.
He's been called winner, loser, iron man, egg shell, blue collar and hot dog. When he ate an actual hot dog, it inspired another round of the same.
So to cut through all the crap, this analysis deals solely with numbers.
Wipe away all the varnish and mud.
What does Mark Sanchez look like underneath?
Starts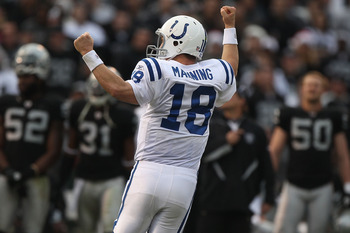 Jed Jacobsohn/Getty Images
I know it seems an odd place to start, but the number of starts a quarterback earns in his first three seasons tell us a lot about his trajectory.
Or at least more than you might think.
Mark Sanchez has started 47 out of a possible 48 games in his young NFL career.
The other QBs to have started at least 45 games over their first three seasons are:
Warren Moon (45)
Carson Palmer (45)
Matt Ryan (46)
Joe Flacco (48)
Peyton Manning (48)
That's four Pro Bowlers and two Hall of Famers on a list of five. Outside Palmer, it's also a list of remarkably durable quarterbacks.
What does that tell us about Sanchez?
It tells us that players deemed good enough to start early in their NFL journey usually go on to above average or superlative NFL careers. What's more, early health seems to augur well for overall health.
On this slant, Sanchez keeps some mighty fine company.
Passing Yards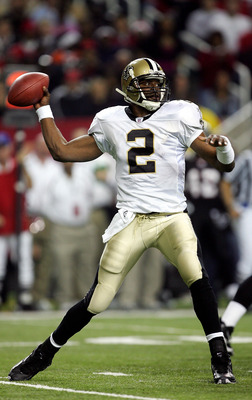 Streeter Lecka/Getty Images
Passing yards are, as we know, cumulative, so the analysis here tacks closely to that of the first slide.
Guys who throw for oodles of yards in their first three yards both a) get the chance to play and b) are at least fairly productive when they do.
Sanchez threw for 9,209 yards in his first three seasons and is one of just 16 quarterbacks since the merger to throw for more than 8,500 yards that early in his career.
That's the good news.
Of course we only say "good news" when there's bad news to follow. In this case it's this: Of the six aforementioned quarterbacks to start at least 45 games over the first three years Sanchez is dead last in passing yards.
But if you wanted to ignore all that and just look at who has thrown for a similar number of yards, Sanchez is within 400 yards of the following QBs:
Josh Freeman (8,898)
Aaron Brooks (8,918)
Ken O'Brien (8,980)
Jay Cutler (9,024)
Warren Moon (9,536)
This list is less impressive than the first, but still holds water. Brooks and O'Brien were productive pros, Cutler is a top five quarterback on his good days and Moon entered Canton in 2006.
None of those quarterbacks were so bad you couldn't imagine the Jets building a solid team around them. Well maybe Ken O'Brien, only because the Jets tried and failed to do just that.
Completion Percentage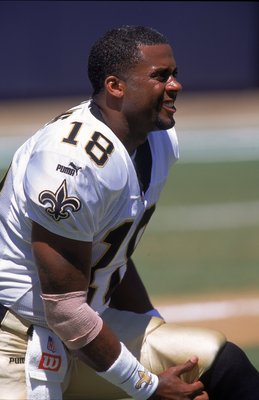 Stephen Dunn/Getty Images
Moving on to rate statistics (as opposed to cumulative), the comparisons get less friendly.
Mark Sanchez posted a 55.3 percent completion percentage through his first three seasons.
Ten other post-merger quarterbacks with at least 25 starts in their first three years, registered a completion percentage between 55 and 56 percent.
They are:
Aaron Brooks
Charlie Batch
Jake Plummer
Steve DeBerg
Kyle Boller
Kyle Orton
Ken Anderson
Don Majkowski
Neil Lomax
Jeff Blake
I'll wait for the air to leave the room...
Sure there are some nice names on there, highlighted by Ken Anderson, but all in all it's a decidedly average bunch.
Even more discouraging, none of those ten quarterbacks finished with a career completion mark above 59.5 percent. Ken Anderson and Kyle Orton are the only ones to eclipse 58 percent.
Most of the quarterbacks ended up in the 56-to-57 percent range, meaning that they made small improvements over their career. But nothing dramatic, nothing to suggest that a quarterback who begins his career with accuracy woes has the capacity to make an about-face.
Or to look at it another way, the 10th most accurate quarterback in the NFL last year (Matt Hasselbeck) completed 61.6 percent of his passes.
Of the above 10 quarterbacks, Ken Anderson was the only one to have multiple seasons as a full-time starting quarterback wherein he completed at least 61.6 percent of his passes (he did it four times).
Plummer, Orton and Lomax each did it once. The remaining six never surpassed 61.6 percent as a full-time starting quarterback.
The odds are against someone like Sanchez becoming one of the league's 10 most accurate passers on a regular basis.
Passer Rating Index
Brian Bahr/Getty Images
I can already hear dissent rising against the last slide:
"How can you compare the completion percentages of past quarterbacks with the standards set by today's? The game has changed. Passing is easier. Just because those QBs never topped 60 percent doesn't mean they weren't good passers in their era."
That's a fair criticism, which is why I'm invoking an adjusted statistic here for our next comparison.
Passer rating index takes normal passer rating and calibrates it to the mean passer rating of a given year. The scale is then set at 100, meaning any QB with a passer rating index higher than 100 is above average and vice versa for those below 100.
So if you play in an era where 63 is somehow an above-average passer rating, your passer rating index will reflect that above-average play. The result is a statistic that doesn't ebb and flow with changing NFL trends.
Mark Sanchez's passer rating index for his career so far is 87. (For comparison's sake, Colt McCoy and Josh Freeman both posted an 88 passer rating index last year.)
Six other quarterbacks registered a passer rating index between 86 and 88 during their first three seasons while starting at least 25 games.
They are:
Jake Plummer
Mike Pagel
Drew Bledsoe
Doug Williams
Kyle Orton
Quincy Carter
Some familiar faces from the last slide, but not the ones Jets fans were hoping for.
Even more discouraging, every one of those quarterbacks finished with a career passer rating index below 100. Lifetime, they were all below average quarterbacks according to this fairly comprehensive metric.
Beldsoe would seem to be the ceiling here, and he did have five seasons as a starting quarterback where his passer rating index was above 100. That included three seasons in a row from 1996 to 1998.
But again that's the ceiling for Sanchez in this comparison, a career where he is above-average for three seasons. That isn't a promising precedent.
Or perhaps you gravitate to a different name, that of Doug Williams. He is after all the only quarterback on his list to start for a Super Bowl winning team.
Williams' example proves that a player like Sanchez can ride the coattails of a good team to the top. But I wouldn't hold your breath for the day when Sanchez can do the reverse for an average supporting cast.
Won-Loss Record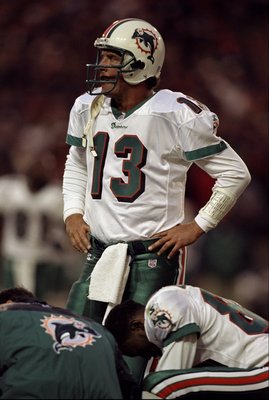 Tom Hauck/Getty Images
For many, this is the be-all and end-all of quarterback statistics. Do you win or do you lose?
So far, Mark Sanchez has prevailed more often than not, winning a cool 57.4 percent of his regular season starts.
Since the merger, 21 quarterbacks have started 40 or more games in their first three seasons. Only nine of them, including Sanchez, had winning records during that time.
The other eight are:
Peyton Manning (54.2 percent)
Carson Palmer (55.5 percent)
Joe Ferguson (61.9 percent)
Joe Flacco (66.6 percent)
John Elway (67.5 percent)
Matt Ryan (71.7 percent)
Ben Roethlisberger (72.5 percent)
Dan Marino (80.5 percent)
Wow. What a remarkable list. Three quarterbacks with legitimate claims as the GOAT and another ticketed for Canton.
Even the floor on this list is pretty high, with Ferguson, Flacco, Ryan and Palmer all somewhere between average and well above.
Say what you will about Sanchez's play, few quarterbacks in the last 40 years have won so much so soon. And the ones that have turned out pretty darn well.
Conclusion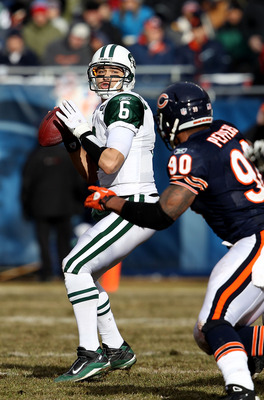 Jonathan Daniel/Getty Images
It's amazing what a little fun with numbers can do.
Depending on the statistic, Mark Sanchez is either Peyton Manning or Kyle Boller.
Of course there's a vast in-between where Sanchez likely falls.
Based on the quality of his performance, Mark Sanchez projects as an average to below-average NFL quarterback. At best he's a decent journeyman in the mold Drew Bledsoe.
Nowhere do rate statistics like completion percentage or passer rating index suggest he's a franchise stalwart (again, with the one notable exception of Ken Anderson).
The cumulative statistics tell a different story, and they say that the quarterback who plays and wins early usually has a commendable career.
If you believe Sanchez stinks, then you're saying he has been singularly misjudged, overvalued and overused by the Jets early in his career. You are saying they have overestimated his skills in a way few organizations ever have.
If you believe Sanchez will become a Pro Bowl performer, you are betting against significant evidence to the contrary. You are saying he will improve his completion percentage, passer rating and yardage totals to an extent rarely seen.
One way or another Mark Sanchez will defy the odds, the question is which.
Keep Reading

New York Jets: Like this team?