7 Horrible, Must-See Pole Matches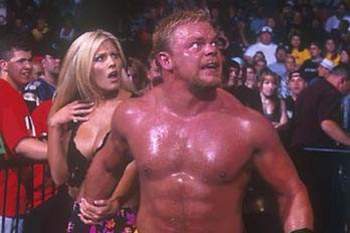 There have been some horrible gimmick matches over the course of wrestling history.
However, I think the one that simply might top them all is the Item on a Pole match, otherwise known as the "Russo Special."
Even though pole matches have existed long before Russo decided to have them every few weeks on television, it just seems that, over the years, this type of match ends up as a horrible mess.
You'd think a gimmick match this simple would be easy to pull off, right? The combatants battle it out for whatever item is featured, grab it, use it (or at least try to use it) and then get the pin. What could possibly go wrong?
Well, as these matches on the list show, it apparently isn't easy to pull off, and anything that can go wrong, does!
Honorable Mention - Cage, Glove on a Pole Tuxedo Match
Before we begin the list, I want to take this opportunity to show you a surprisingly very good pole match that happened in Mid-South Wrestling during the mid-1980s.
It was Hacksaw Jim Duggan vs. Ted DiBiase, in a Glove on a Pole match. There was even more added to this match, however.
Not only did these two men have to fight for the glove, but they had to do so in tuxedos AND in a steel cage.
You'd think with a setup like this it would spell disaster, but after watching this you'll see it actually didn't.
The match was a big, bloody brawl; the two went back and forth while the crowd cheered. It was how pole matches should be done--they don't have to be technical masterpieces, but they should be entertaining.
In the end, Duggan would win this match by hitting DiBiase with the most epic punch with the glove to set up the pin.
(Why couldn't this be their match at Wrestlemania 4?)
Chair on a Pole Match: Crowbar vs. Meng
Just a couple months before WCW's demise, Crowbar (who looks like one of the guys you see in those hardcore wrestling promotions nowadays, like CZW) and Meng faced off in a Chair on a Pole match.
The match itself isn't as much of a train wreck as some of the others on this list, but there are some things to note here.
First off, Crowbar had already grabbed the chair roughly two minutes into the match.
Second, both wrestlers seemed like they were continuously playing with the chair throughout the entire match once it had been grabbed.
Third, the finish is terrible.
Fourth, Daffney's screaming. You think Melina's high-pitched wails are annoying? Well, this is just as bad, if not worse. At least, unlike Paisley, she can actually wrestle...
Divas Mistletoe on a Pole Match
This one is very recent; in fact, it happened back in December.
This also might be the shortest Pole Match in the history of wrestling, although considering this is a WWE Divas match, that's probably a good thing.
With nine Divas (yeah, nine!) in the ring it's a bit hard to follow what the heck is going on, but you're not really missing a whole lot.
Brie Bella ends up winning the match, which earned her a free kiss from any superstar of her choosing between then and Christmas, though nothing materialized. This was probably for the best--it's not as if a storyline was going to develop out of it anyway.
$5000 on a Pole Match
An "interesting" concept used by Big Time Wrestling in the 1970s was a 22-man battle royal/Pole Match, where the competitors attempted to grab an envelope containing $5000.
In this particular Pole Match, once someone went over the ropes they were eliminated.
At one point, the pole was knocked over and thus no one could go after the envelope.
Not a particularly great oldie, but it's certainly interesting to watch, especially when you consider some of the wrestlers involved, such as Bobo Brazil, Tojo Yamamoto, and Jerry "The King" Lawler
Leather Jacket on a Pole Match: Big Al vs. Tank Abbott
Another Russo idea, this match occurred at WCW SuperBrawl 2000.
For those who don't know who Tank Abbott is, he was a UFC competitor back when the organization was just beginning. At the end of 1999, Abbott made his debut in WCW and was brought in to fight Goldberg, but the feud never developed. After that, Tank never really made any waves for the company, which is probably good. To think, Russo actually wanted to make him World Heavyweight Champion (then again, he did make David Arquette and himself champion, so I guess anything's possible).
The match itself is stupid, obviously, but the one interesting note is that in the beginning of the match, they strapped each others' hands with a leather belt and could only trade left-hand punches.
Viagra on a Pole Match: Shane Douglas vs. Billy Kidman
Get this storyline:
Shane Douglas and Billy Kidman were in the middle of a long feud. In July, one angle was that Douglas had a sex tape with Kidman's valet, Torrie Wilson (who had left Kidman earlier), but had... ahem, "problems."
Thus, Ernest "The Cat" Miller setup this match.
The match itself isn't great, but what's interesting is the ending.
Kidman grabbed the Viagra, but after coming down from the ropes, Douglas caught him and used the Franchiser (a shoulder jawbreaker), breaking the bottle in the process. Even though the bottle was really never used, nor did Douglas get the pin as you typically see in pole matches, he still won the match nonetheless, thanks to Torrie, who distracted the referee.
What's even worse about this match is the horrible puns that are used throughout.
Pinata on a Pole Match
My mind boggles on this one.
"Let's have five luchadores battle it out for a pinata that contains a check for $10,000."
The only thing worth mentioning about this match was that the pinata fell off just 12 seconds into the match. What was even more interesting was what happened with the commentary.
Ed Ferrara, Vince Russo's buddy, came to the table, and parodied Jim Ross as Oklahoma. What was worse, however, was that he mocked J.R.'s Bell's Palsy.
It's one thing to make fun of someone's personality or actions, but to mock them for a disease in which they have no control over is not only disrespectful, it's disgusting.
To top it off, after the match, "Dr. Death" Steve Williams came in and injured El Dandy. Why?
The San Francisco 49ers Match: Booker T vs. Jeff Jarrett
"Hey, here's an idea. Let's not have one, not two, but FOUR objects on a pole match!"
Vince Russo must have had an orgasm just at the thought of this idea.
On October 2, 2000, Booker T and Jeff Jarrett battled for the vacant WCW Championship, in what was known as the San Francisco 49ers match.
Here are the rules:
Four boxes hang in each corner of the ring. In three of the boxes are "weapons" (and I use that term lightly) to use against your opponent. The fourth box holds the WCW Championship belt. Whoever grabs the box with the belt first wins and becomes the new champion.
The match started off hilarious, when an old woman at ringside tried to hit Jeff Jarrett with a bag, but from there, it went downhill really fast.
Right from the beginning, Jarrett gets Irish whipped into the corner, causing one of the boxes to fall. He then clotheslines Booker, grabs the box, and finds...
A blowup doll. Yeah, a blowup doll.
Only a minute later, Booker grabs a box and finds...
A picture of Scott Hall!
They brawl horribly on the outside, then Booker delivers a pile driver on the announcer's table. Not only does the table not break, but Jarrett is somehow able to get up and keep going just a minute later. Booker then goes to the third box and finds a coal miner's glove (a reference to the horrible main event of the 1992 Halloween Havoc PPV - Sting vs. Jake Roberts).
What's with all these so-called "weapons"? And even though this is on television, why does it take about five minutes to open up three of the boxes?
We then have spots where Jarrett not only steals Booker's glove and hits him, but uses the box as a weapon too!
Finally, we get to the end of the match. Jarrett attempts to get a guitar from under the ring, but cannot do so. So he decides to go after the last box. As he's doing so, who should come out but midget actor and comedian Beetlejuice, who, as quoted by the commentators, "uses Jeff Jarrett's testicles for punching bags."
This allows Booker T to grab the last box, but the belt falls out of the ring. Ring announcer Dave Penzer then grabs the belt and gives it to Booker ending the match.
Afterwards, Scott Steiner comes out and decks Booker with a lead pipe and then Steiner Recliners Beetlejuice as the telecast ends.
Dear God, this match was a mess.
Keep Reading