2012 NFL Draft: Examining Mike Mayock's Take on the Top Quarterback Prospects
February 16, 2012

NFL Network's draft expert Mike Mayock held a conference call yesterday with various media members across the country and Twitter was instantly flooded with his quotes and analysis of the draft's most intriguing prospects. 
In this article, I'll quickly run down what Mayock had to say about the quarterbacks in the 2012 draft class and give my take on those top signal-callers, too.
On Stanford quarterback Andrew Luck: 
When you throw Andrew Luck into that grouping, I think he falls — from an intellect and the whole passion for the game of football — somewhere in that kind of Peyton Manning and Matt Ryan mold. That's how much the kid loves it.

As far as ability, I don't think he's quite in the Peyton Manning mold. But I think he's close. I think he's got a little more ability than a Matt Ryan when he came out. But, I don't put him up there as a once in a lifetime guy. I've never said that about him. I think he's in the same category with a Bradford. . . I'm not sitting here telling you that I think he's going to be Tom Brady or Peyton Manning.

He's going to win the battle in the board rooms. He's going to sit up with the teams and draw what he knows about the game of football and he will process information from those team and spit it back at them. All of those top teams are going to come away saying 'wow, I want that guy'.
My take
After we've heard just about every NFL draft "expert" gush about Luck's overall prospects, it's interesting to listen to such a respected guy say that, to him, the Stanford QB is not really a once-in-a-lifetime guy.
I can understand his logic. Luck is probably just as gifted as Peyton Manning and knows the game inside and out. However, it's all going to come down to his ability to process the game at a much faster pace at the next level.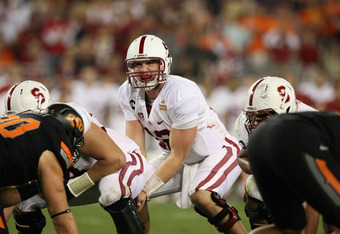 Donald Miralle/Getty Images
Manning drastically improved each year as a professional and spent countless hours breaking down film. 
That being said, I will disagree with Mayock when he says Luck is in the same category as Sam Bradford.
No way.
Bradford was somewhat of a frail gun-slinger from a wide-open Big 12 conference who played out of a spread system. He also entered the league with injury concerns. Nothing against the guy, he has the arm strength and accuracy to be a fine quarterback, but he and Luck are simply not comparable. 
Luck is coming from a pro-style system in which he took a plenty of snaps under center. He had a Manning-esque grasp on the complex playbook and wasn't throwing to tons of premier wide receivers. Luck has more bulk, didn't suffer any significant injuries and knows how to thoroughly read a defense. 
On Baylor quarterback Robert Griffin III: 
You're bringing up one of the more gifted kids in the draft. … The more tape I put in, the more fun I have watching him. The bottom line is, he's a playmaker and this is what this league is all about, especially at that position. … I love everything about the kid. The question I have, he doesn't throw with anticipation, mostly because he didn't have to. He has great touch and accuracy, middle and deep [down the field]. He's tough and he takes hits. He initially looks to get the football down the field, and I like that.
My take
Mayock reiterates a lot of what we already knew about RG3 after his Heisman Trophy-winning 2011 season.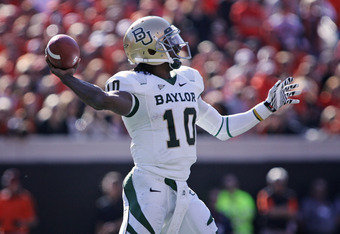 Brett Deering/Getty Images
As far as the anticipation goes, I expect his coaches to place him in a similar system to the one he played in college, in which he was in the shotgun the majority of the time, He won't have to particularly throw guys open right the get go. 
However, he's a smart kid and with time he should be able to learn the nuances of the position and release the ball before receivers make their inside or outside break. That's not a real concern, for me. If anything, the fact that he's only 6'3'' and 220 pounds scares me a little.
He demonstrated the desire to stay in the pocket at Baylor, but he'd be limiting himself if he doesn't scramble at the next level. I'd like him to add more bulk to his frame. 
On Texas A&M quarterback Ryan Tannehill: 
After last year, we had [Christian] Ponder and [Jake] Locker go in the first 12 picks and I think we were all surprised and the same thing could happen this year with Tannehill… He's got everything you want – size, arm strength and he's a really good athlete. All you have to do is look at his tape as a receiver. What I don't like him is that he waits for routes to develop, he lacks anticipation, and, because of that, he throws late into coverage and makes mistakes. But that's not atypical of a lot of college quarterbacks. I think he's going to be a first-round guy.
My take
I don't agree with everything Mayock has to say on Tannehill, but for the most part, he's spot-on.
I wouldn't be shocked if he's a surprising first-round pick like Christian Ponder or Jake Locker (I personally loved Locker) last year, mainly because he's 6'4'' and does have a good arm.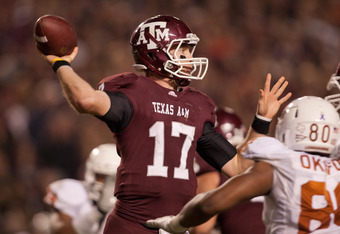 Darren Carroll/Getty Images
However, do I think he should be a first-round pick? Definitely not.
I watched a lot of Tannehill's games this fall and he continually misread or seemed utterly confused by the coverages he saw. On many occasions, that led to ugly interceptions. 
He's a tremendous athlete as a former wide receiver, but he's even more slender than Griffin III at 6'4'' and 222 pounds. 
Tannehill could develop into a reliable starter, I just wouldn't use a first-round pick on him. 
On Oklahoma State quarterback Brandon Weeden
I like him. He's really accurate when he sets his feet. He's a timing and rhythmic guy. He has to be on time, in a good rhythm, and when that happens, he's really, really good. But when he has to hasten the process and reset his feet, he loses some of that great accuracy and he's not nifty in the pocket. To me, that's a guy you have to develop a little bit. But he's 28 years old. Do you have time to wait? That's the problem here. I'm of the opinion, having gotten to know him and watch him work, if he's a guy you had to throw him there [this year], he could play.
My take
Mayock hits the nail squarely on its head here. Weeden is a supremely gifted pocket passer. We saw that over the last two years at Oklahoma State. At 6'4'', he has the ideal height to play quarterback at the next level, but could add more strength to his upper body.  
Obviously, because of his age, there isn't much time for him to develop. However, in the right system, he could play in 2012 and be a competent guy under center. There's just simply not a ton of upside with Weeden.