NFL Combine 2012: Quinton Coples and Players Who Must Impress in Workouts
February 16, 2012

Geoff Burke/Getty Images
North Carolina defensive end Quinton Coples needs to have a good showing at the 2012 NFL combine if he plans on losing the potential bust stigma that is following him around.
I know what you're thinking. This is a guy who many—including ESPN's Mel Kiper—believe to be a Top-10 pick, yet I'm writing about him as a potential bust?
I may be crazy, but check out what Bleacher Report's NFL draft lead writer Matt Miller had to say about Coples:
Coples had 10 sacks and 15.5 tackles for a loss in 2010, putting him high on early draft boards. Coples' 2011 season was less impressive, with just 7.5 sacks, troubles against the double-team and completely disappearing at times. The difference? In 2010 Coples played defensive tackle; in 2011 he was at defensive end.
While he does have some incredible physical intangibles—consider the fact that he's 6'6'', 285 pounds and can play anywhere on the defensive line—motivation does seem to be an issue.
In the NFL, that can be very dangerous.
When you're a professional, nobody is there to tell you how great you are, to motivate you to get better or to push you to your limits. It's simply expected that you can do that on your own.
Add in the fact that he won't be playing against kids anymore, and Coples may become a dangerous prospect in the eyes of many scouts.
What's the best way to combat this stigma and prove that he is indeed worthy of a Top-10 pick?
He's got to really impress at the NFL combine.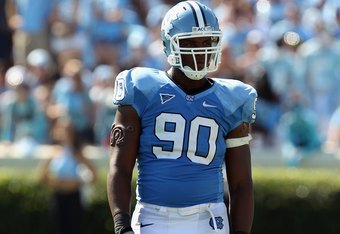 Streeter Lecka/Getty Images
Coples needs to go out and prove that despite the concerns, his physical tools and talent are just far too good to pass up on. He's got infinite potential, and if he can show NFL teams that he really can be an elite athlete, I think they'd be happier to work with him.
This is a guy that will really benefit from great workouts, but he's not the only player in that boat.
Alshon Jeffery, WR, South Carolina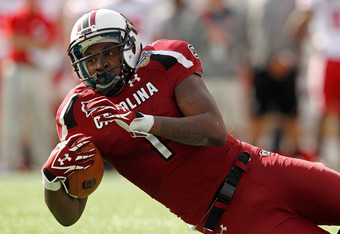 Mike Ehrmann/Getty Images
Many consider Jeffery to be the second best wide receiver in the draft behind Oklahoma State's Justin Blackmon, and some may even rank him as the No. 1 wideout.
He's tall and lengthy and can become a very dangerous deep threat in the NFL.
The problem is that there have been rumors regarding his conditioning. What's more, NFL Network draft expert Mike Mayock sees a big problem in his game, according to Evan Silva of NBCSports:
"Alshon Jeffery does not separate," said Mayock after watching Gamecocks tape. "What those guys run [at the Combine] is important. He needs to run somewhere in those mid-4.5s."
Jefferey absolutely needs to prove that he has elite level speed at the NFL combine.
He's a big player at 6'4'', so he has physical tools to be a game changer, and showing scouts that he has No. 1 speed would really put him over the top.
Right now there is a possibility that he falls to the bottom of the first round. However, with a good combine, I think he can go in the Top 10 where he belongs.
Jamell Fleming, CB, Oklahoma
Not every player that needs to impress at the combine has to do so for negative reasons, and Fleming is the perfect example of that.
Before the 2012 Senior Bowl, the average draft junkie probably couldn't tell you who Fleming was, as most early first-round mocks didn't mention him.
Fleming apparently really impressed with his athleticism in drills, and then he capped the week off by getting an interception in the actual game.
He's got good speed, good size at 5'11, 191 pounds, plays physical at the line of scrimmage and in defending the run, and looks to be a ball hawk.
Fleming is skyrocketing up draft boards right now, and with another impressive athletic showing at the combine, he may be able to work himself into the first round.