Seattle Mariners: What to Expect from the Rebuilding M's in 2012
February 16, 2012

Otto Greule Jr/Getty Images
"Let's not kid ourselves."
Straight from the horse's mouth, in four cautionary words GM Jack Zduriencik summarizes what Seattle Mariners fans could be in store for in the 2012 campaign.
It makes sense, really. No educated fan can realistically expect the Mariners to compete with the star-studded lineups of the Los Angeles Angels and Texas Rangers, who are now among the elite teams in the American League.
Rebuilding hurts like that, but it's better than deluding one's self into thinking the Mariners have a shot. Or worse yet, spending like a contender when you're really not, a pitfall from the Bill Bavasi era in Mariners history.
So as the team celebrates 35 years of some success mixed in with an alarming amount of bad baseball, they need to understand the enormous task of turning around a tradition of losing.
It's a monumental task, for sure, but Zduriencik thinks he's got it under control. But to complete his vision, he needs fans to brace themselves for some more losing.
Shouldn't a team's goal always be to field as competitive of a product as possible? The rare exception is the 2012 Mariners, who badly need a season solely dedicated to the youth movement. We're fine with giving Zduriencik a pass in 2012, as his plan is essentially trotting out as many young players as possible.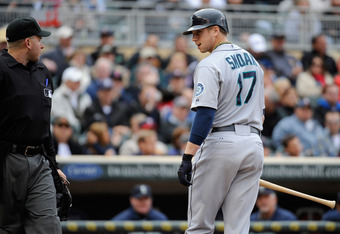 Hannah Foslien/Getty Images
That doesn't mean Zduriencik gets a "get out of jail free" card, though. 
In other words, there's still expectations that need to be met for the coming season, even if they're not measured by division standings or win total.
The key here is that at this point, Zduriencik's regime needs to be held accountable for its own crop of prospects. They need to be getting improvement from Justin Smoak, who fortunately has showed up in great shape, apparently.
At the age of 25, Smoak should be past the "newbie" stage, and although he doesn't need to suddenly turn into Mark Teixeira, an expectation of a batting average above .250 with sustained power is reasonable.
They also should be expecting solid performances from Mike Carp, Dustin Ackley and to some extent, Jesus Montero. If this is going to be the core of the offense that does eventually contend, then they need to be hitting like it.
Likewise, fans should expect something to give optimism to the current prospect group—Nick Franklin, Danny Hultzen, James Paxton, etc. A breakout performance a la Michael Pineda isn't necessary, but any hint that this prospect class will be different from pre-Zduriencik (Michael Saunders, Carlos Triunfel, Adam Moore) that netted only one major-leaguer would be encouraging.
Have the M's done enough to be competitive in 2012? Not really—and they weren't expected to, anyways. To be sure, we should be following Zduriencik's advice and not kid ourselves into believing otherwise.
But to be convinced that we can trust his vision of the future, we need to see tangible progress during what will make for a bumpy ride this summer.