Andrew Luck vs. Robert Griffin: Who Will Be No. 1 in the NFL Draft?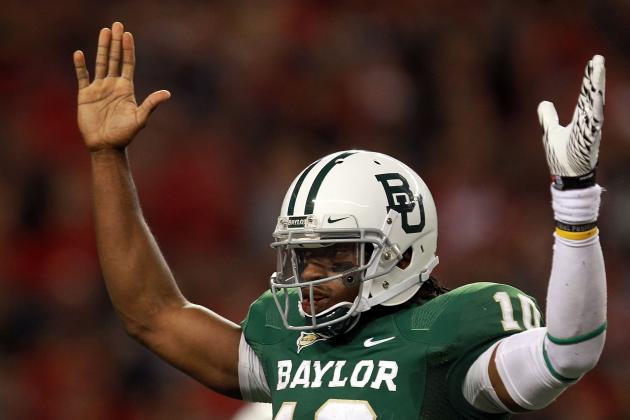 Ronald Martinez/Getty Images

The NFL draft will begin Thursday, April 26.
At that time, the Indianapolis Colts will select either Stanford quarterback Andrew Luck or Baylor quarterback Robert Griffin III as the No. 1 pick in the land.
Heading into the 2011 college football season, it was more or less assumed that Luck would unquestionably be No. 1.
However, Luck's status got shaky following the thrilling, Heisman Trophy-winning season enjoyed by Robert Griffin III.
In the end, what can we, or the Colts, look at that will tell us whether it will be Luck or Griffin?
Begin Slideshow

»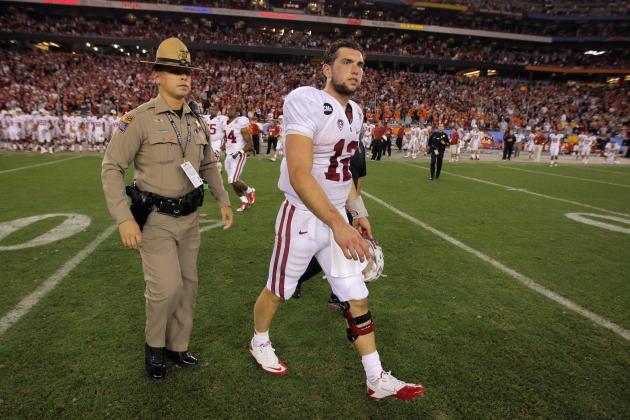 Doug Pensinger/Getty Images

Andrew Luck
Conference: Pac-12
School: Stanford Cardinal
Height and Weight: 6'4", 235 pounds
Robert Griffin III
Conference: Big 12
School: Baylor Bears
Height and Weight: 6'2", 220 pounds
Synopsis
Luck, hands down.
Physically, he is a prototypical NFL quarterback.
On the other hand, Griffin is a bit short, and as a running quarterback, he needs more bulk. He is often compared to Cam Newton, but Newton is 6'5, 248 pounds, and as such, can withstand NFL-caliber hits much more readily than Griffin.
Doug Pensinger/Getty Images

Andrew Luck
Plays in a pro-scheme. Makes reads at the line and adjusts based on what he sees.
Robert Griffin III
Plays in a spread scheme that uses run and shoot principles. Looks to the sideline for his adjustments and audibles.
Synopsis
Luck.
He is as ready for the pro game as a college quarterback can be.
Griffin has a good deal of learning to do.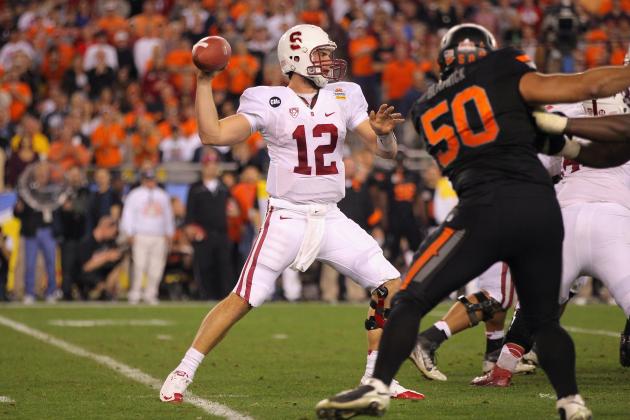 Doug Pensinger/Getty Images

Andrew Luck
Luck has a compact delivery and footwork that is reminiscent of an NFL veteran.
As a quarterback in a pro system, Luck has a good deal of experience in one, three, five and seven-step drops. Stanford's particular system calls for a good deal of five-step drops, which are primarily timing plays and which Luck has perfected.
Luck uses his whole body in his throwing motion and never relies purely on arm strength.
Robert Griffin III
People give Griffin heat for his delivery. While it is not as flawless and graceful as Luck, it is applicable for an NFL quarterback. At the very least, it does not require major tweaking.
On the other hand, Griffin has nowhere near the experience that Luck has in five and seven-step drops. Most of Griffin's throws at Baylor fall into the one and three-step drop variety.
Moreover, Griffin occasionally relies on his arm strength too much. This renders him flat-footed, which is something that will have to be corrected.
Synopsis
Luck has the clear advantage here.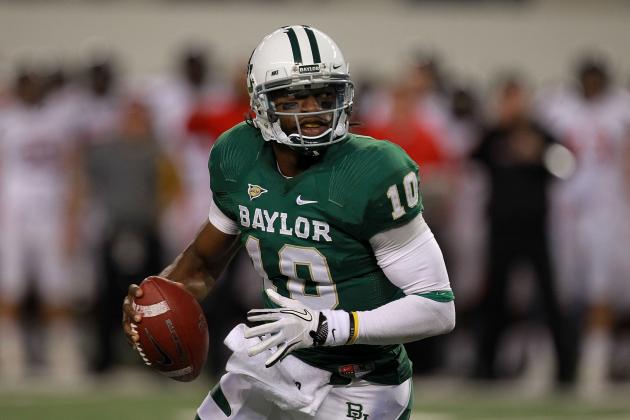 Ronald Martinez/Getty Images

Andrew Luck
Luck has solid arm strength and impeccable accuracy. He completed 71 percent of his passes over his last two seasons. He threw 10 interceptions his junior year, but three of those came off tipped passes.
Even more impressive is that the only top-quality pass-catcher Luck has worked with has been tight end Coby Fleener. He has yet to work with a high-level wide receiver.
He has been known to aim the ball on deep routes and force throws into tight coverage.
Robert Griffin III
Griffin has an extremely strong arm. His accuracy has improved as he's matured. As a sophomore, he completed 67 percent of his passes. As a senior, he completed 72.4 percent, displaying an ability to hit short, intermediate and deep throws.
Though Griffin has improved, he still has the tendency to bail on plays too early and tuck the ball and run instead of keeping his eyes downfield.
This will be something he has to improve upon when he gets to the NFL
Synopsis
Push.
Luck is more polished overall, but Griffin does have the stronger arm.
Also, while Luck is better on short and intermediate throws, Griffin wins on the long ball.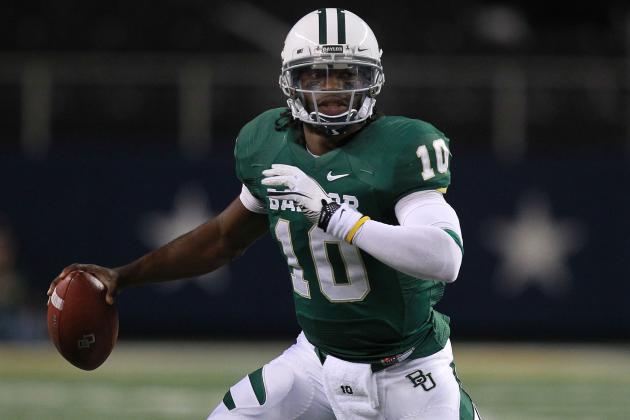 Ronald Martinez/Getty Images

Andrew Luck
Luck has above-average mobility. He is not a mobile quarterback, but he can take off when he has to or in order to buy time. Of course, he's not going to outrun any linebackers.
Just as importantly, he throws well on the run. He squares his hips and can deliver an accurate pass out of a rollout or waggle.
Robert Griffin III
Griffin is fast and agile enough that he could play wide receiver.
Many linemen and even linebackers would have trouble beating him in a straight-line footrace. On top of that, Griffin can use his speed to develop passing lanes that otherwise would not be available to him.
As previously mentioned, he does depend on his speed too much for an NFL quarterback, but he is adept at throwing on the run.
Synopsis
Griffin.
Luck is not a statue in the pocket, but he is not in Griffin's league.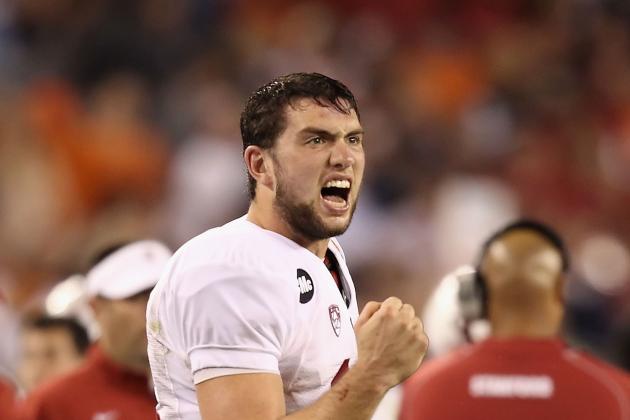 Christian Petersen/Getty Images

Andrew Luck
Luck has a 31-8 record as the starting quarterback at Stanford.
He honed his game under former Cardinal/current-49er coach Jim Harbaugh, but he finished his career just as impressively without Harbaugh calling the plays.
Luck's teams had a 1-3 record against top-10 foes, but the Cardinal did score over 30 points in each of the losses. Stanford also had a 1-2 bowl record under Luck.
There were a number of contributing factors, but Luck's three years with Stanford mark the greatest three-year stretch in the Cardinal's history.
Robert Griffin III
The Bears compiled a 23-15 record with Griffin under center. He started for three full years, as well as part of his sophomore year, as he was injured three games into the season.
Griffin's teams had a 2-11 record against top-25 foes, and Griffin never beat a top-10 opponent; however, it is unfair to peg that on Griffin, as Baylor's defense under Art Briles is reminiscent of a sieve.
In his senior year, Griffin led the Bears to their second double-digit win season ever.
Synopsis
Push.
Neither Griffin nor Luck played on typical blue-blood teams, yet both players pushed their teams to play well beyond what anybody expected of Stanford or Baylor.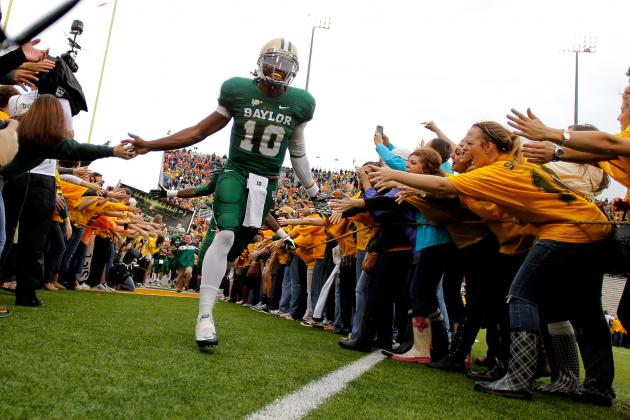 Sarah Glenn/Getty Images

Andrew Luck
Luck is about as sure a thing as you can get.
Of course, there are no guarantees, but it seems safe to say that with Luck, the worst any prospective organization is going to get is a career starter at quarterback.
The best it will get is a Hall of Famer.
Robert Griffin III
Some argue that the direction of NFL signal-callers is changing. It is moving towards more dual-threat quarterbacks ala Cam Newton or Tim Tebow.
In this capacity, Robert Griffin III is ideal.
As previously mentioned, he needs to put on some muscle mass to absorb more NFL-level punishment, but in 2011, there was no more dynamic player in all of college football. If he can bring that dynamism to the NFL, he will be a force.
Synopsis
Griffin wins.
Luck is a great quarterback and more of a sure thing than Griffin, but he is physically unable to do some of the things that Griffin can do; moreover, no amount of experience or development will change that.
On the other hand, Griffin, with more development and experience working in a pro system, could arguably learn to be as able a passer and signal-caller as Luck.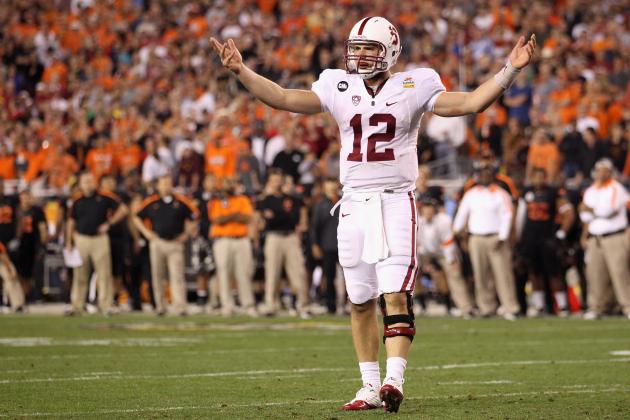 Christian Petersen/Getty Images

All this talk about whether Griffin can possibly unseat Luck from the No. 1 pick in the draft is exactly that—just talk.
It is a lot of hullabaloo, probably cooked up by ESPN, to create drama where there is none and get more people to tune in to the Draft broadcast.
The fact of the matter is Luck is a guaranteed double as a quarterback with the potential for much more.
There is no organization in its right mind—and now that Al Davis is gone, with all due respect, there are arguably no organizations out of their right minds—that would pass up on a guaranteed double at quarterback, because they are about the rarest commodity in the world of football speculation.
In the long run, Griffin could be great. He could be a home run. He is good enough that even if the No. 2 pick in the draft—the St. Louis Rams—opt not to take him, another team will likely trade up to get him. In most years, he would be the unquestioned No. 1.
But not this year.
Andrew Luck will be an Indianapolis Colt.