2012 NFL Draft: 6 Receivers Who Will Put the Cincinnati Bengals over the Top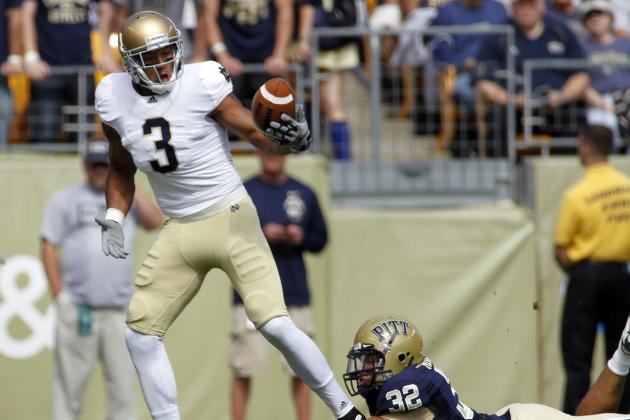 Justin K. Aller/Getty Images

Despite the Cincinnati Bengals' overachieving during the 2012 NFL season, there are significant personnel issues the team must address this offseason.
One of them is at the wide receiver position.
Jerome Simpson gave fans one heck of a highlight when he pulled off that flip into the end zone. It will probably be the lasting memory of his time in Cincinnati.
Simpson is a free agent and it's unlikely the team will re-sign following his indictment for the trafficking of marijuana.
That leaves a pretty significant hole for the Bengals.
There is a pretty good crop of free-agent wide receivers that look to be hitting the market this offseason.
Also, with the Bengals' two first-round picks, they have the opportunity to look to the NFL draft as a way to strengthen the position.
Should they look to the college ranks, here's six wide receivers that could help the Bengals now.
Begin Slideshow

»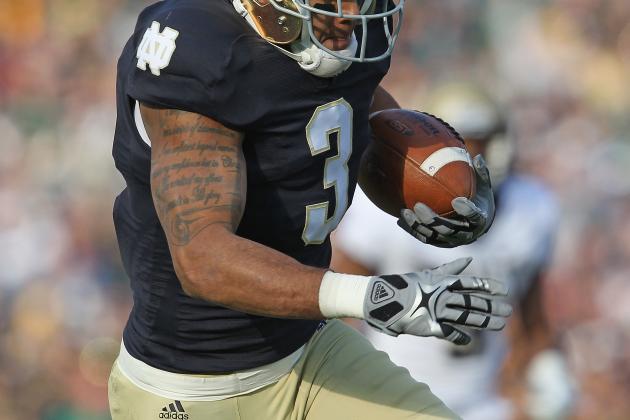 Jonathan Daniel/Getty Images

Michael Floyd had a very solid four-year career at Notre Dame.
He caught 266 passes for 3,645 and 36 touchdowns.
Floyd doesn't possess the speed to be a real game-breaker. His size (6'3", 224 lbs.) allows him to be more physical with defenders, though.
Although he did have good numbers, his consistency was a bit of a problem at times.
It is also a question as to whether Floyd might be a little too much like A.J. Green. It would be nice to get a more athletic receiver to play off Green.
If Cincinnati wants to give him a look, he should be available at either the No. 17 or No. 21 positions.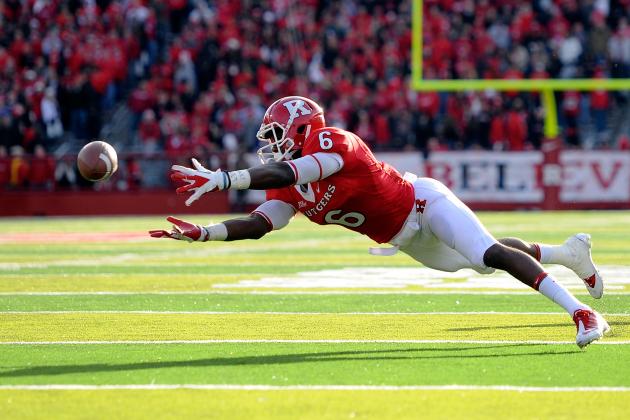 Patrick McDermott/Getty Images

Mohamed Sanu really kind of came on to the scene just last year.
He caught 102 passes for 1,144 yards and seven touchdowns. All of those numbers eclipse the stats over his freshman and sophomore seasons combined.
Sanu looks to be a pretty good athlete. During his first two years at Rutgers, he also ran for a combined 655 yards and nine touchdowns.
He's got good hands and his long arms allow him to reach some passes that other receivers might not be able to.
Sanu's versatility is also a huge plus because coaches can line him up anywhere on the field and he'll perform well.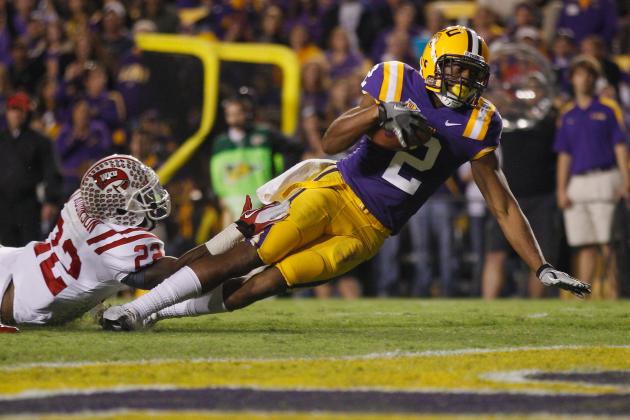 Chris Graythen/Getty Images

While Rueben Randle doesn't have top-end speed, he is a great athlete and has the ability to break a play open.
His numbers steadily improved during his three-year career at LSU. In 2011, he finished with 53 receptions for 917 yards and eight touchdowns.
Unfortunately for Randle, the lasting impression for most fans was LSU's absolutely anemic passing attack against Alabama. He was taken out of the game completely along with every other Tiger receiver.
That plays into what his biggest problem is: consistency. He just looked to be up and down a little too much.
Randle probably would have been better served by staying in college another year.
Should the Bengals draft him, he may not really have an impact until the 2013 season.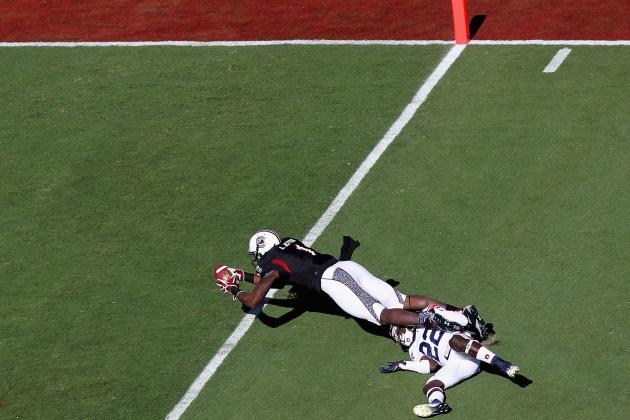 Streeter Lecka/Getty Images

2011 looked like it was going to be Alshon Jeffery's year, following a 2010 season in which he caught 88 balls for 1,517 yards and six touchdowns.
With his combination of size and athleticism, comparisons to Calvin Johnson didn't look to be too far off base.
However, this past year was a definite step back for the receiver. He almost halved his reception and yardage numbers.
Jeffery didn't have a 100-yard receiving game until the Capital One Bowl against Nebraska.
Still, Jeffery looks to have all the tools a great receiver should have, and the fact that he is projected for the first or second round is a testament to that.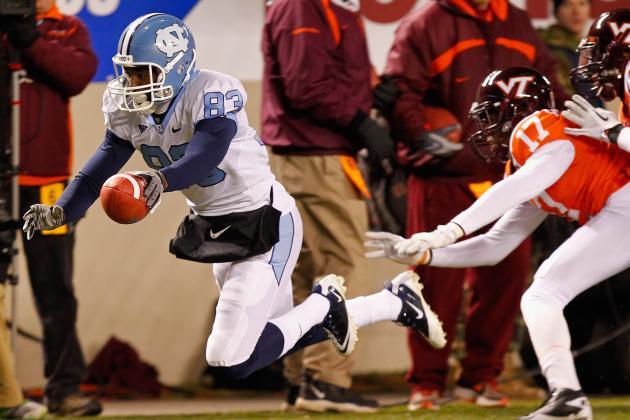 Geoff Burke/Getty Images

Dwight Jones is a big receiver (6'4", 225 lbs.), but he has above-average speed for his size.
Despite that athleticism, he doesn't seem to do the little things that every receiver needs to do.
Jones would be a real project for the Bengals should they draft him.
He might need a few years before he really gets to an NFL level. You wonder if Cincinnati were to put him into a No. 2 role behind A.J. Green if it would expose his flaws too much and hinder his development.
The ceiling is very high for Jones, though. His downfield route-running and pass-catching abilities would play well off Green.
If the Bengals can get him in the third round, it would be a pretty good pick. Any earlier and the risk for a bust would be too great.
Joel Auerbach/Getty Images

Tommy Streeter is much like Dwight Jones in that the physical tools are there, but it's going to take the right coaching to get the most out of him.
If his 40 time (4.36-4.40 range) is to be believed, he has a great combination of speed and size, and that's obviously not something you can coach.
Streeter's route-running really does leave a lot to be desired and it's probably his biggest flaw.
He only really had one good year in college, too. Despite playing in eight games in 2010, he had only one reception for 42 yards. Streeter did improve a lot in 2011, as he caught 46 passes for 811 yards and eight touchdowns.
Streeter's athleticism will probably lead teams to picking him before they really should, but if he falls to the third or fourth round, the Bengals would be smart to pick him up.