Chauncey Billups Is the Most Important Acquisition in New York Knicks History
February 16, 2012

Chris Trotman/Getty Images
Nine and a half months ago, when then-New York Knicks GM Donnie Walsh signed point guard Chauncey Billups to a one-year, $14.2 million contract extension, he envisioned success would unfold with the core of Carmelo Anthony, Amar'e Stoudemire and Billups remaining intact. Walsh might as well have consulted a telephone psychic because his intuition couldn't have been any further from the truth.
Not even an eye for talent as adept as Walsh's could've predicted the team's current state of affairs.
With the Knicks' first-round exit at the hands of the Boston Celtics last spring, Walsh saw a Billups-less squad that performed more respectably than a 4-0 sweep would indicate. The general consensus was that had Billups been healthy for the duration of the series, New York would not only have made it close, but they could very well have pulled off the upset.
Pending the veteran's ability to recuperate and enter the 2011-12 campaign with his knee at full strength, Walsh perceived Billups' new deal as a win-win situation with two vastly different outcomes:
Billups would pilot the Knicks beyond Round 1 of the playoffs, potentially earning himself another extension based on merit and consistent production at a high level.
Billups would become an offseason free agent or even midseason trade bait if Knicks management decided to abort the experiment and go in a different direction. Since Billups' eight-figure salary would be off the books, New York could pursue a youthful, high-priced superstar to complete their own handpicked version of the "Big Three."
While there's no telling what might've transpired had Walsh and the Knicks not gone their separate ways, wet-behind-the-ears Glen Grunwald was easily moldable and someone owner James Dolan could exercise his power over with a few tugs of the puppet strings.
Once word spread of a lifted NBA lockout, it wasn't long before Grunwald made his first major splash as interim president of basketball operations.
Less than eight months after New York extended an olive branch to Billups, Knicks brass did an about-face and waived him, using the lockout-refined amnesty provision in order to free up the necessary cap space and fill a gaping hole at the center position with the coveted Tyson Chandler.
To the dismay and distaste of countless fans, the only player on the roster who knew what it felt like to win it all—and could provide the guidance to reach such a milestone—was no more. Here today and gone tomorrow; Billups never got the chance to prove age is nothing but a number.
Although one need had been satisfied by bringing Chandler on board, suddenly the previously stable position that Billups had occupied required a serious upgrade. Without many options to choose from and some tightened purse strings, the Knicks were forced to roll the dice with former All-Star Baron Davis.
Due to a herniated disc, the only suiting up Davis had done of late was of the three-piece variety. But, at just $1.4 million—the veteran's minimum—Davis was acquired for what basically amounted to chump change for an organization as loaded as the Knicks.
Almost two and a half years younger than Billups, Davis is gifted enough to serve as a suitable replacement for the aging floor general even as a shell of his former self. However, setback after setback has postponed Davis' grand entrance, and his value still comes in the form of a question mark.
Treating Davis as a luxury heading into opening day's grudge match against Boston, the Knicks had no choice but to act as if he didn't exist and game plan accordingly. As reluctant as they were to do it, the coaching staff was forced to groom Toney Douglas into a starting point guard—something he most certainly is not and never will be.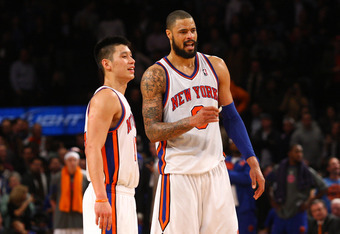 Chris Chambers/Getty Images
First-year combo guard Iman Shumpert emerged triumphant through Douglas' torment, mesmerizing fans with his quick hands and contagious energy. When Shumpert superseded Douglas at the point and the Knicks were winning, the calls for Davis weren't nearly as audible. Actually, it looked as if Shumpert, who demonstrated maturity beyond his years, may ultimately be the answer.
Like most feel-good sports stories, Shumpert's time basking in the limelight was short-lived. Whether it was hitting the rookie wall or his ineffectiveness as a penetrator/facilitator, New York's implosion coincided with Shumpert's struggles.
Mike D'Antoni was on the hot seat again, and Davis was being lauded as the last glimmer of hope for what had quickly unraveled into another lost season in the post-Ewing era.
It was a season on the brink, and with D'Antoni looking more dejected than ever, the offensive guru turned to his reserves for an insurance policy.
Two days after Christmas, the Big Apple became Jeremy Lin's third home in 18 days, having been waived by the Golden State Warriors, signed and waived by the Houston Rockets and signed as a free agent by the Knicks.
Buried on the bench, Lin had been used sparingly and was eventually demoted to the D-League, where he put up a triple-double in his only semipro contest this year—perhaps foreshadowing the miracle that was about to happen.
With nothing to lose, D'Antoni gave Lin the opportunity he had always fantasized about. The Ivy League product instantly responded in the victory over the New Jersey Nets with a 25-point, seven-assist effort in 36 minutes, prompting D'Antoni to swap Shumpert and Lin the following game.
Seven wins in a row later, we're witnessing history in the making.
On that note, let's recap what Chauncey Billups means to the Knicks:
He was a throw-in in the Carmelo Anthony deal, but essential to making it happen nonetheless. In Anthony, New York received possibly the best pure scorer in the league, and the buzz surrounding the team reached a fever pitch—reminiscent of the good old days.
Waiving Billups enabled the Knicks to acquire Tyson Chandler, thus filling the void in the paint with an athletic, defensive-minded center. The addition of Chandler—along with assistant coach Mike Woodson—was the first step in changing the perception of the Knicks as a poor defensive unit.
The departure of Billups forced the Knicks to go out and get more veteran leadership in Mike Bibby and Baron Davis and fueled an open competition for the starting point guard job.  This paved the way for the phenomenon that is Jeremy Lin. And let's not forget that once Davis is 100 percent, he'll provide instant offense off the bench while commandeering the second stringers.
The man responsible for making this all happen definitely deserves a toast.
So here's to you, Mr. Big Shot. For it is you who swallowed your pride and rescued this storied franchise from the doldrums. The fact a man of such accomplishment can play the role of pawn in the chess match that is the business side of the NBA—with nary a protest—is to be commended.
Get well soon, Chauncey. While you're busy recovering from a torn Achilles, your former team will be "Linning" and grinning its way to the top.
Not to rub it in or anything.