UFC on FUEL 1 Results: What We Learned from Aaron Simpson vs. Ronny Markes
February 16, 2012

Aaron Simpson lost his fight against Ronny Markes, but he still has a chance at being a serious contender. He just isn't ever going to be a champion.
Simpson lost a close fight with decent striking and slow grappling which some could argue that he won. While he will have to bounce back, having lost to the unknown Brazilian, it could have been worse.
He could have lost a clear-cut decision or have been submitted or knocked out.
Simpson was able to start strong, but the fight got tougher as it went on, and he started making mistakes. Simpson might have allowed the pace to slow, or at 37, it might have been what he was capable of doing.
Letting his opponent have some breathing room was a terrible choice, and it gave Markes the chance he needed to convince the judges that he won.
Simpson just isn't going to ever be a champion. He may one day be a contender, but with struggles, he showed against a relatively young fighter like Markes it's clear that he just doesn't have the time to learn what he needs to.
Not so late in the game.
It isn't fair, but looking at Simpson's record, he started fighting in 2000. He then took a seven-year sabbatical. He had his chance to attain MMA greatness, and he passed it up. It may be rude to say it, though that doesn't make it untrue.
Simpson can recover from the setback of the Markes loss. He can work his way onto the main card and into the middleweight division's top bracket.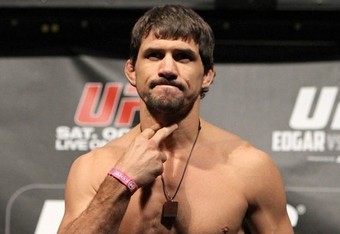 But time isn't on his side, and tonight, neither were the judges.
When the first runs out, he'll find that MMA is a young man's game.
And he just didn't have enough.
Matthew Hemphill writes for the MMA and professional wrestling portion of Bleacher Report. He also hosts a blog elbaexiled.blogspot.com that focuses on books, music, comic books, video games, film and generally anything that could be related to the realms of nerdom.