Ring of Honor Review: 1-28-12 The Davey Richards Love Triangle
February 15, 2012

Two weeks ago, Ring of Honor television returned, coming to us from Baltimore, Md. After a solid show the previous week, Ring of Honor delivered an uneven episode featuring a pay-per-view caliber main event and the cheapest attempt to build heels since Ring of Honor's Sinclair Broadcasting debut.
TJ Perkins defeated Tommaso Ciampa
When the announcers said that TJ Perkins was undefeated on ROH television, I was surprised. I must have been confusing him with other technically gifted, but otherwise indistinguishable, young wrestlers in ROH.
He did lose this one. Tommaso put him away with a Project Ciampa after a solid match.
The most interesting part of this story is still the restructuring of Embassy. New ownership has placed the spotlight on Ciampa, rather than on Prince Nana. This week, the rest of Embassy's entourage was sent away from ringside by Barrister R.D. Evans.
There is no way this can last and I am anxiously awaiting the power struggle between Evans and Nana.
Verdict: Thumbs Up
Worst Moment: Lawyer jokes from Kevin Kelly? I can't wait for him to note the generally poor quality of airline food next week. Good stuff, Kevin. Keep it coming.
Michael Elgin defeated Grizzly Redwood
This was a truly baffling segment.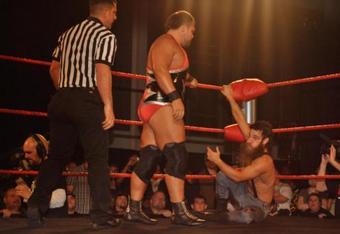 Before the match, we were shown a video package about the life of Grizzly Redwood. He was born three months premature and suffered stunted growth and some long-term health issues as a result.
House of Truth paid Redwood's scheduled opponent to leave so that Michael Elgin could squash Grizzly. Elgin finally put down this wounded dog of a match after a spinning sit-out powerbomb.
Everyone loves both an inspirational story and an underdog, but this reeked of exploitation. The announcers spent more time talking about inspiration and how "every day he gets out of bed is a victory" than they did calling the match.
I was supposed to hate House of Truth because they "beat up a cripple." I ended up hating Ring of Honor for exploiting someone's childhood tragedy.
Verdict: Thumbs Down
Worst Moment: Truth Martini: "After this match, you will wish you died as a child."
Kevin Steen & Jim Cornette Promos
Boss vs. Worker stories connect with us because we've all had a bad boss at some point in our lives. They were egotistical. They didn't care about their workers. They let absurdly small amounts of power go to their heads.
This is the basic idea of Austin vs. McMahon and every derivation of "Good Guy" vs. "Bad General Manager" that followed. What do you do when you have a bad boss? Well, they broke the social contract, so you are justified in rebelling and fighting back.
This feud asks a different question. What if the boss is trying to protect his workers?
Steen complained that he felt caged for the last year. But given Final Battle, where Steen put three Ring of Honor wrestlers on the shelf, Cornette is justified in trying to quarantine his nemesis.
Kevin Steen is a psychopath. He is only happy when he is destroying something. He is a great heel and a fun character, so we cheer for him.
Jim Cornette is an authority figure. We don't like him even though he is clearly justified in his actions.
It doesn't matter for whom you cheer as long as you appreciate the story being told. In any case, it beats the heck out of "Now, wait a minute, playa! No one likes you, so I'm putting you in a match against Randy Orton/Sheamus/The Undertaker tonight!" 
Verdict: Thumbs Up                
Best Moment: Steen implying Jim Cornette suffers from erectile dysfunction. That should be another bad joke, but Steen somehow keeps it from overpowering his message.
Mike Bennett & Wrestling's Greatest Tag Team Promos
Mike Bennett is usually a pretty good talker, but I couldn't focus because Maria Kanellis' terrible acting was so distracting. I think Maria taught Eve everything she knows.
Shelton Benjamin needs to stop talking.
Verdict: Thumbs Down         
Worst Moment: How does a Playboy model not know how to smile in an alluring fashion?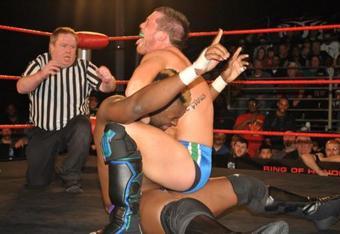 Davey Richards & Kyle O'Reilly defeated Coleman & Alexander
This was the best interview segment Ring of Honor has done since their Sinclair debut. The back and forth responses from Eddie Edwards and Kyle O'Reilly concerning their budding rivalry were spliced perfectly.
O'Reilly believed that Edwards betrayed Davey Richards by training with Dan Severn. Edwards believed that O'Reilly is a suck-up just waiting to score points with his trainer and idol. Everything Edwards said and everything O'Reilly said proved Edwards right.
Edwards drove his point home by asking about Future Shock and O'Reilly's lack of loyalty to Adam Cole. O'Reilly said that he talked to Cole first, but it's obvious that O'Reilly would ditch Cole in a heartbeat if Richards asked him to.
I wish they would have left it at that, but then we were treated to Davey Richards' "Aww, shucks, these guys are like brothers to me" routine. In the end, however, he sided with Kyle O'Reilly.
I watch Ring of Honor for matches like this. Great storytelling. Great wrestling. Everyone looks good at the end of the match. You don't really need to worry about bad booking when it looks like every wrestler in the match is pushed to their limits.
Verdict: Thumbs Up
Best Moment: Caprice Coleman hitting a spinning heel kick on Richards in the turnbuckle and rolling it into a moonsault onto O'Reilly on the outside.
Show Verdict: Thumbs Up
Some surprisingly good promos and a fantastic main event saved the cheapest heat this side of a "You People" WWE promo.
Next Week: Kevin Steen debuts and the Television Championship goes on the line.
All photos courtesy of rohwrestling.com