WWE Roster Rundown for Raw SuperShow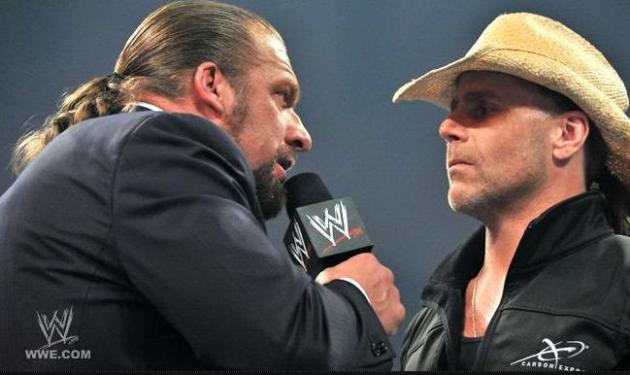 Image courtesy of WWE.com
I am here to bring you this week's installment of the Raw Roster Rundown. It's a different kind of recap that focuses on the individual performers and how well they performed on a show-by-show basis, rather than looking at specific events or matches.
Each wrestler will be graded in four categories. In-Ring is simply that—their in-ring ability, though more than the others it's graded slightly on a curve.
Why?
Well, the Big Show is never going to technically outwrestle someone like Daniel Bryan; that much is obvious. But he can still wrestle a good big man match and look good in the ring without being maybe as athletically impressive or technically sound as a smaller wrestler of a different style.
There's also charisma, which describes their ability to connect with the audience and non-verbal acting such as posture and facial expressions. Mic work is both the quality of their promo delivery—and to an extent—the content, though I realize oftentimes that's scripted and not their fault. Finally, their gimmick, which are how much of a character they are and how well they live it on a weekly basis.
They'll be graded from A to F, with A being excellent, B good, C average, D poor and F terrible. I confess to being a fan first, so it's possible that sometimes my own opinions will bleed through, but I maintain an effort to be objective. And, as always, opinions vary, and you are always entitled to disagree with me and let me know why in the comments. I live for discussion.
That said, let's see this week's Raw Roster Rundown.
Begin Slideshow

»
Image courtesy of WWE.com
Kofi Kingston
In-Ring
A dominant performance in the ring. The match wasn't very long, and he didn't win, but he brought a lot of offense and kept Jericho hurting most of the match. That's the kind of thing that makes him look good. He even fought his way out of the Walls of Jericho. If he brings a performance like that at the Chamber, he really could break out.
Grade: B+
Charisma
Kofi brought his A-game in more ways than one tonight. In the ring he was intense. It's an often-used word in wrestling, sometimes too much, but the change in his in-ring demeanor is remarkable.
Usually he seems cheerful, bouncy and happy to be there, but tonight he was on the warpath. And the crowd responded—they seemed quite behind him. If there's a time for him to stay in the main event, it's now.
Grade: B+
Mic Work
I'm rather impressed. I can't think of many actual promos Kofi has been allowed to cut—ever, really. It's a shame because it seems he can bring it to the mic. He laid out his case with heat and direction, and though it was short, it seemed to be a strong rallying point for fans in the crowd. Not bad at all.
Grade: B-
Gimmick
He still doesn't have much of one, though there is potential. Taking his words and pushing him as an overlooked (and tired of it) babyface could have a strong arc.
He deserves that kind of push, too, as he's spent years dominating the mid-card and putting on great matches but never getting up to that next level. I'm sure he's got real frustration there they could run with. But only if they want to, and it's not there yet.
Grade: C-
Overall
A strong week for Kofi. They've got him right on the edge of the main event, and I wouldn't mind for one bit seeing him pushed up there. He showed that he can hang with the big boys tonight—both in the ring and reasonably well on the mic. Give him a few character tweaks and a few big matches behind him, and WWE could have a real star on their hands.
Grade: B+
Chris Jericho
In-Ring
I heard it said that Jericho planned to help get young guys over and I think he did just that. He made Kofi's offense look good and let him dominate most of the match.
That's not to say he didn't have a few high-spots himself: The running powerbomb and especially catching Kofi from mid-air into the Walls was phenomenal. I think we can safely say that Jericho has still got it.
Grade: B+
Charisma
Jericho just had rage painted on his face for most of the evening. His wordless acting is great, with the way he works his jaw and seems to just simmer on the point of exploding. He manages to speak with the bare minimum of emotion, but still get them across so clearly. Subtle, and strong.
Grade: A-
Mic Work
A very solid promo, not that it should surprise anyone. More than anyone else in the ring for that debate nonsense he drove home the importance of the title and his desire for it, which is something I want to see more of. Top quality work, as always.
Grade: A
Gimmick
It seems like Jericho is really right back where he started before his hiatus, honestly.
Seeing the rest of the WWE as "neophytes" and "wannabes" is a new wrinkle in his character, but he's still the same serious guy with the same level delivery and love of big words. It's not a bad character, just disappointing after all the hype so far.
Grade: B-
Overall
Well, if anyone had any doubts about Jericho deserving to be back in the main event, I think they can safely be assuaged.
He dominated most of the opening segment and had a short but high-intensity match with Kofi Kingston. The two of them looked good together and it makes me eager to see what Jericho can really do on the big stage of a PPV again. His work has been missed.
Grade: A-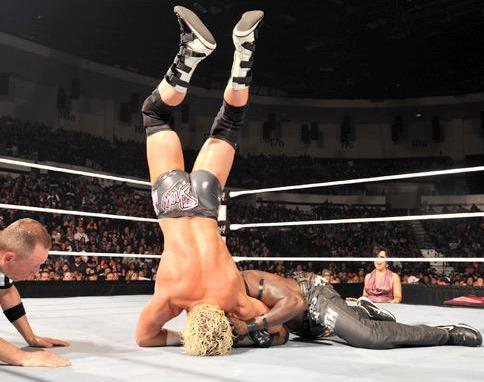 Image courtesy of WWE.com
Dolph Ziggler
In-Ring
A short and unremarkable match, but Dolph hit his usual Show-Off high spots. The headstand sleeper is always impressive and his dropkicks are some of the best in the business.
Still, he took a rather embarrassing loss and the match wasn't long enough for anyone to really sink their teeth into. It's a shame, because he can clearly do well when given the time.
Grade: C+
Charisma
Dolph has taken the Show-Off gimmick and run with it, and made it into a truly hateable character. His Flair-esque strut, his headstands, his sit-ups—it all makes for a smug and in-your-face character that the audience clearly loves to boo. He's doing his best to get over, and with Vickie at his side, he could be a top heel for years to come if they book him right.
Grade: B+
Mic Work
Not a bad night for Mr. Ziggler. He got himself across as arrogant and sure-footed and bounced well off of Truth's boundless insanity. He seems to have grown far more confident and competent, and I look forward to seeing what he can do without Vickie Guerrero backing him up, no matter how much I enjoy the duo.
Grade: B
Gimmick
The Show-Off seems to have settled in nicely as a character. In terms of in-ring work and just living his character, he's doing incredibly well.
My only problem is that sometimes he tries to be too funny, tries to get that snark pop from being clever and witty and liked by the "fringe" audience. How does ripping on Miz before he even speaks help anyone? It made Dolph look juvenile and cut Miz's promo out from under him before he even started. Ironically, the Show Off needs to reign in his desire to be in the spotlight and be liked.
Grade: B
Overall
A decent performance, but he didn't get as much time to shine as some of the other Chamber contestants. I like his work with Vickie, and she's an amazing heel manager, but it's still hard to gauge his abilities alone when she's still talking for him and bringing him heat.
Still, I'd rather they stay together and get him over than cut him loose and perhaps see him stumble his way back down the card without her, for now.
Grade: B
R-Truth
In-Ring
Not a whole lot to speak of in the most forgettable in-ring segment of the night—and that's saying something. What was really there? He hit one good kick and got the roll up win, but mostly took a beating from Dolph.
He sold well, at least, but there just really wasn't anything there.
Grade: C-
Charisma
He's really done it. Truth has gotten the fans behind him, it seems, with a strong cheer at the end of his speech and the Whating re-purposed to support a face. Splendid. His facial work and the way he carries himself just furthers his character, and he never pulls back from his deeply entertaining psychosis.
Grade: B
Mic Work
Flawless. His promo rambled in the most hilariously perfect way, and he continued to live in his own little bubble of crazy. I don't think it would be at all wrong to say that he had the stand-out performance of that opening segment, and when he's up against Punk, Jericho, and the Miz, that's high praise.
Grade: A-
Gimmick
Whoever thought that bouncy rapping midcard babyface R-Truth would ever be this fun? I never knew what he was capable of, and I'm sure a lot of other people didn't, either. I've only recently watched some of his old NWA-TNA work and now I can see where this is all coming from, and it's long overdue.
Truth fully lives his character, and while it's not exactly the most multifaceted, it makes for damn fun television.
Grade: A-
Overall
An on-the-mic highlight contrasted, unfortunately, with an utterly bland and forgettable in-ring performance.
Truth excels as a character and as a talker, but until he's given the chance to really shine in an in-ring fashion, he's never going to really get anywhere. Hopefully the Chamber itself will give him a chance to hit some highlights, but it's equally likely that he'll be the first one gone.
Grade: B-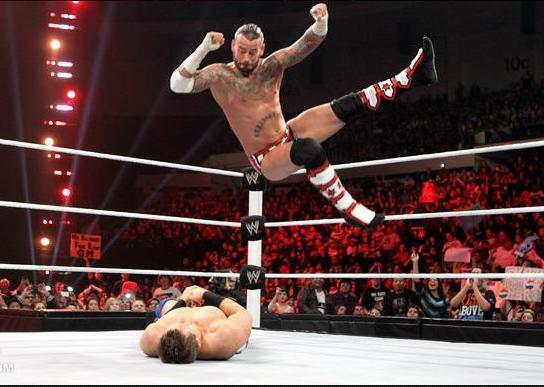 Image courtesy of WWE.com
CM Punk
In-Ring
A pretty by-the-numbers Punk match, honestly.
He and Miz never really seemed to click in the ring. It's a shame, given that their real-life heat I've heard about could make for a decent feud, but maybe the ring work just wouldn't sit together nicely. Hard to tell. He hit all the usual spots and put on a dominating, if not terribly exciting performance.
Grade: B-
Charisma
Well California definitely loves them some CM Punk. That cheer at the start of the show—just from hearing his name—is proof enough that he's climbed the ladder to success. He has the crowd hot for him pretty much any time he's center stage and things look good for his career.
Grade: B+
Mic Work
I think everyone knows that CM Punk can talk. Now, personally, I think he took too many digs at Laurinaitis in his "debate speech," but he brought it back at the end to being a wrestler, and a good wrestler, and how he would win.
So that was good. His delivery was rock-solid and brimming with intensity as always. And, thankfully, there was no direct undercutting of his opponent this time.
Grade: A-
Gimmick
I must confess, I'm getting tired of the Punk-Laurinaitis feud. I thought it brought out some of Punk's better mic work, but where is it going? Unless they tie in Laurinaitis and Jericho somehow, it makes no sense to keep this feud going when Punk already has something perfectly good to shoot for.
His role as the snarky rebel is still fine, I'd just like to see a focus on his actual opponents rather than an authority figure.
Grade: B-
Overall
A strong showing for the WWE champion, as it should be. Keeping the feud going with Laurinaitis is something I could do without, but he had great mic work and the audience was super hot for him, making for a very entertaining show.
He looks good going into the Elimination Chamber and I'm sure he'll look just as good going into WrestleMania at this rate.
Grade: B+
The Miz
In-Ring
Up and down this time. Some of the Miz's spots were great, such as his solid arm-work on Punk and his great counter from the GTS into the Skull-Crushing Finale.
But he botched Punk's bulldog and his usually good-looking neckbreaker-into-backbreaker combo was the most sluggish I've ever seen. I wouldn't be surprised if recent events have shaken him, and it's a shame.
Grade: C
Charisma
Say what you will about the Miz, he's a charismatic man.
Dolph's juvenile comments aside, he has great facial work that makes him look reasonably intimidating, and the crowd in San Francisco was reacting to him pretty well in the ring. Still, as a character he's kind of burnt out, and a fresh twist would probably refresh him and bring his reactions back up.
Grade: B
Mic Work
Just not a great night for the Miz, even on the mic. He had his trademark ferocious delivery, which was good, but his talking points were weak. His jabs at Punk and Dolph were just too convoluted and fell flat. And being buzzed into silence didn't do him any favors.
If it was an attempt to get the audience against him, it fell flat. People were just restless more than anything.
Grade: C
Gimmick
The Miz has been basically the same character for, what, the better part of two years now? Longer?
He's been played out, and his attempted tweaks to his character have fallen by the wayside again and again. He needs to do something to recapture interest because the serious talking, "I'm an awesome guy" isn't really cutting it anymore. It's a shame, because I like him a lot personally, but he needs a new angle.
Grade: C-
Overall
Another poor outing for the Miz, who seems to have a lot of pressure on his shoulders these days. It's unfortunate because, again, I'm a fan, but it really seems to be showing in his work. Maybe the rumors are right, and being bumped down to the midcard again will help him refresh himself and come back better than before. But something, at least, needs to change, because his character just isn't working the same anymore.
Grade: C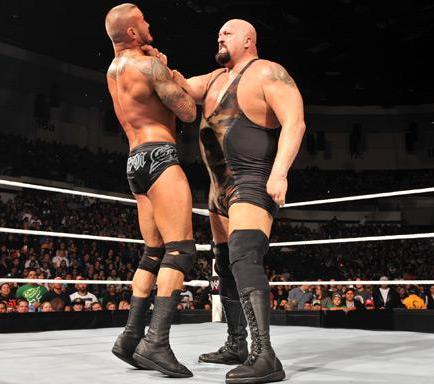 Image courtesy of WWE.com
Big Show
In-Ring
A better night for Big Show than on SmackDown, I think. He looked a bit livelier in the ring with Randy and it made for a more compelling performance. He also took some big bumps and made Randy's offense look entirely credible on a man of his size. The blown RKO wasn't pretty, but they managed to reset nicely. A solid effort.
Grade: B-
Charisma
Another solid pop for the Big Show. Once again, he radiates joviality and friendliness, and makes sure to interact with the crowd on the way to the ring. People are definitely behind him, and it didn't seem like they were favoring either Randy or Show more than the other.
Grade: B+
Gimmick
There just wasn't that much there for Show to do, character-wise. He smiled and slapped hands with the audience, grappled with Randy and got taken down once again by Daniel Bryan.
Perhaps a way to build frustration to a heel turn in preparation for his match with Shaq? Or just another way to play Bryan as the slimy heel? Hard to say, yet.
Grade: C-
Overall
A rather uneventful evening for Show, other than taking that massive DDT. He came off looking his usual strong and beloved self, and there's nothing wrong with that.
Still, it was a mostly insubstantial performance that leaves me wondering why even bother, other than to keep starpower on the show.
In-Ring
Randy keeps his streak of solid ring-work going on this Raw.
He got the brunt of the offense in his match with Big Show, and the two of them made it look good together. He was crisp and focused, and even when they blew a spot, the two of them went back to it with a solid re-do that flowed nicely in the match. The top-rope DDT was a fantastic moment, too.
Grade: B+
Charisma
It's usually interesting to see how a clash of faces goes down in the wrestling ring for how the audience reacts. Between Randy and Big Show, there didn't seem to be an overwhelming favorite, as both got a good reaction to their spots. It feels like Randy has cooled a little—ever since dropping out of the main event, but I don't entirely mind that.
They've got other guys to take the stage. Still, he's a credible and beloved figure with years ahead of him.
Grade: B
Gimmick
Like Big Show, Randy didn't get much time to show off his character, but we got an interesting moment. His slipping out of the ring and away from the Big Show's punch was not something you often see in a top face.
It helps to build Big Show as a credible threat, and make it seem less cowardly for heels to slip away from that kind of attack, too. Very interesting.
Grade: B-
Overall
Like Big Show, a decent and strong performance that doesn't ultimately amount to much in the long run, at least on Raw. We'll have to wait until SmackDown to see how the character fallout actually goes.
Regardless, it was another solid in-ring performance that bumps up an anemic one character-wise.
Grade: B-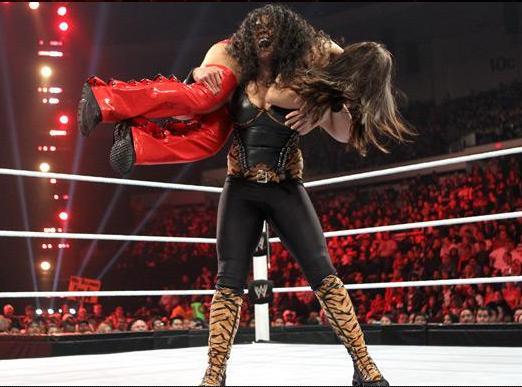 Image courtesy of WWE.com
Brie Bella
In-Ring
I feel, among the Divas, that the Bellas tend to actually be slightly underrated. In the second-coming of Trish Stratus, neither of them are, but they seem to try if nothing else. That's more than can be said for some of the other Divas.
Brie hit a rather varied amount of offense and it looked good for a not even two minute match. I just wish, as always, the Divas got more to work with.
Grade: C+
Charisma
On the other hand, you can still usually hear a pin drop when they wrestle. Not that it's entirely their fault—the Divas have been booked into an afterthought. Still, neither have ever been particularly good actresses, and there just isn't that much to see from them.
Grade: D
Gimmick
Well. Nikki was there, too. And she tried to distract Tamina. That's almost a character. If you squint.
Grade: D
Overall
A Diva on the losing end of what was basically a squash match, even if she was dominating most of the time. Diva's booking is so weak and such an afterthought that as much as I'd like to give Brie time, I simply don't know what to say. It was a nothing event.
Grade: D
Tamina Snuka
In-Ring
Well, she was in the ring slightly longer this time than usual.
She still basically hit just three moves, though. Her Samoan Drop and Splash are still impressive, but what's going to happen when she might have to go all of five minutes, maybe, against Beth Phoenix at the PPV? It's a question we just have to wait on.
Grade: C-
Charisma
Whether it's by virtue of being a legacy character or having an impressive finisher, Tamina seems to get at least a few cheers going for her, so that's a step in the right direction. Her silent challenges to Beth are also interesting to watch. She definitely has potential.
Grade: C
Gimmick: Well, for one thing, she has a last name now. That's a step in the right direction.
Treating her as a second-generation star is definitely a step up from the nameless non-entity she used to be, so kudos to the WWE for that. It almost seems like they might—might—be taking steps toward fixing the Diva's division.
Grade: C+
Overall: A brief match with no talking, but Tamina did continue to show herself off as Jimmy Snuka's daughter with a few impressive moves in her repertoire. I'm still curious to see what she does on a PPV stage, as I'm pretty sure this will be, in fact, her first PPV match.
Hopefully she can make a good impression.
Grade: C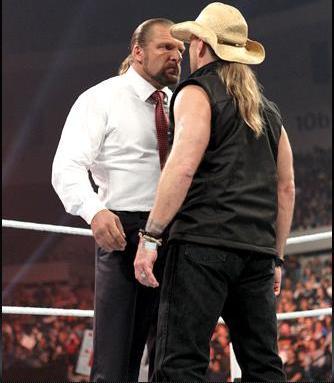 Image courtesy of WWE.com
With the duo locked into a lengthy promo, it's hard to really separate them into individual performers. Still, it was far too integral a part of Raw to go unremarked upon, so I'm going to deviate from my own formula (thus breaking it in only the third edition! A great record) for this particular episode.
On the one hand, it was simply gripping.
The return of Shawn Michaels was a welcome rush of personality, and you can just see the history between the two men, bringing their dialogue to new heights. Shawn in particular is a master of pacing, steadily driving up the intensity of the dialogue.
So far, the Taker-Trips saga has, despite my reservations, become one of the most compelling stories going into WrestleMania thus far, and it's thanks entirely to the mic work of all three men involved.
At the same time, I can see some flaws.
Once again, Triple H has downgraded the importance of the rest of the WWE in his quest to build up this particular feud. They are the last of a dying breed, they put it out on the line, there's no greater challenge left, etc. etc. etc. If they were the best and are now the last, what's the point of tuning in to the show? Why come back when they're gone?
For someone so concerned with keeping up the "brand" of the Undertaker, Triple H sure slammed the brand that is the WWE itself.
But those are comments made by many before me, I know. Ultimately, it's an interesting twist on a story done a dozen times by now.
More than last week, both Trips and Shawn hit it out of the park, and I have no illusions that more than the WWE title match and more than even perhaps Cena and the Rock, the Taker-Trips story is going to be the one to watch for the next five weeks.
There were a few missteps in content and it ran a bit too long, but overall, I give the performers and the story itself a solid A grade.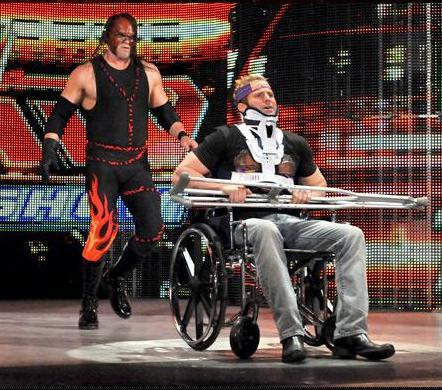 Image courtesy of WWE.com
There's a reason it's taken me longer to get this Rundown up than the two before it, and it's this storyline right here.
What can I say about the Cena-Kane saga? How do I even approach it? Do I look at it strictly from the perspective of a wrestling storyline? Is it a fully dramatic soap opera love triangle? Is it a horror story? Is it a piece of a larger puzzle, or a self-contained and fully bizarre narrative all on its own?
The events of this week's Raw have riddled me with far more questions than answers, and I can't even begin to think of how to address them.
As a commentator, I feel a failure. I can't even figure out how I'm supposed to feel about the four main players at the end of the night.
John Cena himself saved Eve from danger. He battled the ultimate monster Kane. He went to a critically wounded Zack Ryder's side in an instant and made sure to rush medical attention to him. He stands as the unbroken paladin, unwavering in the face of opposition, never backing from his own moral stance.
At the same time, he kissed another man's love, was prepared to punch a man with a broken back in the face and is bombarded by raw hate from the audience.
WWE, your top draw and babyface was leveled with a "We All Hate You" chant. And I can't decide if you're doing something right, or doing something very, very wrong.
More than ever, it seems, John Cena the Hero is dead.
There was no answering chorus this week. No one raised their voices in defense of the unbeaten champion. He had hatred dumped on his head and no one even made an attempt to brush it away. Is he finally going to be pushed over the edge? Are we building towards a climax of him getting booed out of the building at WrestleMania to become, finally, a new and refreshed character?
I can only hope so, because if he tries to stay the same, it will be utter proof that WWE is pig-headed, tone deaf and ready to ride this ship all the way to the bottom of the ocean.
And at the same time, they've all but killed Zack Ryder. I don't just mean that they had Kane push him to his apparent demise, that is. They've made him into a joke. They have killed the self-made man, the midcarder who rose from obscurity into heroics.
Now he's nothing but a foil to Cena's story and a walking punchline. He has been brutalized, stripped of his dignity and he has nothing to show for it. There was no overwhelming sympathy from the audience.
People were almost ready to cheer Cena punching him in the face.
At the same time, they've done away with their most likable and talented in-ring female babyface in Eve Torres. Now she's the treacherous shrew, who will no doubt be booed far more out of the building than Cena ever will for her transgression, because that's how we treat women in this society. But that's a discussion for another time.
The point is, when the Diva's roster is at it's thinnest, and the only backup babyfaces to Tamina at the moment are bland Kelly Kelly and dangerous Alicia Fox, they do away with Eve?
It's maddening.
Kane is the only one who came out relatively unscathed—a greater monster than ever. But at the same time, what is his point? What is his motivation? Why does he give one good goddamn what happens to Cena and his hatred, whether he is ready to face the Rock at WrestleMania or not?
This storyline is riddled with enough holes to drive a fleet of ambulances through. Which is appropriate, since Zack Ryder will apparently need all of them by the time it's over.
I have no idea how this Ambulance Match is going to end on Sunday. I have no idea what the end game is going to be.
I pride myself on being able to follow the path of WWE's booking. I pride myself on being a logical and intelligent man.
But I can't make heads or tails of this. Maybe I'm missing the obvious. But to me, this storyline is as broken as Zack Ryder's spine and as embarrassing as that sloppy makeout.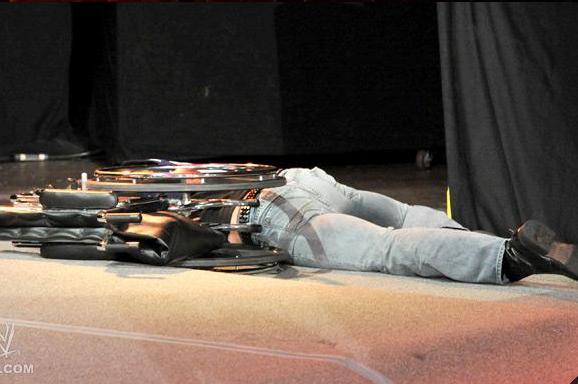 Image courtesy of WWE.com
There were the highs and lows on this Raw Supershow, from the high drama and old-school storytelling of the Undertaker saga, to the grand mess of character motivations that is John Cena.
But sadly, there were more lows than highs. The opening debate was a mess, the in-ring work was largely forgettable and I feel less inclined to watch Elimination Chamber than I was a week ago. And the less said about the soap opera horror show, the better at this point.
I was confused coming out of Raw the first time I watched it, but I've come to a conclusion on how I feel about it: It was a sloppy mess that couldn't drag itself out of the muck even with a returning Shawn Michaels and a top-rope DDT on the Big Show.
This show gets a D.
That's the Rundown. I need a drink.