2012 NBA Trade Deadline: 5 Teams That Absolutely Have to Make a Deal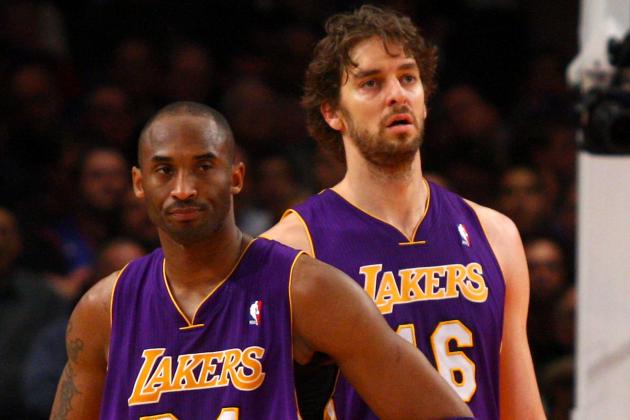 Chris Chambers/Getty Images

The 2012 NBA trade deadline is March 15 at 3:00 p.m. EST.
This gives every team less than one month to decide if they want to be buyers or sellers at this year's deadline.
While it's been said that sometimes the best trade is the one you never make, the following five teams desperately need to shake things up.
Be it age, poor chemistry or just a badly needed change of scenery, they would be wise to work the wire every day until a deal can be made.
Begin Slideshow

»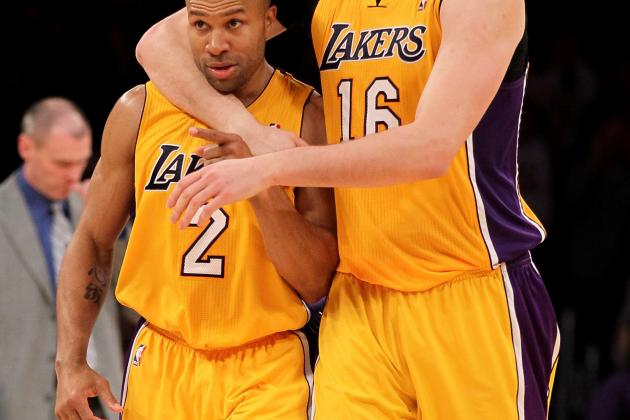 Stephen Dunn/Getty Images

Why a Trade is Needed

Los Angeles has been in a funk ever since the failed Chris Paul trade, and have been victims of David Stern's tyranny and Mike Brown's offensive-less gameplan.
The Lakers look old, slow, and in dire need of an upgrade at point guard.
LA needs to shake things up and reclaim the headlines in their own city, even if it means trading one of their current stars to do it.
Possible Trade Partners: Houston Rockets, Orlando Magic, Phoenix Suns

If the Lakers can't get Dwight Howard, they should look to open up talks again with the Rockets, who were originally in on the three-team Paul deal.
Houston wanted Gasol then supposedly, so why not talk about a Pau for Luis Scola and Kyle Lowry/Goran Dragic deal?
Houston has a plethora of talented young players. Trading some for an established star like Gasol would help both teams.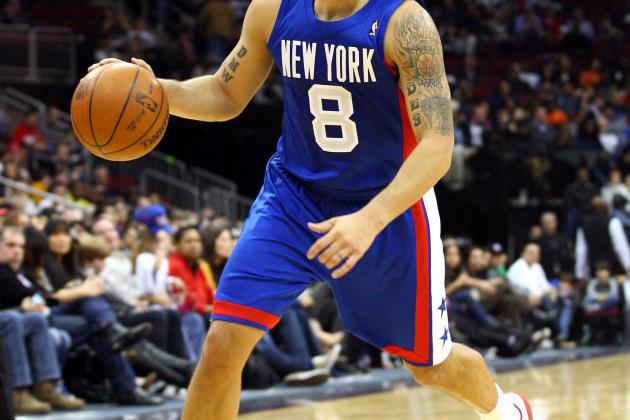 Chris Chambers/Getty Images

Why a Trade is Needed

New Jersey made some noise near last year's deadline when they traded Derrick Favors, Devin Harris and two first round picks to the Utah Jazz for All-Star point guard Deron Williams.
Unlike the Carmelo Anthony-to-Knicks deal, Williams didn't sign an extension.
Deron is scheduled to become a free agent at season's end, and what reason have the Nets given him to stay? New Jersey currently sits in dead last in the Atlantic Division at 8-21.
After giving up so much for Williams, what else can the Nets offer?
Currently, Brook Lopez and rookie MarShon Brooks seem like the most attractive targets.
With tons of cap space this summer, New Jersey could roll the dice and hope to sign both Williams and Dwight Howard to long term deals, although waiting would be extremely risky.
The Nets would be wise to make some sort of deal to encourage Williams to stay, since they've given up so much for him already.
Possible Trade Partners: Memphis Grizzlies, Orlando Magic, Sacramento Kings
There had been talk of a possible O.J. Mayo trade, but nothing's come to fruition thus far.
The Howard rumors persist, and Orlando may be waiting for Brook Lopez to return from injury to see what kind of shape he's in before making him the centerpiece of a New Jersey package.
The Nets could possibly offer Lopez, Brooks, and the expiring deal of Mehmet Okur and future picks, while willing to take on the contract of Hedo Turkoglu.
If New Jersey feels Williams wants out, they could always consider calling a team like the Kings, who carry a lot of young talent, but could use a true point guard in Deron.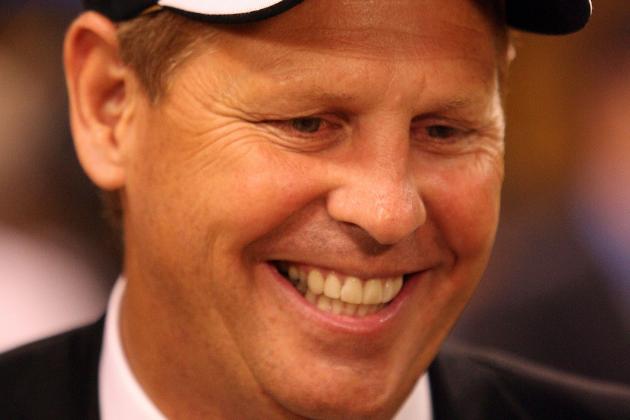 Elsa/Getty Images

Why a Trade is Needed
While Boston has played well as of late, does anyone expect them to be a title contender with the current roster as it is?
The Celtics need to make a move, even if it's something small. If they chose to keep the big four in tact, Boston still has some pieces to offer in deals.
Jermaine O'Neal has an expiring deal that could be offered, and rookies JaJuan Johnson and E'Twaun Moore could be packaged as well.
Possible Trade Partners: Charlotte Bobcats, Detroit Pistons, New Orleans Hornets
Boston should look to teams willing to sell off veteran players who could help them with a playoff run.
While players like Boris Diaw, Tayshaun Prince, Trevor Ariza and Jarrett Jack most likely won't be part of their current teams' future plans, they could make a big difference with a contender like the Celtics.
Boston would be wise to keep what they have in tact, while still making a move to give them an extra push heading into the playoffs.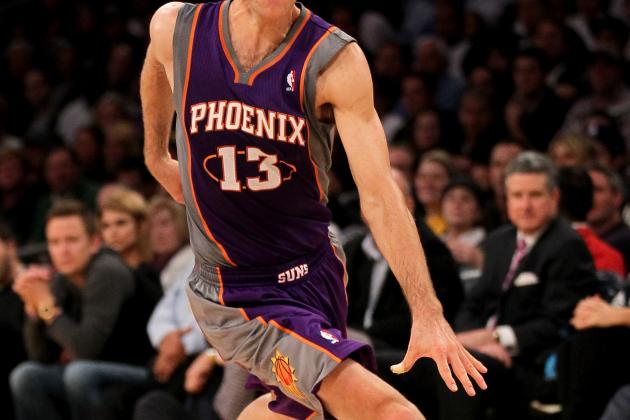 Stephen Dunn/Getty Images

Why a Trade is Needed
Steve Nash is still an awesome offensive play-maker, even if his roster lacks players to finish his passes.
Sitting in 13th place of 15 teams, it's time the Suns begin the rebuilding process by trading not only Nash, but Grant Hill as well.
Add to the fact that Nash is a great player on a poor team, the former MVP is also in the last year of his contract, and I can't imagine that he would resign with a rebuilding team.
Phoenix would be wise to collect some value for their veterans to add to a solid core of Markieff Morris, Marcin Gortat, Jared Dudley, and others.
Possible Trade Partners: Los Angeles Lakers, Atlanta Hawks, Utah Jazz
The Lakers are desperate for a point guard and own two first round picks in the 2012 NBA draft.
Atlanta could use a veteran like Nash for a playoff run, and Utah would be a dream scenario for Nash with so many talented big men.
Whoever Phoenix decides to trade Nash to, they should do their best to convince them to take one of their bad contracts (Josh Childress, Hakim Warrick, Channing Frye) with him.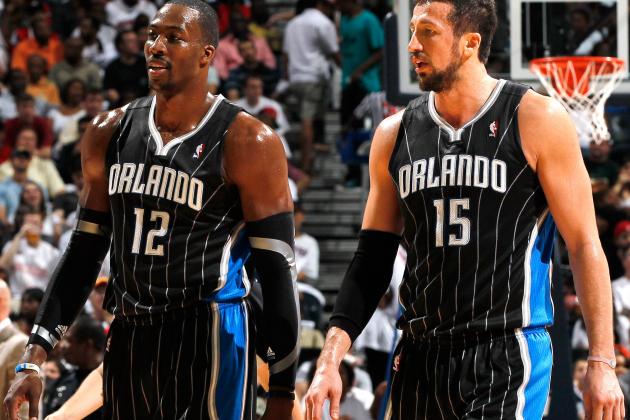 Kevin C. Cox/Getty Images

Why a Trade is Needed
Orlando can choose to keep Dwight Howard, get a mid-level seed in the Eastern Conference playoffs, eventually lose to the Chicago Bulls or Miami Heat, and still call it a nice season.
They could then watch Howard leave, and fall into basketball oblivion for the next five years.
Or they can pull the trigger on a deal, collect some nice young talent and picks, and set themselves up to be competitive for years to come, a la the Denver Nuggets.
It's been a nice ride, but even with Dwight, the Magic aren't championship contenders. It's time to deal him, along with a bad contract, and begin the rebuilding process.
Possible Trade Partners: New Jersey Nets, Los Angeles Lakers, Chicago Bulls
Some would add the Dallas Mavericks to this list, but I just don't see what they have to offer.
There's not enough young talent to want to entice the Magic to deal Dwight to Big D.
The Bulls remain an interesting option.
They could offer players such as Luol Deng, Taj Gibson, Joakim Noah or others that Orlando may covet.
The first team I would call, however, would be the Lakers.
Give me Andrew Bynum and Andrew Goudelock, take Hedo Turkoglu, and throw in a first rounder—then we might have a deal.