3 Things Each Pacific Division Team Must Change Following NBA All Star Break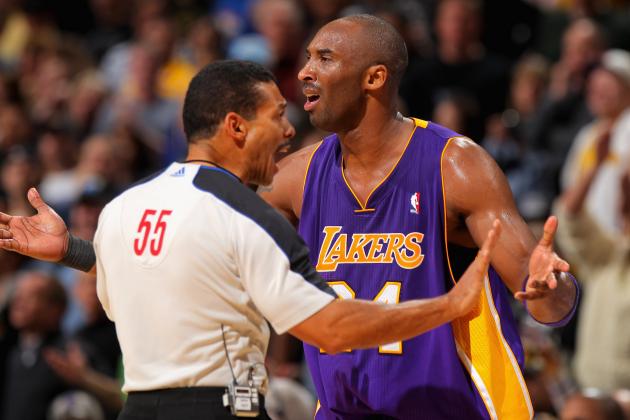 Doug Pensinger/Getty Images

The NBA's Pacific Division is not a weak one, but only its Los Angeles teams will stand above .500 when the All-Star break begins. This means there is much room for improvement.
The Clippers have taken the biggest leap forward since last season after acquiring perennial All-Star point guard Chris Paul. The team leads the division, but still needs work to become a more cohesive unit.
It's odd to see the Lakers as the second best team in their own city, but this season that has been the case. Kobe Bryant has been carrying the team most of the way. Changes are needed on the court to help relieve the stress on Bryant.
The Golden State Warriors have been disappointing considering the amount of talent they have on their roster. Rookie head coach Marc Jackson has some moves to make if he wants his team to make a push for the playoffs.
The Sacramento Kings (10-21) and Phoenix Suns (14-19) are both at the bottom of the standings and going in different directions. The Suns have aging stars in Steve Nash and Grant Hill and need to start focusing on the future.
The Kings' future has finally become the present. They have several high draft picks and pieces that they need to mold together if they want to start turning their losing ways around.
Begin Slideshow

»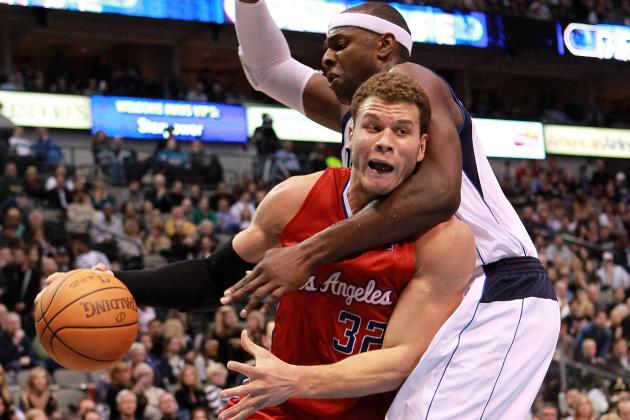 Ronald Martinez/Getty Images

The Clippers have been a high flying and electric team to watch in the NBA this season. They excel in a fast paced game, but struggle in the half-court offense.
Things got worse when they lost Chauncey Billups, who was a veteran leader on the team. With Chris Paul, they still have a general who will take them into battle and keep them competing every night.
The three moves the Clippers need to make are as follows: (1) get a shooting guard, (2) work on the half-court offense and (3) keep helping Blake Griffin improve.
To find a shooting guard, the Clippers were reportedly interested in J.R. Smith, but he signed with the Knicks. They will need to pursue more options to complete their starting five.
The other issues must be affected by coaching. Vinny Del Negro and his staff must start drawing up more plays for their team in the half-court. The Clippers mostly run a pick-and-roll offense, but they have nothing after that.
That's where the third move comes in. If Griffin can become half as skilled on post-ups as he is at dunking then the Clippers will have a real shot to come out on top of the Western Conference.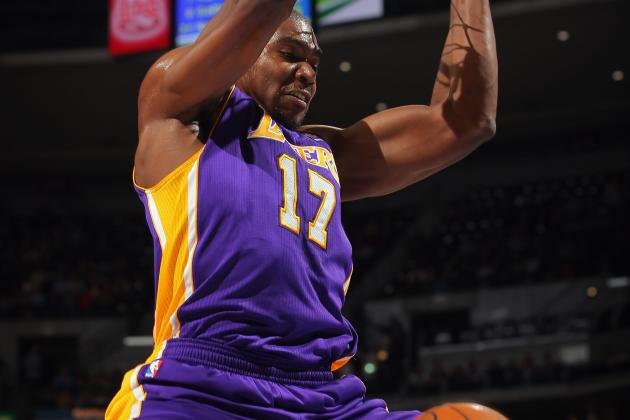 Doug Pensinger/Getty Images

The Lakers are in unfamiliar territory with new coach Mike Brown. For the first time in years they are not poised to make a championship run, but instead working on becoming a championship team once again.
At this point in the season, Kobe Bryant is averaging more field goal attempts per game than he has in his career (23.9 shots per game). Obviously he is a special player and capable of leading his team through the regular season, however, becoming a championship team will take more than just Kobe.
Moves that the Lakers need to make include: (1) finding another scorer, (2) relying more on their twin towers of Andrew Bynum and Pau Gasol and (3) staying healthy.
Staying healthy is more wishful thinking than it is a move, but with Bynum's history and a thin roster, the Lakers can't afford to lose anyone.
The Lakers have reportedly been talking to castaway Gilbert Arenas. Arenas might actually be a nice pick up for the Lakers. His past problems included wanting an exorbitant amount of shots and attention. Coming off of a few bad years, Arenas won't get all the shots he once commanded, but in Los Angeles there's plenty of media attention to go around.
Winning in the playoffs usually stems from good play down low. The Lakers have one of the best big man tandems in the league, as both Bynum and Gasol are over seven-feet tall. Letting them take over games every once in a while would take stress off of Kobe and give the bigs more confidence going into the playoffs.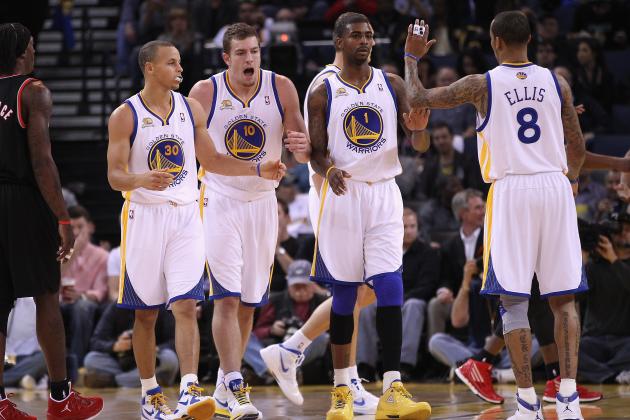 Ezra Shaw/Getty Images

The Warriors have plenty of talent on their roster, but it has only been seen in flashes as the team's record is 12-17. The explanation is injuries and lack of an identity.
For so many years the Warriors were runners. They played a fast-paced style and scored with ease. Mark Jackson's philosophy is that by working on defense, the team will become more complete. That plan hasn't gone well for Jackson as his team ranks fourth in points per game (99.1) and 28th in points allowed (100.2 per game).
The Warriors need to (1) find their identity, (2) develop roles for each player and (3) buy into Jackson's defensive philosophy.
Some say that the amount of talent the Warriors have at the guard positions is creating a jam and not letting each player play to his fullest. Too much talent should not be a teams biggest problem and if managed correctly, this team can be viscous.
To do that they need to find an identity. Once each player knows exactly what the team needs from them to win, they will be able to focus in on that and become more consistent.
If ego's are put aside and the chemistry forms, playing defense will become more natural for the Warriors. If every players knows his teammates are buying into the system and filling their role, they will be more likely to help on defense.
If Jackson can get his team together, they won't be disregarded anymore and instead be seen as a potential playoff team.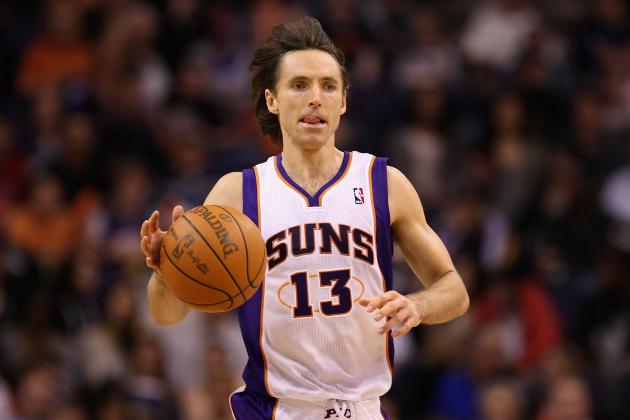 Christian Petersen/Getty Images

The Suns are still being led by 38-year-old Steve Nash even though he has been a name mentioned in several trade rumors. Nash is still keeping the Suns in most games and is also the main reason they are winning some.
Phoenix finds themselves in an awkward position as a late lottery pick team. Following the All-Star break, they should make some major changes.
They need to (1) find an identity, (2) blow up the roster and (3) create a new beginning.
It may be nice to see Nash ride off into the sunset for the Phoenix faithful, but trading him for a draft pick or different players should be their course of action.
Marcin Gortat and rookie Markieff Morris are the future for the Suns, and everyone else should be considered dealable as we close in on the trade deadline.
Jonathan Daniel/Getty Images

The Kings are one of only six NBA teams with 10 or fewer wins this season as they stand at 10-21. Four of their top five scorers are guards, and no one on the team averages more than 18 points per game.
The Kings need to (1) get rid of their unproductive players, (2) start playing with more intensity and (3) grow to be more mature.
This is a very young team and they are learning what it takes to win games in the NBA. Time and practice will help the Kings out, but this season is a lost cause.
The Kings have several players who are not producing at the levels they are capable of. A great example of this is someone who was supposed to help as a productive veteran, John Salmons.
They need to acquire players who are willing to play to their fullest potential every night. Until they do this, Sacramento will continue losing games in a row.