WWE Stock Watch: Who's Up, Who's Down Heading into Elimination Chamber 2012?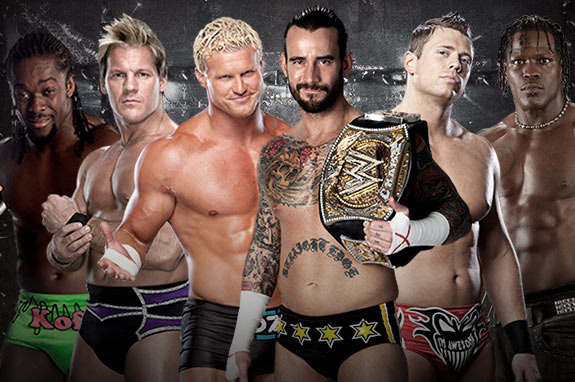 Every February, WrestleMania road takes a sharp turn into dangerous territory, as WWE's finest superstars are left to struggle against man and metal just to avoid flying directly off of the sky-scraping cliff that is the WWE landscape.
At the Elimination Chamber pay-per-view, 10 guys get a shot at the two reigning world champions, meaning that landscape can be altered dramatically in a very short time.
Formerly called No Way Out, perhaps the new name is apt considering a poor performance at the event could potentially eliminate a superstar from WrestleMania relevance.
Even though Elimination Chamber isn't one of the big four WWE PPVs, it still holds significance because it can be used to gauge a wrestler's stock potential for the rest of the year—think of it as a preamble to WrestleMania.
With so many questions still left unanswered and so many storylines left inconclusive, the 2012 version of Elimination Chamber will be just as crucial as ever before.
Royal Rumble winner Sheamus, though not yet on the card, will loom large over the event, as he has decided to wait until after the pay-per-view to announce which champion he will challenge at WrestleMania.
Meanwhile, John Cena has been out of the title picture for months dealing with Kane, and while his showdown with the Rock means his physical feud with Kane will end at the PPV, the mental effects of the feud may follow Cena into his next encounter.
Even with the Chamber matches lacking in star power, all of these unresolved situations make for a compelling evening on Feb. 19.
With that said, let's take a look at the stock of each wrestler on the card going into this critical pay-per-view event.
Begin Slideshow

»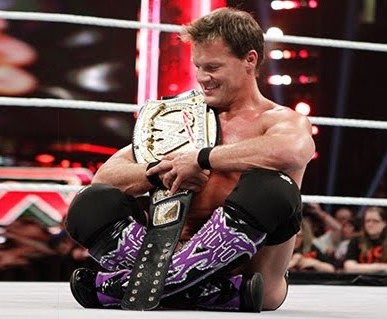 Jericho has been gaining momentum in his ultimate quest to prove he is the best wrestler in the world.
The brash Canadian finally laid down his plans after a month of silence on the Feb. 6 edition of Raw, decrying all of the "Jericho wannabes" in the WWE who have stolen his creations.
The promo was classic Jericho, as he spit his own arrogant form of the truth in cutting down every one of his Elimination Chamber opponents.
And even though Punk mimicked Jericho by responding with his own silence, Jericho was able to win a six-pack challenge—a pinfall set up by Punk, who delivered a GTS to Dolph Ziggler before Jericho yanked him out of the ring—to determine who would enter No. 6 in the Elimination Chamber.
After the match, Jericho imitated CM Punk by sitting cross-legged in the ring. He put Punk's WWE championship on his shoulder and looked down at it proudly as though it was already his.
Jericho has an excellent chance to take the title from Punk for real on Sunday, forcing Punk to chase the championship heading into WrestleMania.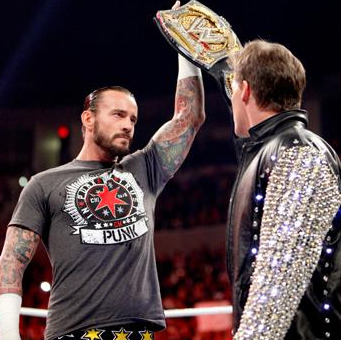 CM Punk has been the WWE champion for nearly 100 days, so he doesn't exactly need a t-shirt to say he's the best in the world.
And while Chris Jericho may claim Punk is ripping him off, all Punk has to do is silently raise that title and Jericho's argument becomes untenable.
Simply put, the title speaks louder than Jericho, or Punk for that matter, ever could.
Still, what makes the Elimination Chamber so dangerous is that even if Punk truly is the best, he has five other guys gunning for his title, significantly lowering his odds to retain.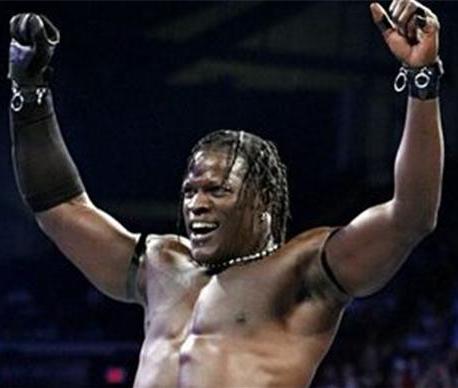 Little Jimmys rejoice, R-Truth is a madman, and he's damn good at it.
Truth's performance in last Monday's debate saved an otherwise lame segment, as he rambled incoherently and quite hilariously about his campaign platform—even though the participants were supposed to be talking about the upcoming pay-per-view.
If elected, Truth pledged to trade Vickie Guerrero and Dolph Ziggler to SmackDown! for Hornswoggle and a box of spiders and said he would make it legally required to shout, "What!" after every line of the Pledge of Allegiance.
He would then mash the box of spiders into spider stew (his grandmama's favorite), a tasty treat that's high in protein and low in carbs, and gulp down the stew while his running mate Little Jimmy looks on.
This would somehow give him the energy to win the Elimination Chamber.
Truth has perfectly developed the facial expressions and exaggerated delivery of his insane lines. He makes you believe he might really have a few screws loose upstairs.
I'll admit I had my doubts about R-Truth's ability to play a crazy-face character, but he is pulling it off.
Maybe after Elimination Chamber, Truth and Little Jimmy can chase the tag team titles. Considering the state of the division, the pair could dominate immediately.
Little Jimmy certainly would be a better partner for Truth than Pacman Jones.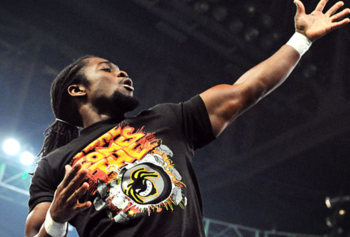 It looked like it might be trouble in paradise for Kofi Kingston after his partner, Evan Bourne, failed two drug tests.
So even though Kofi has no chance at winning the Chamber match, I'm already considering the pay-per-view a victory for the master of the Boom Drop.
At least he'll get a chance to showcase some of his high-flying skills inside the Elimination Chamber.
That is, unless Edge makes an appearance.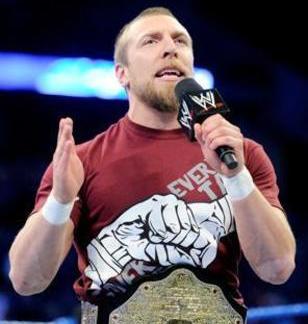 Daniel Bryan is growing.
Though I wish the WWE would drop the vegan schtick, Bryan has done a fantastic job transitioning into his new self-righteous and cowardly heel character.
Bryan has an uncanny ability to get under the audience's skin with his lengthy diatribes and arrogance despite his diminutive stature.
Like Big Show said, Bryan is a little punk who needs to get his comeuppance, and it will be interesting to see if that will come on Sunday.
For now, Bryan has found a way to wiggle out of the clutches of danger over and over, and he just might be able to do it again at the Elimination Chamber.
Like the mythical bird represented by her surname, Beth Phoenix is simply on fire right now.
Not only is she dominating every Diva in her path, she has also refined her character to levels of near perfection.
Though her wins have been squashes, I've really enjoyed her interactions with the other Divas during tag matches.
She has no peer, and she knows it.
This has caused her to condescend and bully her own tag partners before she enters and demonstrates the right way to crush an opponent.
Whatever Beth Phoenix wants, she gets.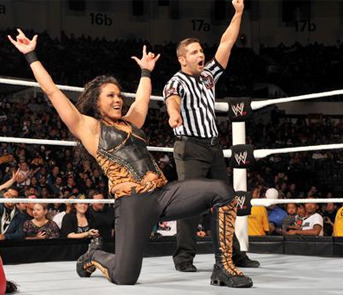 Tamina Snuka has been Superfly as of late, and it's gotten her a Divas Championship match at Elimination Chamber.
Soaring through the air as her father once did, the second-generation Diva could join Beth Phoenix as the saving grace of the division.
Tamina has been building momentum by notching several wins in 2012, and she will provide more of a challenge to Beth than the Divas champion has had in months.
If she can get Beth on the mat, Tamina may be able to Superfly Splash her way to an upset this Sunday.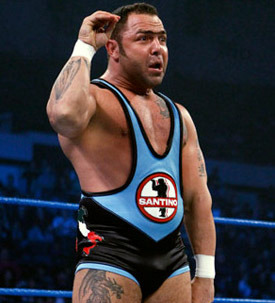 Out goes the Viper, in comes the Cobra.
Teddy Long removed Randy Orton from the Elimination Chamber after he sustained a concussion last Monday.
Shockingly, Santino Marella won a battle royal at this week's SmackDown! tapings to seize the vacancy.
Sunday will be the biggest match of the two-time Intercontinental Champion's career, as he has entirely devolved, albeit successfully, into comic relief.
Santino likes to play the air trumpet after his victories. If he wins the World Heavyweight Championship Sunday, he might just have to mime the entire orchestra.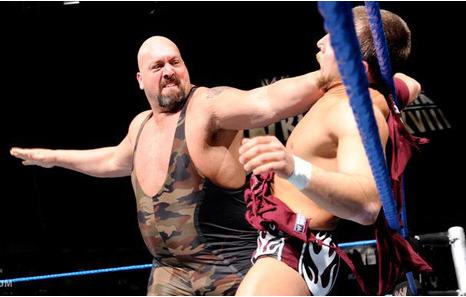 It seems like Big Show has been holding steady his entire career; his stock never gets too high or too low.
Big Show's feud with Daniel Bryan will likely come to an end at the Elimination Chamber, but with SmackDown's weak field, there's a chance Show could walk out with the gold.
With a rumored WrestleMania match with Shaquille O'Neal on the horizon, I'm interested to see what kind of impact Big Show will actually have on Sunday.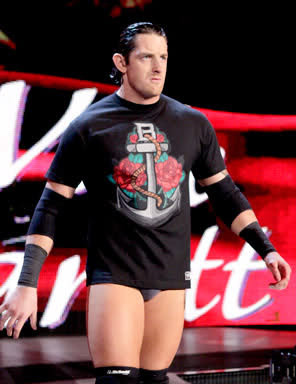 Even though Wade Barrett lost his last showdown with Randy Orton, the overall feud did much to establish Barrett as a credible main-event threat.
His losses as of late have stagnated his immediate stock value, but the Barrett Barrage is likely to be on the upswing again very soon.
The Elimination Chamber will likely reveal which direction Barrett will go in next.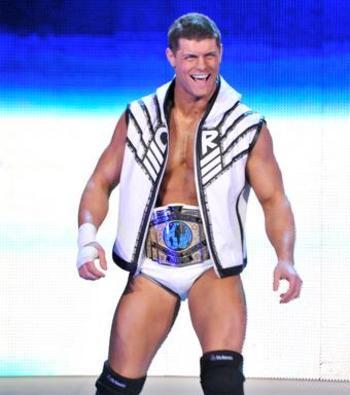 Like Barrett, Cody Rhodes has been spinning his wheels lately after rising steadily for a year.
He hasn't done much in the way of defending the Intercontinental Championship lately, and his WrestleMania future is cloudy.
A rumored career title match versus his brother Goldust is a possibility.
Still, that Rhodes can be taken seriously when he says he will become the first dual champion since the Ultimate Warrior shows how far he has come in establishing himself.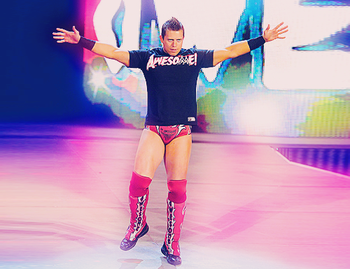 The Miz may think he's awesome, but the WWE is clearly having its doubts as of late.
The former WWE champion has been on a downward swing for months, as he hasn't won a match since late November.
The reason: the Miz was reportedly blamed for the low Survivor Series buy rate. The event saw the return of the Rock, who teamed with John Cena to take on the Miz and R-Truth in the headlining match.
The Awesome One did nothing to help his value when he botched a move on the Feb. 6 edition of Raw, injuring R-Truth.
Jericho further piled on the Miz by labeling him a wannabe last week, and the Miz hasn't had the chance to change that perception yet.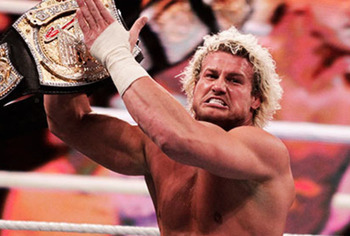 Like the Miz, Dolph Ziggler has recently spent most of his time staring up at the lights with his back flat on the mat.
Ziggler's downturn is slightly more curious than the Miz's, however. This is a guy who was viewed as a legitimate threat to take CM Punk's WWE championship at the Royal Rumble, and now he's eating pin falls like the Brooklyn Brawler.
Ziggler losing to Punk was understandable—Punk is being pushed as the best in the world while Ziggler is a young upstart—but why has he continued to drop falls since then?
Ziggler was pinned by Jericho in the six-pack challenge on Feb. 6, and last Monday R-Truth beat him mid-situp.
Perhaps ditching Vickie Guerrero is the answer. After all, he no longer needs her to draw heel heat.
Whatever Dolph's issue is, he better solve it soon, or else he runs the risk of becoming irrelevant at the WWE's premier event.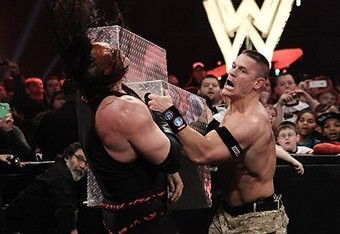 Besides his passionate smooch with Eve on Monday, John Cena hasn't had much going for him in 2012.
Despite being removed from the title picture, the fans still hate him, and the hatred is growing week by week.
The Kane storyline hasn't done anything to make Cena more likeable, or at least more interesting.
It is becoming the chic thing to do to boo Cena, and the deafening "we all hate you" chants last Monday almost made me feel pity for the man.
Cena needs to make an impact on Sunday. Even if he doesn't beat Kane, he needs to at least show some indication that change is coming for his character.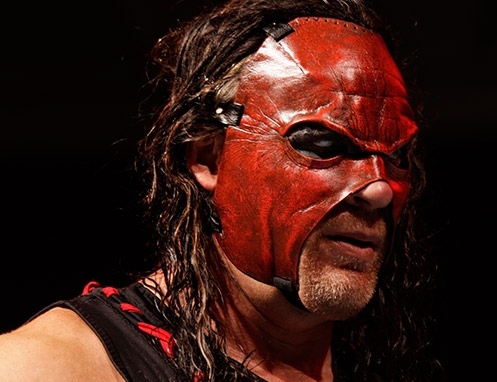 Kane has toed the line between hate monger and creepy stalker since he returned.
Either way, he hasn't been entertaining.
All of the optimism I had for his storyline with Cena has diminished, as Kane's inability to make a notable impact on Cena's psyche has made him lose credibility.
Sure, he might get to Cena yet, but as of now his stock is falling.
Also, the B movie-esque prowling of Zack Ryder and Eve has been cringe-worthy. Ryder just didn't have the clout to be included in a storyline of this magnitude.
Plus, Kane will likely lose Sunday since the WWE needs to build Cena back up heading into his match with the Rock.
Hopefully, the Elimination Chamber will at least bring some tangible progress to this storyline.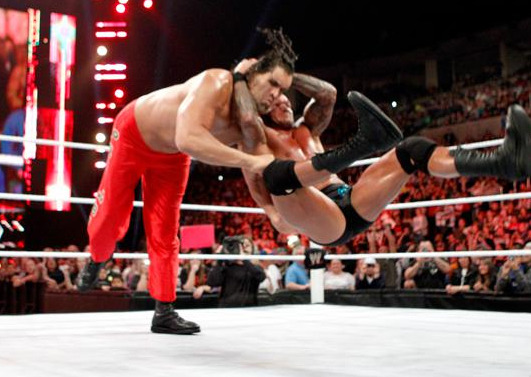 Does anybody care?
Didn't think so.
Can Khali possibly windmill chop his way to the World Heavyweight Championship, sparking massive celebration in the streets of Punjab and elevating Khali's career higher than it has ever been?
No, no he can't.
Sorry Khali, maybe Adam Sandler will decide to make a Longest Yard sequel so you have something to do come WrestleMania.