English Premier League and the Spectacle of Referees and Cheats
February 27, 2012

The BBC carried the following entry on their website on Saturday, 8 January 2011.
Arsenal forward Theo Walcott admits he dived in a failed attempt to win a penalty in the 1-1 FA Cup draw with Leeds. Walcott earned a genuine penalty moments later when he was fouled by Ben Parker, allowing Cesc Fabregas to equalise from the spot.
The entry carried an accompanying audio with Walcott offering his apologies.
Approximately a year later, Nathan Dyer tumbled in the Arsenal penalty area in a match between his team, Swansea City, and Arsenal, after Aaron Ramsey apparently fouled him. It prompted Michael Oliver, the referee, to point to the penalty spot.
It wasn't a penalty.
It was a dive. TV replays showed. In fact, it was Dyer who fouled Ramsey. Arsene Wenger fumed after the match:
The game was decided by some strange decisions from the referee.

The penalty was a complete imagination. It was a dive. Well done to the player (Dyer).

There were other turning points. We came back to 2-2 but then made a mistake.
Daily Record carried an entry on the match with a picture that shows Dyer stamping on Ramsey's leg, just like TV replays had shown.


Photo courtesy of Daily Records.
Having been clever to help his team to victory over Arsenal, Dyer saw no need afterwards to apologize for diving. Instead, he hit back at Wenger for suggesting he had cheated.
I had a bad touch in the box, but I've dragged the ball back and got a kick on the back of my foot. I've gone down and it was a clear penalty. In fact, it was a definite penalty.
When Ben Arfa tumbled to the ground following Rio Ferdinand's tackle in November 2011 in a match between Manchester United and Newcastle United, the referee's assistant waved his flag furiously on the touchline, overruling the referee's initial decision to award a corner instead of a penalty.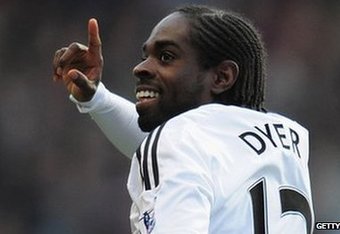 This robbed Manchester United of two points, as they could only manage a draw with the dogged Newcastle United.
Like Arsene Wenger after the Dyer incident, Sir Alex Ferguson was vocal in his criticism of the penalty decision.
The referee thought it was a corner and he was nearer to the incident. It was an absolute travesty.

The problem is that assistants are not full-time even if the referees are. I don't think anyone in the ground thought it was a penalty apart from the assistant referee.
The unifying thread to these two incidents is not merely that the managers of the two teams on the receiving end of faulty decisions complained afterwards, it is that players cheated, duping the referees as a result, and that nothing could be done afterwards to change the situation.
In other words, players who cheat in similar situations get away with it. When Theo Walcott declared he had dived after the opening incident, I thought he showed lack of wisdom. "He should have kept it to himself," I thought.
A lot of times, being magnanimous and fair (let's add 'just') isn't appreciated. Often, people deem the person gullible, even weak.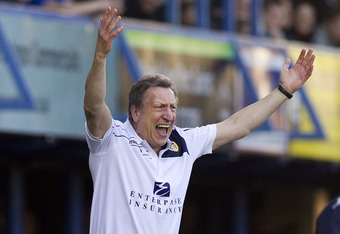 Ben Hoskins/Getty Images
To this day, the English are considered close to fools for eschewing diving. Italians and South Americans see it as being clever.
In fact, even when it is obvious that a player cheated to gain victory for his team, rather than the media chastising the player for his action, they condemn the manager for protesting. Arsene Wenger is often the victim of this baffling amoral reaction from the press.
It is the reason cheats get away with it.
Opposing managers, though, don't help the situation. As long as they benefit from such decisions, they ascend to high heavens to defend their players.
Then the week after, they fill the airwaves with their complaints when they become the next victim of a cheat. 
The reader would recall how Liverpool even made a video just to prove that Luis Suarez isn't a diver. The objective person, however, knows that Suarez, though a fine player and an exciting one to watch, has a habit of going to ground too easily.
In doing this, though, one should remember that he acts according to the prevailing custom of where he comes from, the Rioplatense region.
Clive Mason/Getty Images
In a just world, divers would be punished, especially in a situation where their action affects the outcome of the match.
If a person is unable to fool the referee, perhaps, the incident should be left alone with the concluded match. Referees, of course, should retain the prerogative to book offending players who attempt but fail to con them.
In a just world, the media would back aggrieved managers instead of mocking them, as the press often does.
Again, by chastising the wrong dog, the guilty one congratulates itself for being smart. Thus, the problem is perpetuated.
It is why I second what Graham Poll writes, the day after Gareth Bale's dive earned Tottenham Hotspur a penalty against Arsenal, a situation that could have affected the outcome of the match.
Had it done so, I would bet my bottom bill that the media would be spouting such nonsensical and annoying cliches such as "fragile Arsenal," "whining Wenger," "Wenger should stop complaining and face his own faults as manager,"  "it is time to sack Wenger?"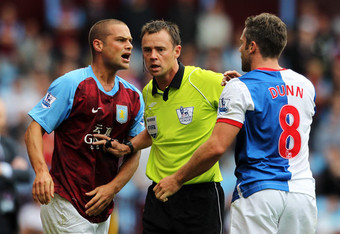 This would fill the cyberspace and the airwaves instead of the fact that a player cheated and gave advantage to a team to win. 
Justice be damned seems to be the custom these days.
There were three big penalty decisions in the first half: two for Arsenal and one for Spurs. Dean correctly waved away the first two – both for the home side when 1-0 down. Kieran Gibbs was already going to ground before being challenged by Kyle Walker and then Scott Parker chested the ball and successfully moved his arm away. 

In such games, and perhaps all games, it is always advisable only to give 'stonewall' penalty kicks and no doubt, at full speed and from his angle Dean felt sure enough to give Tottenham their penalty after 34 minutes when Bale went down attempting to go past Wojciech Szczesny in the Arsenal goal. 


If it was a foul it should have been a red card for the keeper and perhaps Dean had doubts over the accuracy of his decision and left him on the pitch. 


Replays showed that Bale had not been fouled but I would not blame Dean for being fooled; rather look at the conduct of Bale and plead that the FA introduce retrospective punishment for diving.
I agree with Poll's commendation of Mike Dean in the article. Here's a snippet:
Overall Dean should be very pleased with his performance despite the penalty/red card issue. However, referees aim for perfection and are very hard on themselves when watching incidents back.

 
Even I had noted the following after the match.
It was 32 minutes on the clock when Luka Modrić slipped Gareth Bale through the Arsenal back two and into the Arsenal penalty area only for the onrushing Arsenal keeper to bring him down apparently, only it wasn't so.

The only leeway for the match referee, Mike Dean, for awarding the resultant penalty kick, which Adebayor duly converted, would be that he saw the incident from behind, since even real-time viewing of the situation from the front showed clearly that Bale hadn't been touched by either of the two defenders or Szczęsny.

It was a blatant dive.
I also wholeheartedly agree with Poll's suggestion that a retrospective punishment should be instituted by the FA to punish divers. Poll qualifies his suggestion:
This would not need a change to laws of the game, nor permission from the IFAB or FIFA as it is up to each governing body to determine their own disciplinary code.

 
Again, I agree. I hope that one of the powers that be note Poll's suggestion and does something about it.
A week ago, the following news item appeared.
Stuart Attwell has been demoted from the Premier League's 'Select Group' of referees after a series of gaffes.

The Nuneaton official became the youngest referee in Premier League history when he took charge of a clash between Blackburn and Hull in 2008 aged just 25.

It was also in 2008, however, when Attwell committed his most famous error during a Championship match between Watford and Reading.

During that fixture, Attwell awarded a 'phantom goal' when he ruled Watford had scored, even though the ball had actually bobbled well wide of the post.

His most recent high-profile gaffe came last December when he dismissed Bolton's Gary Cahill (now with Chelsea) for denying Scott Parker a goalscoring opportunity despite the incident happening near the halfway line.
It is about time the FA take strong action against inconsistent refereeing as they did in the foregoing situation.
However, as this article notes, referees are often victims of players who deliberately mislead them into making wrong decisions, which is why Poll's suggestion should be taken seriously. It might reduce the number of incidents that involve dubious penalty kicks.
I am interested in hearing what readers think.