Manchester United: 4 Bold Predictions for the Rest of the 2011-2012 EPL Campaign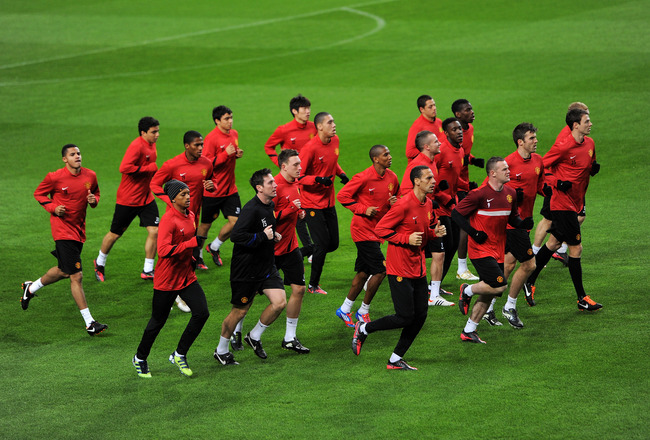 Jasper Juinen/Getty Images
Like many other EPL seasons this one has been extremely exciting, and now with the emergence of Manchester City, and the downfall of Arsenal and Liverpool, the title quest has turned into a two-horse race.
Now on the final "homestretch" of the season, the last 12 EPL games for the Reds will see them defend or lose their title, as they try to win their 4th in 5 years.
Wayne Rooney Will Score at Least 7 Goals
Shaun Botterill/Getty Images
Despite inconsistency issues and frequent injuries, Rooney is just now getting back to the way he was playing at the beginning of the season.
After being goal-less for about five weeks, he has four goals in his last two EPL games, against top teams Liverpool and Chelsea.
If he can do that, he can certainly find the net with an easy upcoming schedule that includes matches against weak teams such as Swansea, Wigan, Blackburn and West Brom.
Paul Scholes Will Pick Up Right Where He Left off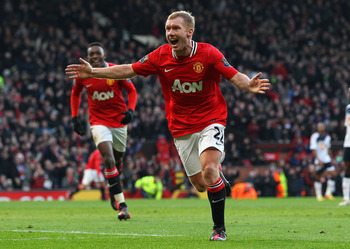 Alex Livesey/Getty Images
Just last season, Scholes was regarded as one of the best passing central midfielders in the world, and even after coming out of retirement, I don't think much has changed.
Despite an obvious decrease in stamina that comes with age and coming out of retirement (he has been coming off as a sub near the 60th or 70th minute since his return), Scholes has the opportunity to thrive on a team in which he is surrounded by stars, and that is in dire need of a midfield maestro.
He should step right into a starting role, and return to the high level he was playing at before his retirement. Already he has contributed, starting four games and netting a goal apiece against Bolton and Norwich City.
No matter what, United fans will love Scholes, but I'm sure he still wants to prove his worth to Red fanatics and soccer fans around the world.
David De Gea Will Lose His Starting Position to Anders Lindegaard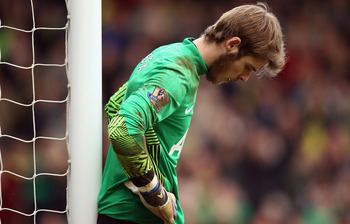 Bryn Lennon/Getty Images
No matter what sport you look at, there is one common motto that they all share: defense wins championships. And in order for the Reds to take home another EPL title this year, they might be looking to name Anders Lindegaard their official starter over current starter David De Gea.
This year, David De Gea has been very inconsistent, with flashes of brilliance thrown in the mix with boneheaded mistakes. In 17 games he has a very mediocre five clean sheets, which is pretty inexcusable with a world class defense in front of him.
Contrarily, Lindegaard, in eight games, has an impressive six clean sheets, which bests De Gea's five clean sheets and shows how good he can be when given a chance.
Sir Alex knows the significance in having a good goalie in order to win the EPL (see Edwin van der Sar, Peter Schmeichel) so expect to see him make Lindegaard the No. 1.
They Will Be EPL Champions Once Again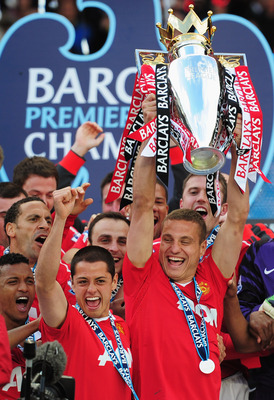 Shaun Botterill/Getty Images
Despite having a worse season and weaker squad, there is one major advantage that United have over their cross-town rivals that will ultimately lead them to yet another trophy: experience.
Unlike Manchester City, who were only mid-table contenders up until a few years ago, United have been there and done that, winning countless titles under their famous manager Sir Alex Ferguson.
As well as having an experienced coach, they have a core group of players that have been together for a while, including veterans Ryan Giggs and Paul Scholes. These two players have knowledge and experience from their long careers at United that can be very valuable to players seeking their first Premier League silverware, and certainly the rest of the team.
Ultimately, United have played poorly this season by their standards, but with a great coach and a close-knit group of players, they know better than anyone how to get the job done.
Keep Reading

Manchester United: Like this team?