6 NFL Trades That Will Never Happen, But Should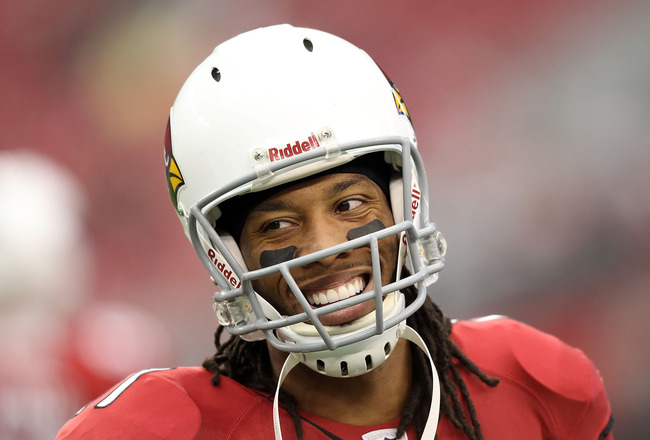 Christian Petersen/Getty Images
The beauty of the NFL is that it is structured in a way where every team has the chance to compete financially regardless of their market or the popularity of their team.
This creates a tremendous amount of parity in the league and, as we saw with the San Francisco 49ers this year, allows one team to go from the bottom of the league to the top very quickly. It is one of the many reasons why the NFL is currently the most popular sport in America.
However, it does limit the moves teams can make.
This means that sometimes there are moves that make sense based on need or make sense for the player, but they cannot happen due to financial restraints on either side of the deal.
So, what if you took away all the restraints?
What if you could trade anyone anywhere? What moves would be made?
Here are six trades that will never happen, but should.
Colts Trade Peyton Manning to the Washington Redskins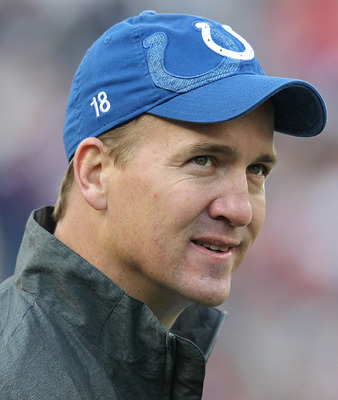 Jim Rogash/Getty Images
This has been one of the biggest stories of the season and will most certainly be one of the biggest stories of the offseason until Peyton Manning lands in a new uniform.
The Colts are most likely going to be forced to cut Peyton Manning in order to avoid paying him a bonus he has coming in March. This means that the Colts are forced to eat a huge chunk of their salary cap next year on a quarterback who may not be their starter or let their franchise quarterback of the past decade walk.
There has already been speculation on which teams will pursue Manning and which of those teams will show interest.
In a perfect world, the Colts would be able to trade Manning to get some value. The ideal landing spot?
The Washington Redskins.
This would send Manning out of the AFC and to a team that still has plenty of holes to fill. The Colts would most likely pick up some nice draft picks to repair their disaster of a roster, and the Manning saga would be over.
Manning may still end up in a Redskins' jersey, but it won't be by trade.
Broncos Trade Tim Tebow to the Jacksonville Jaguars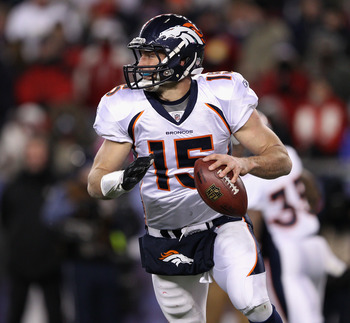 Elsa/Getty Images
This will certainly stir up the Denver Broncos' fans, but it is time to be honest.
You know that if John Elway and John Fox could have their way, they would trade Tebow as quickly as possible.
Sure, it was a magical season with Tebow at the helm. However, they would much rather be able to run a prototypical NFL offense with a more consistent quarterback than the option-like offense they ran this year. No one expects the Broncos to have the same level of success next year as they did this year.
The NFL catches up way too fast for a gimmicky offense to last. Anyone remember the wildcat?
Tebow is a great athlete and has the potential to be a good player in the NFL. I just don't see him fitting in with the Broncos' long-term plans.
A trade to the Jaguars would send him back to Florida where he would most certainly be idolized instantly by the fans. Jacksonville is in the process of a major transition as a team, so it would be acceptable to give Tebow a few years to grow as a quarterback.
The Broncos would be able to move on to an offense they are more comfortable with and not have to rely on "Tebow magic".
Dolphins Trade Reggie Bush to the Green Bay Packers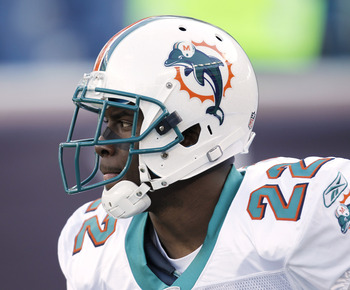 Winslow Townson/Getty Images
For some reason, in the second half of the season Reggie Bush turned into the running back he was at USC.
He tore up opposing defenses in the running game and passing game. Bush finally appeared to have reached his potential with the Dolphins, but he was unfortunately on a team that was not playoff bound.
Bush has battled his fair share of injuries and struggled to be effective on the field when healthy—which is exactly why the Dolphins should move him.
Miami has a strong, young team besides Bush. Bush's value will never be higher, and there are plenty of teams out there looking for a running back.
A great fit would be the Green Bay Packers.
The Packers had an incredibly disappointing running attack this year with James Starks and Ryan Grant. An effective Bush would give them an explosive threat out of the backfield and give Aaron Rodgers someone else to complete passes to.
The Dolphins would bring in nice value for him and could still turn to young Daniel Thomas in their backfield.
Jets Trade Mark Sanchez to the Seattle Seahawks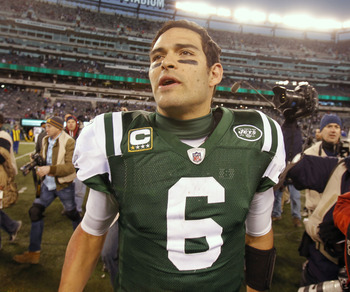 Rich Schultz/Getty Images
It has been a rough stretch for the New York Jets.
They went from being one of the NFL's elite teams to the media's dream story. When the Jets missed the playoffs this year, the team appeared to fall apart. You had players leaving the locker room before talking to the media and anonymous sources complaining about different players.
One of the players who has taken the most criticism is Mark Sanchez.
Sanchez's mistakes were covered up when the Jets were winning and that defense was considered elite. Now they are more obvious than ever.
Sanchez has been called lazy and not as talented as everyone thought he was. There is no bigger spotlight than New York City. If that light is getting too bright, it may be time for the Jets to cut him loose.
The perfect landing spot would be in Seattle.
Who better to motivate Sanchez than his old college coach Pete Carroll?
The Seahawks need a quarterback, and if Carroll could turn Sanchez around, that team is not far off from being a winning squad.
Rex Ryan is still publicly standing behind Sanchez, so he likely isn't going anywhere.
Steelers Trade James Harrison to Oakland Raiders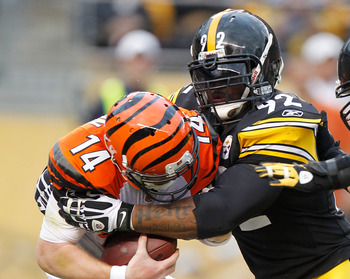 Gregory Shamus/Getty Images
James Harrison is a very good linebacker.
He also has a very loud mouth and a real knack for racking up fines. Harrison has become the poster boy for what not to do when it comes to illegal hits in the NFL. The Steelers have stood behind him, but the fines and suspensions are a headache.
Harrison is not a young talent anymore at age 33 and most likely has his best years behind him.
The Steelers are always looking to inject their defense with new talent, and linebacker would be the perfect place to start.
If you are going to send a tough, often-penalized player anywhere in the NFL, why not send him to Oakland?
The Raiders were the most penalized team in the league and would most likely welcome Harrison with open arms. He would fit right in with their style of play, and they would have no issues putting up with his controversial comments.
Knowing the Raiders' front office, the Steelers would probably walk away with quite the haul for him as well.
Cardinals Trade Larry Fitzgerald to the New England Patriots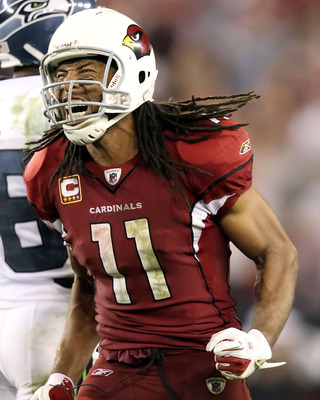 Christian Petersen/Getty Images
You've got to feel bad for Larry Fitzgerald.
You have some incredible years as a top wideout in the NFL, catching passes from Kurt Warner, and you make a Super Bowl. Life is good.
Then you lose that Super Bowl, Kurt Warner retires a year later and the Cardinals are back to being one of the worst teams in the NFL.
Sure, Fitzgerald is making a boat load of money. However, he has always been the type of player who works hard and truly wants to win a ring. So why not send him to the team that came up short in this past Super Bowl and needs a deep threat?
The New England Patriots have a ton of draft picks that they could surrender in order to acquire Fitzgerald. The Cardinals would be able to clean up at the draft, essentially rebuilding their squad from the ground up. The Patriots would get the deep threat they need, and Fitzgerald would have a legitimate shot a ring.
The Patriots would become the most dangerous offense in the NFL and possibly be the closest to the 2007 offense that destroyed NFL records.
Of course, Bill Belichick would never surrender that many draft picks. and Fitzgerald's contract makes him far too difficult to move.
A guy can dream, can't he?
Keep Reading