BYU Football: 10 Greatest Cougars Players in NFL History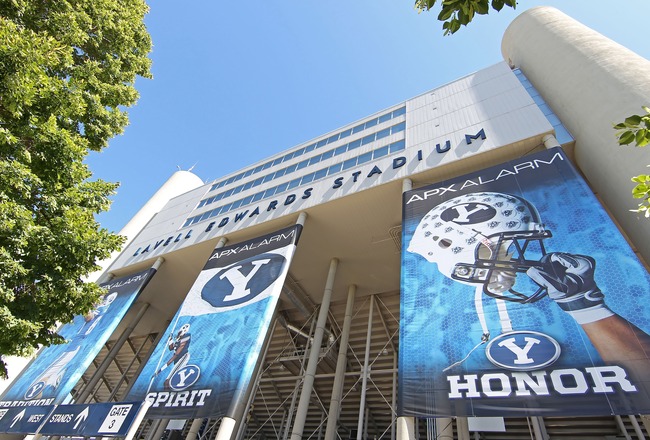 George Frey/Getty Images
It's quite a feat to excel on the collegiate football level. Taking that collegiate excellence and turning it into success at the professional level is an even bigger and rarer accomplishment.
As it is with all college football programs, so it is with BYU football. Many come and play in Provo, but few move on to play pivotal roles amidst the bright lights and grand stages of the NFL.
These 10 gentlemen have, however, parlayed their success at BYU into successful careers in the NFL.
What defines success?
Pro Bowl appearances? Super Bowl appearances? Longevity?
There's no clear-cut answer, but these guys had a little bit of them all.
You probably know who the top guy is, but some of the others might surprise you.

Honorable Mention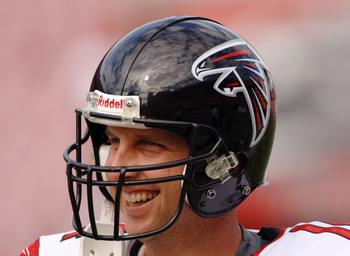 Ty Detmer
A. Messerschmidt/Getty Images
Before we get started, here's a few of those who almost made the top 10 but didn't quite have the NFL resume to justify it: Ty Detmer, Rob Morris, Gordon Gravelle, Tom Holmoe, Marc Wilson and Gifford Nielsen.
I'm sure I'm overlooking some, so feel free to chime in about who else should be on the list.
No. 10: Lee Johnson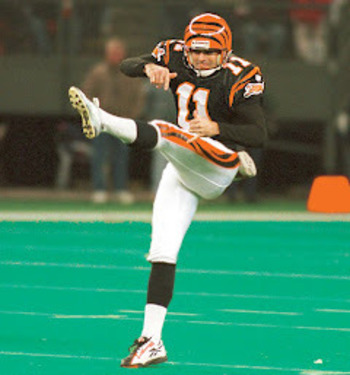 Unless they do something rare or spectacular, punters never get much recognition.
That suited Lee Johnson just fine, as he followed his BYU career up with an 18-year career in the NFL.
Johnson played in Provo from 1980 to 1984 and was the punter on the team's national championship team. The Houston Oilers drafted Johnson in the fifth round of the 1985 NFL draft.
After playing in Houston from 1985 to 1987, Johnson went to Cleveland (1987-88), Cincinnati (1988-98), New England (1999-2001), Minnesota (2001) and Philadelphia (2002).
Johnson appeared in Super Bowl XXIII as a member of the Cincinnati Bengals and, with a 63-yard punt against San Francisco, set a Super Bowl record that still stands.
No. 9: Jason Buck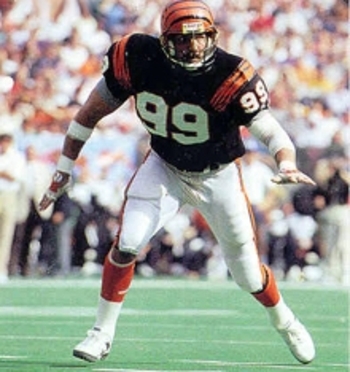 Defensive lineman Jason Buck appeared in Super Bowl XXIII with the Cincinnati Bengals and Super Bowl XXVII with the Washington Redskins, earning a ring with the Redskins.
Buck won the prestigious Outland Trophy during his two-season career at BYU that included the 1985 and 1986 seasons.
Cincinnati selected Buck in the first round of the 1987 NFL draft, and he retired following the 1993 season.
No. 8: Vai Sikahema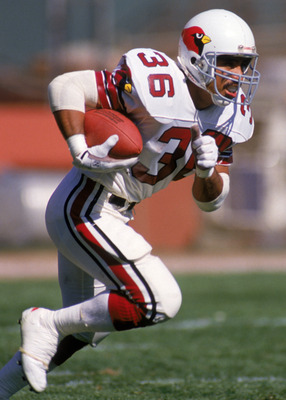 George Rose/Getty Images
Running back Vai Sikahema made a name for himself in the NFL as a kick returner, earning spots on two Pro Bowl rosters (1986 and 1987) at that position during his eight-year NFL career.
Sikahema played at BYU from 1980 to 1981 and from 1983 to 1985 before the St. Louis Cardinals selected him in the 10th round of the 1986 NFL draft. He played in St. Louis/Phoenix (1986-90), Green Bay (1991) and Philadelphia (1992-93).
No. 7: Brett Keisel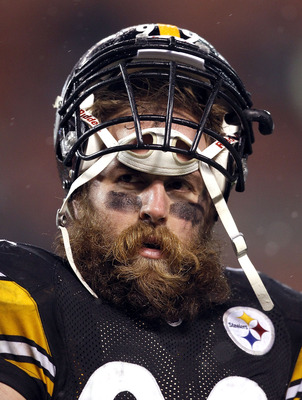 Matt Sullivan/Getty Images
Defensive end Brett "The Diesel" Keisel played at BYU in 1998 and 2000 to 2001, having transferred to Snow College for his sophomore season.
The Pittsburgh Steelers selected Keisel in the seventh round of the 2002 NFL Draft.
Keisel was named to the 2010 Pro Bowl and was a member of Pittsburgh's Super Bowl-winning teams in Super Bowl XL and XLIII.
As of February 2012, Keisel is still on Pittsburgh's roster as the team's starting right defensive end.
No. 6: John Tait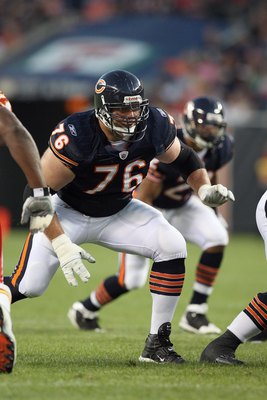 Jonathan Daniel/Getty Images
Offensive tackle John Tait played at BYU in 1993 and from 1996-98, and was a member of the 1996 squad that ranks as one of the school's best teams of all-time.
The Kansas City Chiefs selected Tait in the first round of the 1999 NFL draft with the 14th-overall pick. Tait played in Kansas City from 1999 to 2003 and with the Chicago Bears from 2004 to 2008, making the Pro Bowl in 2001 and 2006.
In all, Tait played in 148 NFL games during his career and started 139 of them.
No. 5: Chad Lewis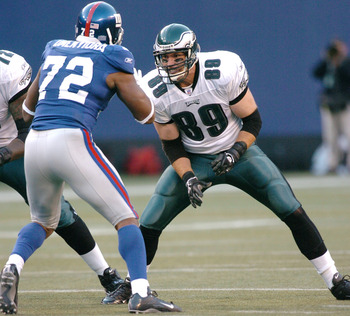 Brian Killian/Getty Images
Tight end Chad Lewis was a walk-on at BYU, earning a spot on the roster from 1993 to 1996 after having served a church mission to Taiwan from 1990 to 1992.
Lewis went undrafted in the 1997 NFL draft, but earned a spot on the Philadelphia Eagles roster anyway. Lewis played in Philadelphia from 1997-99, St. Louis in 1999 and again in Philadelphia from 2000-05.
Lewis was on two Super Bowl rosters, once with St. Louis (Super Bowl XXXIV) and once with Philadelphia (Super Bowl XXXIX). He earned All-Pro status in 2000 and appeared in three Pro Bowls (2000, 2001, 2002).
No. 4: Jim McMahon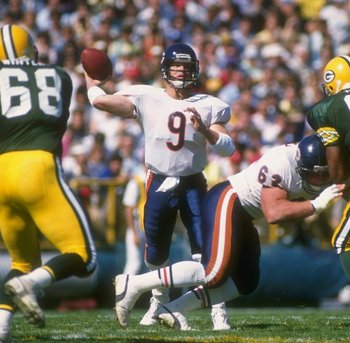 Jonathan Daniel/Getty Images
After causing almost as many waves as touchdown passes thrown at BYU from 1977-81, quarterback Jim McMahon went on to a 15-season NFL career that included two Super Bowl championships, one Pro Bowl appearance and an All-Pro honor.
The Chicago Bears chose McMahon in the first round of the 1982 NFL draft with the fifth-overall pick.
McMahon led Chicago to a victory in Super Bowl XX and was Brett Favre's back-up in Green Bay's Super Bowl XXXI victory.
McMahon played in Chicago (1982-88), San Diego (1989), Philadelphia (1990-92), Minnesota (1993), Arizona (1994), Cleveland (1995) and Green Bay (1995-96).
No. 3: Todd Christensen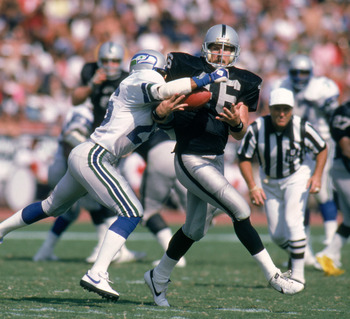 Rick Stewart/Getty Images
Fullback Todd Christensen's NFL career didn't get off to too good of a start, but it's how you finish that counts most.
Following his BYU career that spanned from 1974-77, the Dallas Cowboys selected Christensen in the second round of the 1978 NFL draft. He broke his foot in the final exhibition game of his rookie season and was cut by the team.
In 1979, Christensen signed with the New York Giants and then the Oakland Raiders later that same year. The Raiders converted him from fullback to tight end, and the rest is history.
As a tight end, Christensen appeared in five Pro Bowls (1983, 1984, 1985, 1986, 1987) and was a member of two Raiders Super Bowl championship teams (Super Bowl XV and Super Bowl XVIII).
No. 2: Bart Oates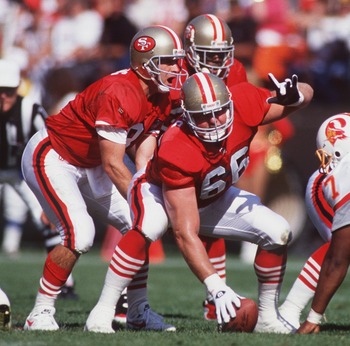 Otto Greule Jr/Getty Images
After playing at BYU in 1977 and 1980-82, center Bart Oates played on three Super Bowl championship teams and in five Pro Bowls (1990, 1991, 1993, 1994, 1995) during his 11-season NFL career.
Oates' Super Bowl wins came while he played for the New York Giants in 1986 and 1990 and the San Francisco 49ers in 1994. In addition, Oates was a two-time USFL champion as a member of the Philadelphia/Baltimore Stars in 1984 and 1985.
Oates opted for a pro career with the USFL immediately following BYU in 1983, but began his NFL career with the Giants in 1985 after the USFL folded.
No. 1: Steve Young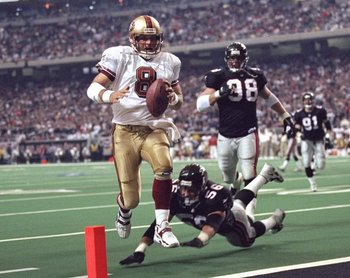 Craig Jones/Getty Images
BYU's only Pro Football Hall of Fame product. Three Super Bowl championships. Seven Pro Bowl appearances (1992, 1993, 1994, 1995, 1996, 1997, 1998). Four All-Pro honors (1992, 1993, 1994, 1998). Two-time NFL MVP award winner (1992, 1994). Super Bowl XXIX MVP award winner.
And those are just some of quarterback Steve Young's NFL accolades.
Young played at BYU from 1980-83 before heading to the USFL to start his professional career. He played for the USFL's Los Angeles Express from 1984-85 before embarking on an NFL career with the Tampa Bay Buccaneers in 1985.
Deemed a bust in Tampa Bay, Young was traded to the San Francisco 49ers in 1987, where he was Hall of Famer Joe Montana's back-up until 1991. As Montana's back-up, Young was a member of two Super Bowl championship teams.
From 1992 to his retirement following the 1999 season, Young was the 49ers starting quarterback, leading the team to victory in Super Bowl XXIX against San Diego and earning MVP honors for that game.
In 2005, Young received the crown jewel on his NFL career: induction to the Pro Football Hall of Fame.
Keep Reading

BYU Football: Like this team?