2012 NFL Free Agents: 5 Guys Sure to Be Overpaid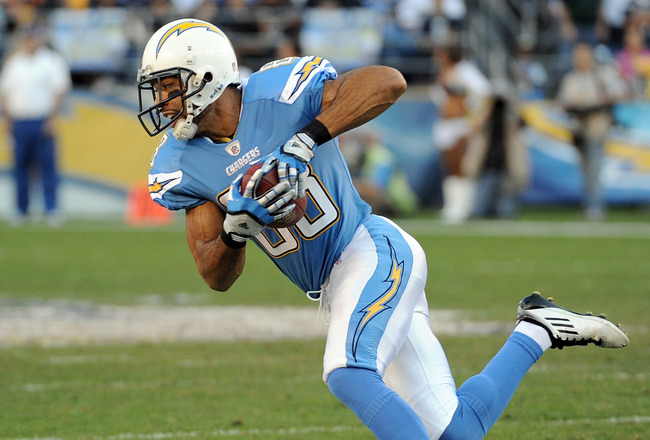 Harry How/Getty Images
NFL free agency is upon us again. Big names surely to cash in this offseason include QB Drew Brees, RB Ray Rice and DE Mario Williams.
Among all the talent that will be returning to their old teams, and the talent finding new ones, there is always a contract that doesn't live up to performance on the field.
In the spirit of those players who will likely be cut towards the end of their deals, here are five guys that are sure to be overpaid during their negotiations.
QB Matt Flynn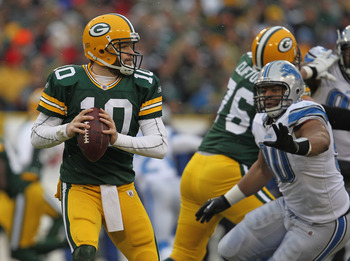 Jonathan Daniel/Getty Images
After his 480-yard, six touchdown performance against the Lions in the final week of the regular season, teams noticed that Flynn can be a good QB in the NFL.
Lucky for him, his former offensive coordinator is now the head coach of the Miami Dolphins, and Joe Philbin will look to carry over his potent offense from Green Bay to South Beach.
It makes sense that Flynn would be a candidate to lead the new-look Dolphins. But if other teams, like the Seattle Seahawks, get in on the bidding war, it could drive Flynn's asking price to the point of elite status.
Given he has spent several seasons watching league MVP Aaron Rodgers, Flynn has the tools to be successful. But his contract will most likely be inflated, especially considering he is one of the top QBs on the open market not named Peyton Manning.
DE Robert Mathis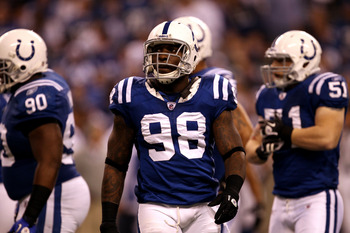 Jonathan Daniel/Getty Images
With 32.0 sacks over the past three seasons, DE Dwight Freeney is among the NFL's elite at his position. Accordingly, he's making $14 million this season for a team that doesn't know if Peyton Manning's $28 million is coming off the books or not.
In comparison, his book-end teammate DE Robert Mathis has 30.0 sacks over that same span, and will likely expect the kind of salary Freeney is making. If they franchise him for $10.6 million this season, it will open up negotiations for a long-term deal.
While $10.6 million is surely a bargain for a guaranteed 10.0 sacks per season, a long-term deal will likely cost the Colts somewhere between $13-$15 million a year.For a defense that needs help at linebacker, and an offense that trends towards rebuilding every day, it's hard to imagine that they would be paying $26 million between two players on an 11-man defense.
Throw in Manning's $28 million and what it would take to sign presumed first overall pick Andrew Luck, and four players of the same position would be making the majority of the money on the entire roster.
WR Vincent Jackson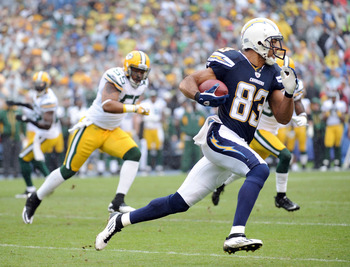 Harry How/Getty Images
Vincent Jackson has been a headache for the San Diego Chargers. Last year began with he and teammate Marcus McNeill holding out of the already reduced training camp for more money.
He's set to hit the open market, and while he and Antonio Gates form one of the best TE/WR combos in the league, it's likely he won't be returning to the team he caught 60 balls for 1,106 yards and nine touchdowns in 2011.
Of the 19 receivers that totaled 1,000 yards last season, Jackson had the lowest number of receptions. He's got big play potential, and a team like San Francisco, Tampa Bay or Minnesota could make a play for him, considering none have a proven big-play threat.
He'll likely leverage his 1,000 yard season and yards-per-catch figures as the basis for his negotiations, and will likely end up with a fat deal by the time training camp opens.
OG Carl Nicks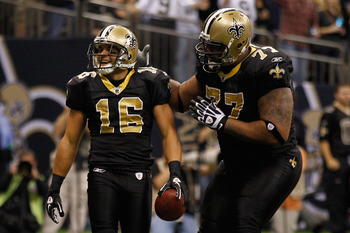 Chris Graythen/Getty Images
Nicks watched fellow guard Jahri Evans sign a seven-year, $56 million extension in 2010, it's likely he will look for the same type of deal. Marques Colston is also a free agent, and it might come down to the Saints choosing between the two.
Considered one of the premier players at his position, Nicks has been rumored to be a target of several teams looking for interior help, including the Dallas Cowboys and Cleveland Browns.
While he's expressed interest in staying in New Orleans, he is skeptical that the Saints have the funds to keep him around town. That's enough information to think Nicks wants the big pay-day, and will likely get it elsewhere.
CB Brent Grimes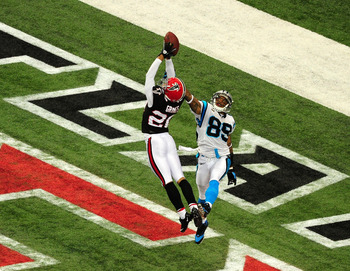 Scott Cunningham/Getty Images
Grimes watched fellow corner Dunta Robinson receive a six-year deal worth $57 million. It will likely take something close to that to get a deal done, but is Grimes worth that kind of burn?
At 29 years old, that kind of commitment would pair the Falcons with Grimes well into his 30's. Will the undersized corner still be effective when he loses a step or two out of the break?
Whether he does or not, Atlanta has to like the idea of keeping a top tier defense in tact, and pairing Robinson and Grimes for another year adds stability to one of the best defenses in 2011.
The Falcons will worry about overpaying Grimes when the time comes. Right now, his money is warranted as a top corner in the NFL. In a few years, however, we will likely look back and see that his contract was worth its weight.
Keep Reading