Fantasy Baseball Sleepers 2012: Pitchers Who Will Have Breakout Years
February 15, 2012

Jim McIsaac/Getty Images
Fantasy baseball owners are always looking for that next big ace who they can find later in the draft.
Fantasy baseball is not only about landing proven stars, but also finding the hidden gems of the season. More than a few of us have soared and/or been burned by breakout stars.
Here's a look at three starting pitchers I see breaking out in 2012.

Cory Luebke, San Diego Padres
Cory Luebke already had some success in 2011, but he had only 17 starts because he started the season out as a reliever.
In 14 starts after the All-Star break, Luebke posted a 3.76 ERA and 1.18 WHIP while striking out 90 batters in 83.2 innings. He's not going to get you a lot of wins being on the Padres, but he'll definitely help you out in those three categories.
With a full season as a starter, expect Luebke to be a great bargain (ranked No. 34 among SPs according to Yahoo! Sports).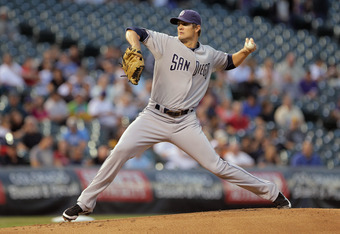 Doug Pensinger/Getty Images

Yu Darvish, Texas Rangers
Yu Darvish has obviously had a lot of success in Japan, but there are some concerns his numbers will slide significantly in Major League Baseball.
I strongly disagree.
During his career with Nippon-Ham, Darvish posted a 1.99 ERA, 0.98 WHIP and 1,259 strikeouts in 1,268-plus innings. During this time, he threw 58 complete games and 18 shutouts, while going a combined 93-38.
Beyond being durable and having great size (6'5", 216 pounds), Darvish has an incredible repertoire of pitches. He has a two-seam and four-seam fastball, a cutter, a horizontally breaking slider, a curveball and a power curve. What's truly scary is all of these are plus pitches.
The Rangers are set up for another run to the World Series, and Darvish is a big reason why.
He's ranked No. 25 among starting pitchers according to Yahoo! Sports.

Matt Moore, Tampa Bay Rays
You may be looking at 2012's version of Jeremy Hellickson.
Matt Moore doesn't have much of a body of work (he pitches nine innings in his rookie season last year), but he was the No. 2 prospect in the Rays organization behind Hellickson last season.
Moore has a good fastball, late-breaking curveball and deceptive changeup. In his only start of 2011, he worked five scoreless innings against the New York Yankees, giving up four hits and striking out a whopping 11 batters. In the AL Divisional Round, he allowed one run in 10 innings against the Texas Rangers.
I love Moore's stuff and I'd be shocked if he didn't break out in 2012.
Yahoo! Sports has him ranked No. 24 among starting pitchers, well ahead of Hellickson.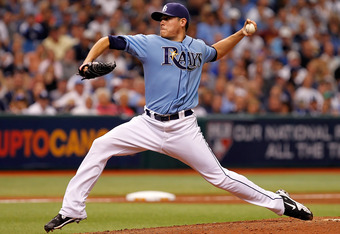 J. Meric/Getty Images