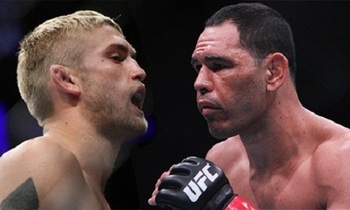 (Photo from MMAForum.com)
UFC on FUEL 1 has hit the archives, and now is the moment where we all try to find a way to squeeze our anticipation for the UFC's return to FUEL TV somewhere between now and April 14th.
With UFC 144 coming next week from Saitama, Japan, it might be a bit difficult to recall that UFC on FUEL TV 2 features a light-heavyweight bout between Alexander "The Mauler" Gustafsson and Antonio Rogerio Nogueira. The card also features co-main event featuring Brian Stann and Alessio Sakara, the debut of Siyar Bahadurzada, and the world premiere of Scandinavian MMA on the UFC stage. But, if tonight's card was any indication, the second go-round is looking like it could be every bit as great as the first time out.
So, even though we're just coming off of a UFC on FUEL card right now, let's taken a scrap-happy stroll through the UFC's Swedish card and establish ten truths about what's going down at the Ericsson Globe Arena in Stockholm on April 14th live on FUEL TV!
The Fight Card Is Stacked with Something for Everyone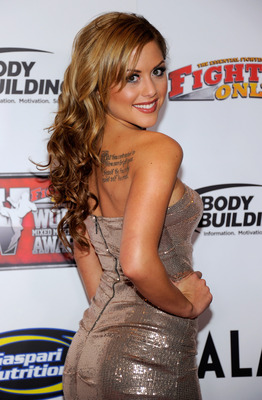 Brittney Palmer
Ethan Miller/Getty Images
Want some big names?
They're on the card in Sweden.
Want some prospects you've never heard of?
They're on this card too.
Rising stars in every weight class?
Well, the card's short on heavyweights and lightweights, but there's a little bit of every other weight class on this card.
Oh yeah, and ring girls like Britney Palmer spice up the card as well.
The UFC Meets Sweden for the First Time Ever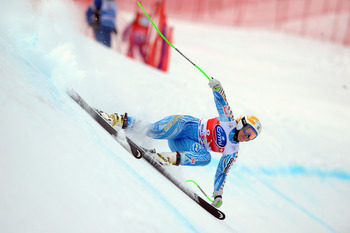 Vianney Thibaut/Agence Zoom/Getty Images
Sweden is one of those countries that some don't notice unless it's the Olympics, or the season for the World Cup. That all changed when the fans got a glimpse of what Alexander Gustafsson could do inside the Octagon.
Now, the UFC is hosting an event in Stockholm, and the first Stockholm card for the UFC is loaded with some of the country's best as well as some lesser known faces in European MMA.
Who are they?
Allow me to introduce them.
"Scandinavia Syndrome" on Display
Jörgen Kruth joins Magnus Cedenblad, Simeon Thoresen, and Besam Yousef with the Scandinavian-bred newcomers debuting on the card in Stockholm.
Thoresen is the lone Norwegian on the card, but he brings in one technical knockout win, fourteen submission wins, one decision win, a loss by majority decision, one knockout loss in Abu Dhabi, as well as one draw against Michael Costa.
The UWC Welterweight Champion is on a two-fight win streak against the undefeated 6-0 choke out artist Yousef, who has fought all six of his pro fights in the city of Gothenburg. Like his opponent, he has only seen victory by the judges' scorecards once.
Cedenblad gets Francis Carmont in his debut. But the fact that this kid's nickname translates to "The Pooch" does not give anyone the green light to treat him like a soft puppy.
Cedenblad's bark is almost as scary as the bite, that has earned him a 10-3 record with six wins by the form of KO, and three submission wins. He has been submitted twice and stopped once.
Kruth may be the prospect to watch for this night, as he's got a 71-14 kickboxing record and an untouched 5-0 pro record. Unsurprisingly, he has earned three wins by TKO and two submission wins.
Papy Abedi Is Back, and Akira Corassani Has Finally Arrived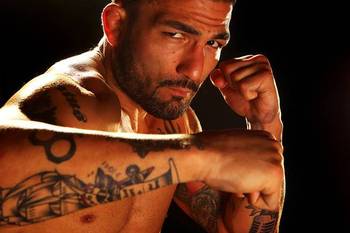 Akira Corassani (Sam Morris/Las Vegas Sun)
Papy Abedi didn't debut the way he hoped he would against Thiago Alves, but he clearly was impressive enough in defeat to get a bout with James Head. He clearly did something right.
Meanwhile, Akira Corassani is making his long awaited UFC debut after making to the semifinals of The Ultimate Fighter 14 before losing to featherweight semifinalist Dennis Bermudez.
His opponent?
Jason "Shotgun" Young, who is 0-2 in the Octagon but has posted respectable unanimous decision losses to Dustin Poirier and Michihiro Omigawa.
If you talk about an international affair, this is about what you can expect in Stockholm this April.
A Taste of France in Stockholm? Yep. You're Getting It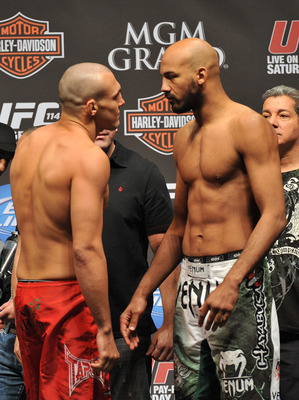 Cyrille Diabate (Right) has a strong task ahead of him in Stockholm
Jon Kopaloff/Getty Images
Francis Carmont is coming off of a win over Chris Camozzi to face Magnus Cedenblad in what should be a good clash of rising middleweights. Cyrille Diabate is coming off of a loss to Anthony Perosh and is welcoming Jorgen Kruth to the UFC.
Needless to say, the fact that almost every continent is being somehow represented makes this card a real melting pot, as Europe, South America, North America, and Asia are being represented on this card.
They Could've Called This "UFC on FUEL 2: Europe vs. the World "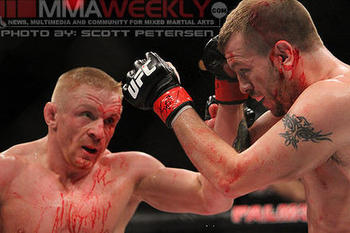 Dennis Siver (Scott Petersen/MMA Weekly)
Seriously, the Nordic countries aren't the only ones in on this event.
Like we said every continent is represented on this card in some way, and also true is the fact of France, Norway, England and Italy being represented on this card, in addition to Sweden.
We'll get to Brad Pickett in a sec, but also of note is that Englishmen Jason Young and John Maguire are on this card as well.
Actually, those two are the only two men representing England besides Pickett, and in addition to co-headliner Brian Stann and James Head, Damarques Johnson and Damacio Page will be representing the US in the UFC's first trek to Sweden.
You notice the picture of Dennis Siver and Spencer Fisher on this slide, and the reason for it is because Siver was linked to a rematch against Ross Pearson for his Featherweight debut, but will instead face Diego Nunes if the stars align.
Also MMAnytt.com has caught wind of an exclusive announcement that Reza "Mad Dog" Madadi is slated for a tango on home soil against Yoislandy Izquierdo, who was supposed to face Bernardo Magalhaes on tonight's Facebook fight card.
Brad Pickett Needs to Get His UFC Career Started the Right Way
Last I checked, there was no shame in losing to a guy with an almost 30-1-1 NC record in Renan Barao, but now Pickett can't take more rests.
He draws Damacio Page in his second Octagon bout, and Damacio is another fighter that can bring fireworks, but needs to bring home a win against Pickett in Sweden.
If not a win, both men at least need to somehow go out like winners and bring it to the man across from them for however long the fight lasts.
How will Page respond to the task, and how will Pickett fare against "The Angel of Death?"
It's tough to say since both men need wins to progress in the UFC, and we will ponder who it will be that prevails in Sweden, but we will not know who comes out the victor a second before the fight actually starts.
Paulo Thiago vs. Siyar Bahadurzada Screams "CLASSIC"
What you're dealing with in Paulo Thiago vs. Siyar Bahadurzada is a classic case of a striker and ever-improving phenom in Bahadurzada going up against a classic Jiu-Jitsu specialist in Paulo Thiago
Thiago has some knockout power of his own, but it's his submission skills and his Jiu-Jitsu that get the job done for him almost every time he's in the cage.
Siyar, of course, is a demon when it comes to striking, and the aggressive pace he sets is proof of what can happen if his fists touch some unlucky SOB, but he's also submitted some impressive people inside the ring.
The question is, can he do it against a former BOPE officer and a high-level Jiu-Jitsu black belt?
If one fight is going to be a dark horse for Fight of The Year because of the mastery that could be shown in all aspects of the sport, this is going to be that fight.
Brian Stann and Alessio Sakara Both Need a Rebound Here
There's no quit in Brian Stann when it comes to fights, but even a man with no quit and no fear can get made to look bad if he faces a Chael Sonnen.
Stann took a step up in competition when no other fighter would and tried his heart out, but at the end of the day, Sonnen was just the better fighter.
Now, Stann draws Alessio Sakara in what is a rebound fight for Stann, but let's not forget that Sakara is the man against whom Chris Weidman debuted.
Both need a win, and the fact that this is the co-headliner means that this win means as much, if not more, than any other fight, because a second straight loss could mean that the loser's next fight might be for their job.
Little Nog, Believe It or Not, Is Alexander Gustafsson's Toughest Career Test
You might not believe it, considering who all Alexander Gustafsson has fought, but he's in for the most difficult opponent he's faced in the Octagon thus far in Antonio Rogerio Nogueira.
Rogerio has the type of Boxing and Jiu-Jitsu blend that could give Gustafsson his most challenging fight, as Nogueira has shown some strong takedown defense and an obvious toughness about himself in past fights.
Of course, for what it's worth, he beat the Strikeforce Heavyweight Champ back in the day, and he also demolished former UFC Light Heavyweight champion Tito Ortiz in his last bout at UFC 140,
Gustafsson's striking has always been the strong spot, however, because he's so diverse in his striking, because he's so composed, and because he's really come into his own ever since being beaten by Phil Davis.
Until the fight begins on April 14th, we cannot know if Nogueira will prove "too much, too soon" for Gustafsson, but just as there's nothing stopping Nogueira for halting Gustafsson's momentum train, there's also not a whole lot of reason to think that maybe Gustafsson can and will put it all together inside the Octagon when he comes home in April.
Keep Reading