2012 NFL Draft: 5 Best Quarterbacks Available
After yet another thrilling Super Bowl, the NFL season is unfortunately over. From here on out, all NFL talk will be regarding this year's upcoming draft.
With the possibility of having four to five quarterbacks being drafted in the first round, I have decided to create a list of who the five best available signal-callers are.
The NFL has seen a handful of elite quarterbacks go No. 1 overall in the draft and have even had late-round surprises such as Tom Brady.
The NFL draft is something that makes the sport of football so unique and exciting. With April 26th only a few months away, and countless mock drafts to keep diehard football fans occupied, this year's draft is quarterback happy.
Here is my list of the five best available quarterbacks in the 2012 NFL draft.
Begin Slideshow

»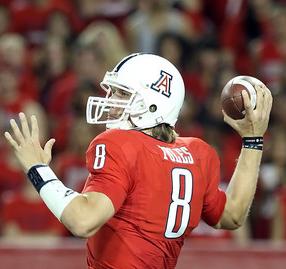 Having been compared to Ben Roethlisberger, at least in size, Nick Foles stands at 6'5" and weighs 240 pounds.
Starting his collegiate career at Michigan State and soon transferring to the University of Arizona, Foles has had an outstanding college career.
Foles has passed for over 10,000 yards and thrown for 67 touchdowns and 33 interceptions. In his senior year at Arizona, Foles threw for 4,334 yards, 28 touchdowns and 14 interceptions. His senior year completion rate was 69.1 percent.
Against top-caliber competition, Foles threw for 398 yards against Oklahoma State, 398 yards and three touchdowns versus Oregon and a season-high of 425 yards and four touchdowns against USC.
Foles also had a 417-yard, five-touchdown and zero-interception performance versus Northern Arizona University.
With Foles currently sitting in the second round, with a possibility of being taken in the first, many teams will be interested in Foles' capability.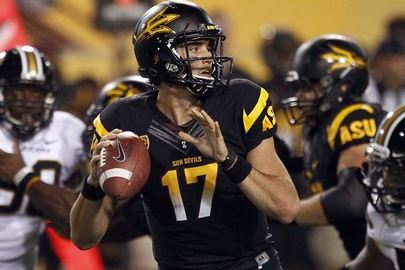 Entering the draft as the tallest quarterback, Brock Osweiler stands at 6'8" and weighs 240 pounds.
This past season at Arizona State University, Osweiler started all 13 games for the Sun Devils. Osweiler threw for 4,036 yards, 26 touchdowns and 13 interceptions. His completion percentage was 63.2.
In a loss against in-state rival Arizona, Osweiler threw for an incredible 487 yards. His best performance of the year came against Big 12 competitor Missouri.
Osweiler threw for 353 yards, with 24 completions on 32 pass attempts. He connected for three touchdowns and had zero interceptions, giving him a QB rating of 198.6 for the game against the Tigers.
With offensive lineman standing around 6'4" in the NFL, Osweiler's size gives him a tremendous advantage in seeing his receivers.
Expect Osweiler to go late first round.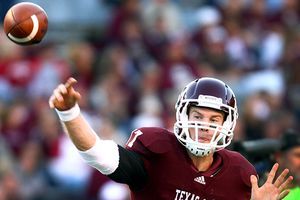 With a majority of his playing time coming during his junior and senior season, Ryan Tannehill produced substantial numbers in his senior campaign.
Tannehill threw for 3,744 yards, 29 touchdowns and 15 interceptions this past season for the Aggies. His completion percentage was 61.6.
Playing in the Big 12, Tannehill played against top caliber competition such as Oklahoma, Oklahoma State and Baylor. His best game this season came against the Baylor Bears.
During the game against Baylor, Tannehill threw for 415 yards and went 25-of-37 passing. He connected for six touchdowns and had only one interception, giving him a QB rating of 209.9.
Tannehill also had over an 80 percent completion rating twice in his last season with the Aggies.
Tannehill is expected to go mid-first round in the 2012 NFL draft.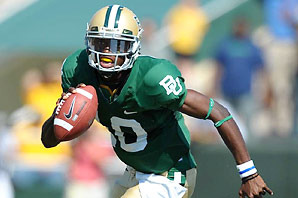 Reigning Heisman trophy winner, Robert Griffin III had a phenomenal senior season.
Griffin threw for 4,293 yards, 37 touchdowns and only six interceptions to go along with a 72.4 completion percentage. Griffin has over 10,300 yards in his four years at Baylor, including 78 touchdowns and 17 interceptions. That's only counting his arm.
Griffin separates himself from other quarterbacks in this year's draft because of his tremendous athleticism and running capability.
Last season alone, Griffin ran for almost 700 yards and 10 touchdowns. He had four games with over 400 passing yards, including 479 passing yards and 72 rushing yards in a 45-38 win against Oklahoma. He also threw for four touchdowns and zero interceptions in that game.
Griffin threw for five touchdowns and zero interceptions twice in his senior campaign and another five-touchdown, one-interception performance against Kansas State.
Griffin ran for two touchdowns twice this past season against Texas and Texas Tech.
With astonishing upside to his game, Robert Griffin III will find himself as a top-10 pick in this year's draft.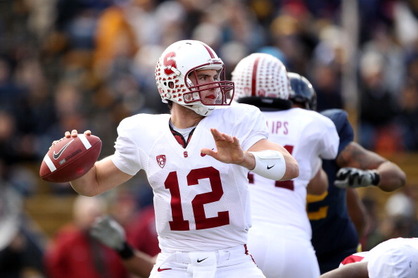 The almost certain No. 1 draft choice and possibly Peyton Manning's replacement, Andrew Luck is an outstanding talent.
Deciding to stay for another season, Luck threw for 3,517 yards, 37 touchdowns and 10 interceptions. He generated 9,430 yards, 82 touchdowns and 22 interceptions during his three-year stay at Stanford.
Last season, Luck completed 71.3 percent of his passes. He threw for at least two touchdowns and zero interceptions four times this past season.
Luck ended the season with a 169.7 QB rating. He completed over 85 percent of his passes in two contests this season, including during the Tostitos Fiesta Bowl loss against Oklahoma State.
Luck had three performances of throwing four touchdowns in games against Duke, Washington State and Notre Dame.
One of the most highly-touted quarterbacks to grace the presence of the NFL draft, expect Andrew Luck to go No. 1 overall come April 26.