WWE Elimination Chamber 2012: Why Daniel Bryan Will Win the SmackDown Match
February 16, 2012

Daniel Bryan will do what he needs to this Sunday at the Elimination Chamber to keep his belt. 
Bryan has found every loophole possible in the rules to keep his belt in the last few weeks and it has frustrated the Big Show to no end and while making Bryan one of the bigger heels on SmackDown.
If the WWE wants him to keep his status as top heel on SmackDown, he is going to have to retain the title.
Bryan had a strong chance of keeping the belt in the first place do to the amount of opponents that would be in the cage and his own cleverness. It only got better when Randy Orton was forced to pull out of the match because of an injury.
According to an article at PWTorch.com, Orton was removed because of an injury, but the reason given is a storyline concussion angle from Bryan hitting him with the belt. The injury is real, yet it is one of the smartest angles they could have made.
If it is solely an angle, then Bryan has eliminated his most dangerous opponent without even having to face him.
His greatest threat is now the Big Show, but Bryan could eliminate him if he is distracted by someone else. Between Wade Barrett and Cody Rhodes, there will be enough trickery going on in the cage to take out the Big Show.
That doesn't mean that Bryan will be able to easily take him out. With the other two babyfaces now being the Great Khali and Santino Marella, there will be precious few moments where the villains don't outnumber the heroes.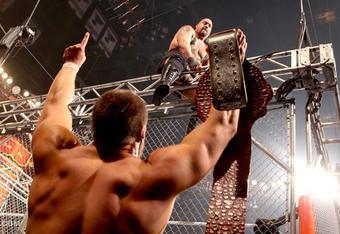 That is because there is no way to sell Khali or Marella as anything more then comedy characters. It is an important facet in the WWE, but not something that can have a character crowned champion and able to walk into WrestleMania with the belt.
While Barrett and Rhodes both have chances themselves to win, neither man has been built up enough to the point where they would be considered a top heel. Even if Barrett won, his feud with Orton is sidelined as long as Orton is injured.
Rhodes is still a mid-level draw and while he is gearing up for a run at the top, he just hasn't made it yet.
That leaves the Big Show or Daniel Bryan. 
Show could win, but then there is no reason for the two to have a match at WrestleMania or for fans to anticipate the match. They need to have a dogged and frustrated Big Show struggling to get the belt back and redeem himself and Bryan trying to clutch and hold onto it.
It is the only outcome that makes sense.
And it is the reason that Bryan will emerge from the Chamber victorious.
Matthew Hemphill writes for the MMA and professional wrestling portion of Bleacher Report.  He also hosts a blog elbaexiled.blogspot.com that focuses on books, music, comic books, video games, film and generally anything that could be related to the realms of nerdom.