2012 NFL Draft: 10 Studs Who Will Fall to the 2nd Round
Jamie Sabau/Getty Images

Being selected in the first round of the NFL Draft comes with many perks. Pride, exposure and money are just a few of the key reasons why young prospects always dream of being selected in the first 32 picks.
The top ten potential selections are lining up quite nicely, but the rest of the field is somewhat up in the air. The further the first round progresses, there are less holes that the successful teams from the previous year need to immediately address.
While many mock drafts have laid out who will be selected in the first 32 picks, the latter half is surely anybody's guess at this point. Here are ten talented prospects that have a great chance at slipping down to the second round in the 2012 NFL Draft:
Begin Slideshow

»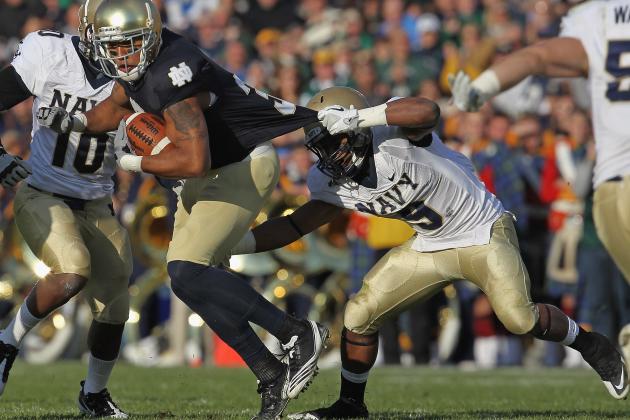 Jonathan Daniel/Getty Images

Wide receivers are always a risky first round selection in the NFL Draft. The Atlanta Falcons traded the boat for the rights to pick Julio Jones, and even though he has established himself as a threat, many are still questioning if it was the right move. In the case of Michael Floyd, these concerns are ever-present.
He has been scrutinized over his off-field issues and controversy. These incidents include getting caught for drunk driving as well as other alcohol related incidents. Combined with injuries to his shoulder and hamstring and you have a melting pot of different concerns for a possible suitor.
It would not be surprising to see Floyd drop to the second round of the draft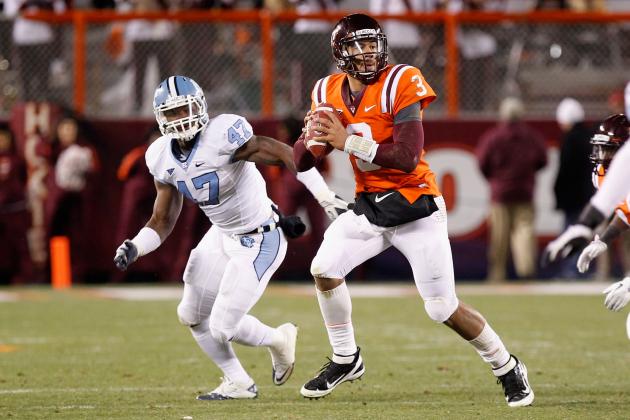 Geoff Burke/Getty Images

Zach Brown is certainly on the radars of many teams, but he does have a few downsides that may cause him to fall in the draft.
While he possesses great speed, his ability to adapt to a complex scheme has been questioned. His speed will benefit him greatly in certain formations, but another issue is his strength when matched up with a lineman blocking.
On run formations, Brown has struggled with beating a blocker one-on-one to get to the runner. With the size and skill of offensive linemen these days, that ability to make a tackle while getting blocked is crucial to stopping the run.
If Brown's downfalls are of any concern to defensive coordinators, his stock may slip come April.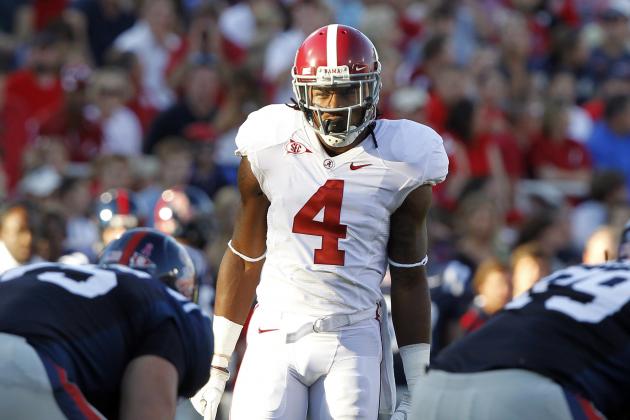 Butch Dill/Getty Images

Mark Barron, fresh off his National Championship with the Crimson Tide, possesses great talent in the secondary and is highly thought of among scouts leading up to the draft. However, he has a concerning history of injuries—including a recent hernia surgery.
By sitting out of the combine, teams will not be able to compare his talent against the rest of the class of star defensive backs. They may feel that until his injury heals 100 percent, he is not worth the risk of using up a first-round pick.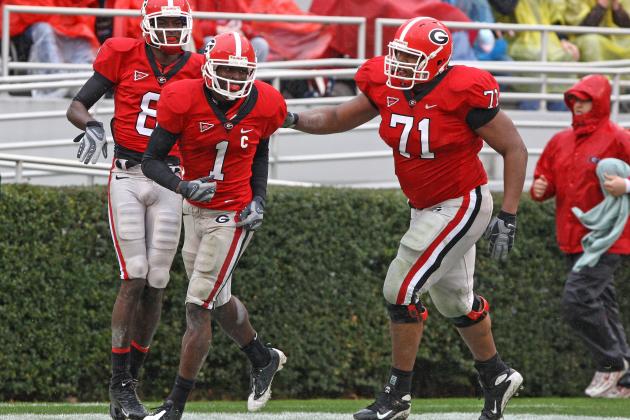 Mike Zarrilli/Getty Images

Glenn has the potential to be a first-round draft pick, but his projected positioning does not serve him well. He will likely fall outside the top 20, but with the exception of the Pittsburgh Steelers, no other team in spots 20-32 are really looking to draft a guard as a first-round priority.
One of the primary concerns surrounding Glenn is his balance and questionable technique. If he has to line up against the likes of DeMarcus Ware and Jared Allen, he will have a difficult time staying on two feet.
I foresee Glenn remaining unselected through the first round but being an early favorite during the following round.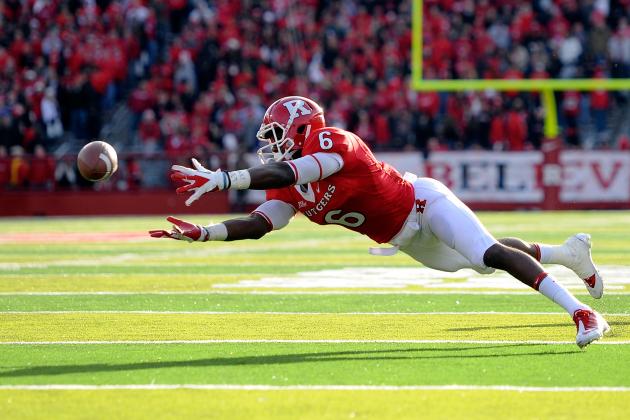 Patrick McDermott/Getty Images

Mohamed Sanu has been climbing in value as of late, but this may not translate in to draft day success.
He only had one solid season at Rutgers and has not proven he can be a consistent threat. Also, Sanu does not possess the best downfield speed and will have a tough time beating cornerbacks on deep post routes.
His inability to stretch the defense combined with the overall negative outlook towards drafting receivers in the first round may push Sanu back to the second round.
Unless the likes of Houston or San Francisco want to use their first pick on Sanu, he will likely be one of the first 20 players taken in the following round.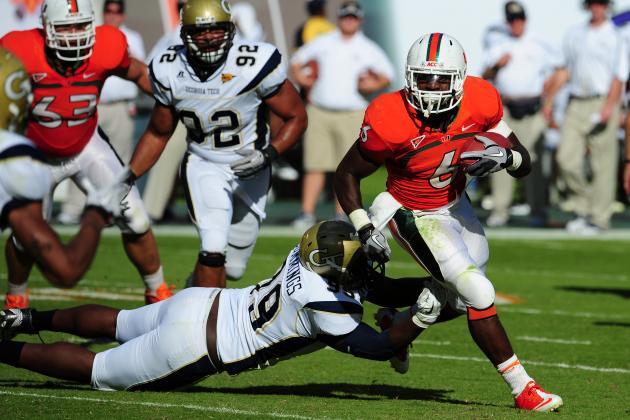 Scott Cunningham/Getty Images

The running back out of the "U" is seen as one of the top-five backs in the draft, but there is a good chance he will have to wait until the second round to hear his name called.
One of his biggest downfalls is that he runs too upright and struggles to get low in order to evade defenders. We witnessed the production of Ray Rice, Darren Sproles and MJD this past season—much of that was due to their ability to get low and make defenders miss.
Miller is great at bursting into the open field, but he is not the most powerful. He often has trouble shaking tackles. And in the passing game, he struggles to provide good protection.
If he can improve these facets of his game, he has great potential to be a breakout player in the league.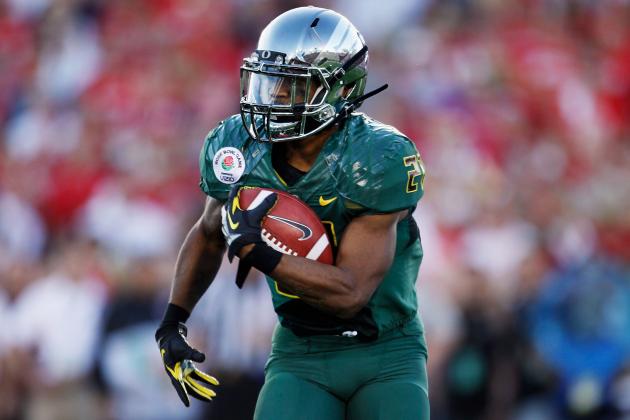 Jeff Gross/Getty Images

LaMichael James was a sensational player with Oregon, but his electric style of play poses questions as he plans to enter the draft. He is not the biggest running back, and his speed, while dominant in the NCAA, will not be as effective against a professional defense.
If he can learn to be a threat in the screen game and in underneath crossing routes, he may be attractive to a number of teams looking to diversify their offense.
He may very well turn into another Reggie Bush who had a tough time finding a stable role. I can see James getting drafted in the second round by a team who has a pass-first style of play.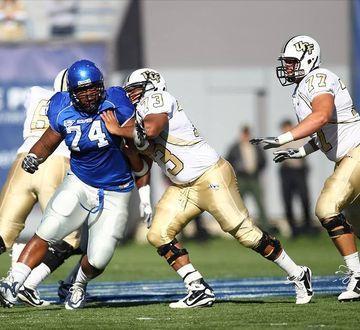 The main concerns for Dontari Poe are similar to those of Zach Brown. Poe has difficulty separating from blocks, and this was evident as he recorded a low number of totals sacks for Memphis.
This inability to get to the quarterback allows opposing teams to have great success in the air, which is the current formula for success against defenses in the NFL. These problems stem from his lack of sound technique and imbalance on the line.
If this aspect of his game can be developed, Poe has the potential to be a great pass-rusher. However, his chances of being taken in the first round are not so good.
Cox is an extremely talented prospect and was rewarded with SEC honors for his production on a sub-par Mississippi State team.
In other years, he would be a sure first-round selection. But in this year's draft, there are a number of great defensive players, and the reality is that most teams will be looking to improve their offensive prowess.
If Fletcher Cox can put on an impressive display at the combine, he may garner the attention of one of the later picks in the first round—perhaps the Green Bay Packers.
There are not too many downsides to his game. He boasts both size and speed and has proven his ability to tackle and get into the backfield.
Expect Cox to be chosen in the mid-second round range.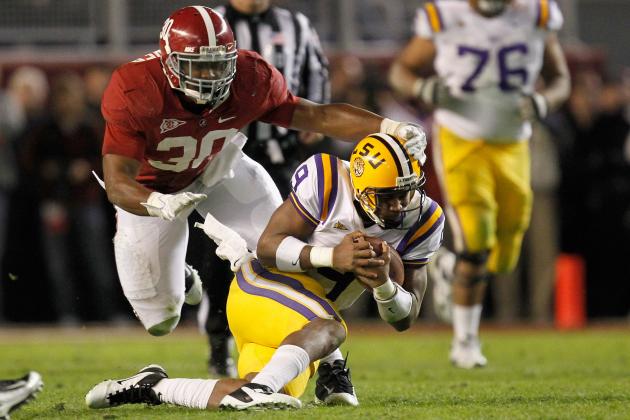 Streeter Lecka/Getty Images

A very powerful linebacker, Dont'a Hightower has definitely been creating a buzz since he declared he would take part in the draft. His main downside is his speed and quickness. He has proven he is solid against the run and has the ability to work off tackles. However, due to his lack of speed, he is not able to get to the outside to shut down speedy runners at a fast enough pace to warrant a first-round selection.
Also, his capacity to drop back into coverage and run with a tight end is being questioned, especially with the new breed of fast, tall and strong tight ends that many NFL teams now utilize.
There is a chance that the Philadelphia Eagles or New England Patriots may give Hightower a hard look, but his lack of speed will assuredly hurt his draft stock.