Jason Whitlock Wisely Follows Up Racist Jeremy Lin Tweet with Solid Column
February 15, 2012

Chris Chambers/Getty Images
Jason Whitlock caught a ton of flak for his racist Tweet directed at Jeremy Lin during the New York Knicks game against the Los Angeles Lakers this past Sunday.
It seems he hoped to redeem himself and prove he's not a bigot by penning a column for FOXsports.com about why he believes Lin's story is truly a great one. 
Fortunately, it turned out to be a darn good piece that was nuanced, effective and powerful.
He starts out by comparing Lin to Tim Tebow and his narrative that captivated the NFL landscape and America's attention this past season.
Whitlock believes that Lin's journey to success is even more special than Tebow's, considering the incredible odds he was up against and how failure was the only realistic option based on historical evidence.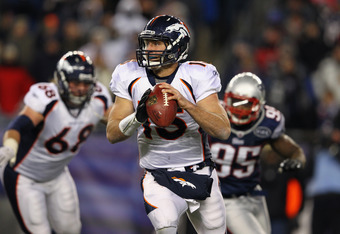 Al Bello/Getty Images
He points out that Lin went to Harvard (saying it is not known for athletics is a grave understatement), is an Asian-American (a race that has never succeeded in the league), went undrafted (barely any stars are found outside of the first round), didn't get playing time with his hometown team (was eventually cut and bounced around to Houston and then New York) and was just generally unwanted in the NBA  (Lin did not start until injuries and attrition made it inevitable).
In contrast, Tebow was given a scholarship by Florida (a football school), is white (looks like plenty of other All-American QBs), went in the first round (success is expected) and was pressured to start by the Denver Broncos' fan base.
Because of those reasons and a litany of others, Lin's journey to the top was not foreseeable whatsoever. Tebow's was impressive, but almost expected.
Whitlock then goes deeper into the subject of an Asian-American succeeding in black basketball culture.
It gets heavy towards the end of his piece, but it is well done, and I highly suggest you click over to read his comparisons of Lin to his teammates and the rest of the league.
While this column isn't going to completely redeem Whitlock for his insensitive Tweet, it certainly goes a long way to show that he truly believes Lin is a great player and good for the game.