Kentucky Basketball: 5 Things We Learned from John Calipari's Open Practice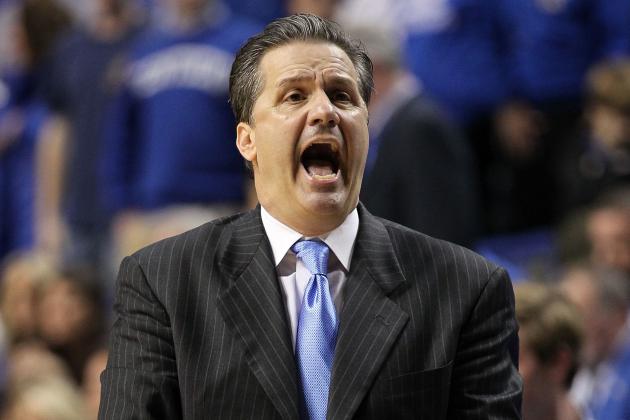 Andy Lyons/Getty Images

Big Blue Nation once again showed their passion in Kentucky's open practice today. John Calipari and the Kentucky Wildcats held their open practice for all Kentucky students and staff. Hundreds of students flocked to Memorial Coliseum to watch the No. 1 team in the nation hold a practice.
Calipari asked students to make their presence known to give the team a "midweek jolt" to avoid another Indiana-esque performance. Whether it works or not is up in the air, but it was a great atmosphere for a practice in the middle of the day and week.
Much like Big Blue Madness, the practice had an intrasquad scrimmage and audience-pleasing drills. Calipari didn't raise his voice to any player, nor did he run them for having a lack of focus.
But the focus was still there. At the start of practice, Calipari spoke with the crowd and said that "every game we play is the other team's Superbowl." And that couldn't be more true.
Here are the lessons learned from Kentucky's open practice.
Begin Slideshow

»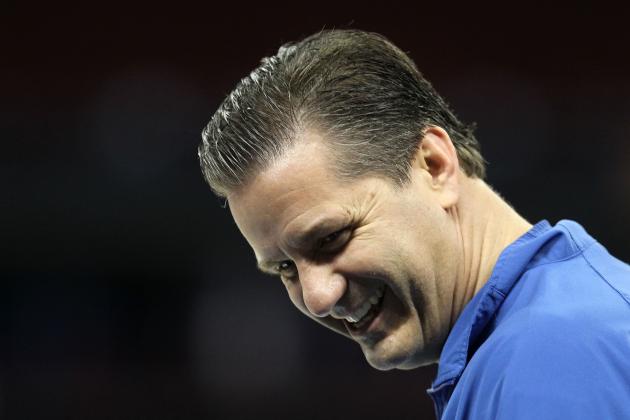 Andy Lyons/Getty Images

John Calipari knows how to work the media. When he took questions at the beginning of the practice, he was stumped by a student who asked who he would rather coach: Kobe Bryant or LeBron James.
Calipari, in all his wit, replied: "Jeremy Lin!"
This practice was a statement. Calipari began the practice by saying that "only in Kentucky" would a practice in the middle of the week garner so much attention. ESPNU, ESPN3 and WKYT all covered the event.
This event wouldn't have had the turnout at any other program, given the circumstances. There's no question as to how many students should have been in class at 2 p.m. on Wednesday. Instead, they were playing "knockout" for a chance to be in a three-point contest with the players. Ethan (a Kentucky student) and Darius Miller ended up winning.
Calipari knows recruits will see just how much hype players at Kentucky receive. This practice proved that Kentucky is one of a kind—something that goes a long way in selling a program on the recruiting trail.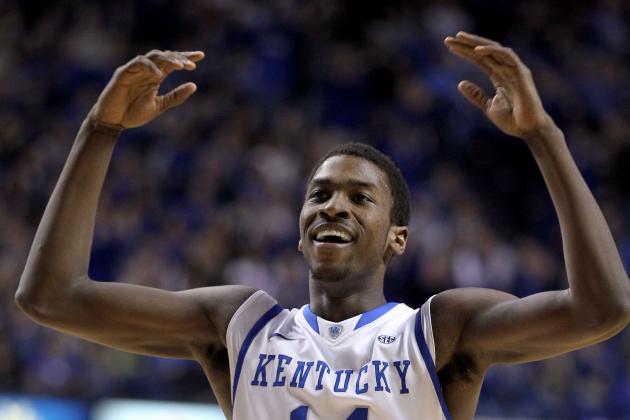 Andy Lyons/Getty Images

In the scrimmage, the players were split into two teams: blue and white. Marquis Teague, Twany Beckham, Terrence Jones, Darius Miller and Eloy Vargas represented the blue team and Ryan Harrow, Kyle Wiltjer, Michael Kidd-Gilchrist, Doron Lamb and Anthony Davis represented white.
Of course, the scrimmage was far from competitive. Offensively, plays were run that showcased Kentucky's athleticism. The halftime score was 16-7 white, but blue rallied behind a trio of threes by MKG to win 25-22.
Doron Lamb was the main focus of John Calipari's criticism. According to Calipari, Lamb was "going through the motions" while his teammates were playing. It might have been harsh, considering this practice was far from physical, but Lamb lacked the focus that Calipari was looking for.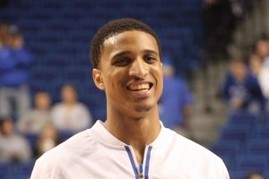 Twany Beckham has many Kentucky fans wondering why he even transferred from Mississippi State to play for John Calipari. He hasn't seen the floor more than nine minutes in a game, although he has the physical stature and athleticism to play.
This practice was more of the same. Beckham showed skill in rebounding the ball above the rim, finishing at the rim and passing the ball. However, Calipari once again called him out when he failed to rotate correctly in a simple "shell drill" where the ball moves around the perimeter.
Beckham has the potential to play significant minutes, there is no question. He needs to show Calipari that he deserves those minutes in practice. His lack of focus keeps him out of games and keeps him in coach Cal's doghouse.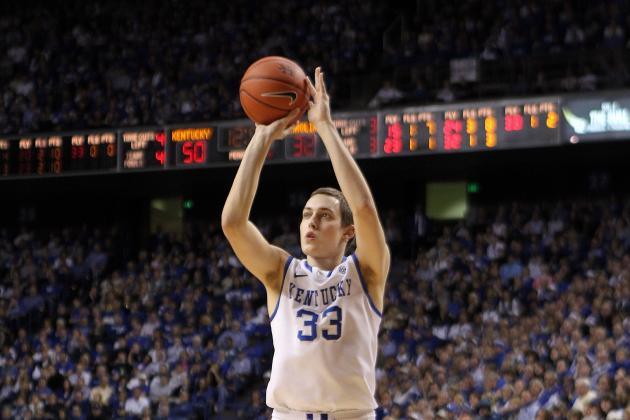 Andy Lyons/Getty Images

Throughout the practice and scrimmage, John Calipari was urging his players to be aggressive and look for shot attempts. Kyle Wiltjer was the main focus of this critique. Every time Wiltjer passed up an open look at the basket, Coach Calipari would blow his whistle and tell his young star to shoot the ball.
Such was the case for many players. Watching actual games might not show just how passive this team is, but during the practice it was evident. Calipari encouraged players to put the ball on the floor and get to the rim. He voiced his frustration when players didn't take open shots.
Moving forward, this team needs to have the confidence to shoot often. There is no reason for this team to not be able to get a quality look at the basket every time down the floor, and Calipari expressed that. Kentucky has the athletes to get to the rim and the shooters to knock down open looks.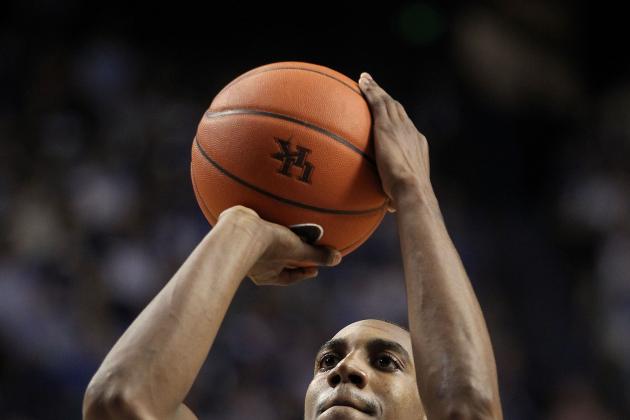 Andy Lyons/Getty Images

It's easy to look under control in practice. Games are an entirely different beast. However, Marquis Teague has controlled that beast and it showed in practice. He was calm and collected, running the point during the scrimmage and played stifling defense on Ryan Harrow.
Teague and Harrow are similar in that they are both impressive point guards, but their play-styles are poles apart. Teague is much better defensively than the smaller Harrow, but Harrow is a much better shooter. Both can get to the rim and score.
Both point guards saw the floor very well. Their passes on fast breaks were crisp and on-point, as were their entry passes in the half court.
If Teague decides to join his brother in the NBA, he will be severely missed. His maturation has been exciting to watch, and Kentucky would not be atop the standings without him. Fortunately, Harrow is ready and able to step in and contribute next year.