NFL Combine 2012: 5 Quarterbacks with a Ton to Lose at the Combine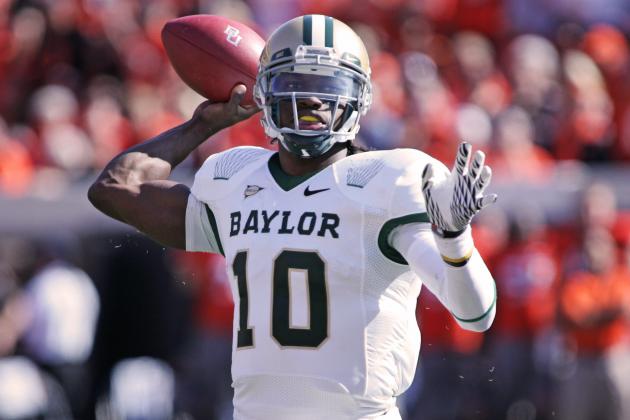 Brett Deering/Getty Images

The 2012 NFL Scouting Combine kicks off next week in Indianapolis, and while players of all shapes, sizes, and positions will be getting poked, prodded, and put through their paces one position, as it usually does, will receive the lion's share of the attention.
The quarterbacks.
Here's a look at a handful of signal-callers that need to put their best foot (or arm) forward at the combine, as for one reason or another these quarterbacks can't afford to roll out there and lay a big fat egg.
Begin Slideshow

»
It's not so much a matter of what Baylor quarterback and Heisman Trophy winner Robert Griffin stands to lose at the 2012 combine as it is what he could fail to gain with a sub-par showing.
The strong-armed and agile passer has stated that he has designs on being selected first overall in April's NFL draft, and if Griffin is going to surpass Stanford signal-caller Andrew Luck then he will need a lights-out effort at both the combine and Baylor's March 22nd pro day.
Arizona quarterback Nick Foles had a wildly successful statistical season on a bad Arizona team in 2011, passing for well over 4,000 yards, 28 touchdowns and earning All Pac-12 honorable mention honors.
However, Foles struggled a bit with both his accuracy and footwork at last month's Senior Bowl, and a poor showing in Indianapolis could cause the 6'5" 240-pound passer's already dented draft stock to become even more crumpled.
Boise State quarterback Kellen Moore had a wildly productive collegiate career, but the Boise State standout's Senior Bowl was an unmitigated disaster, with the concerns about Moore's size and arm strength becoming readily apparent for all to see.
It's desperation time for Moore at the combine, as unless he can change quite a few minds in Indianapolis and at the Boise State pro day, Moore will likely find himself a late draft flier in April at best.
Maybe he should paint the turf blue.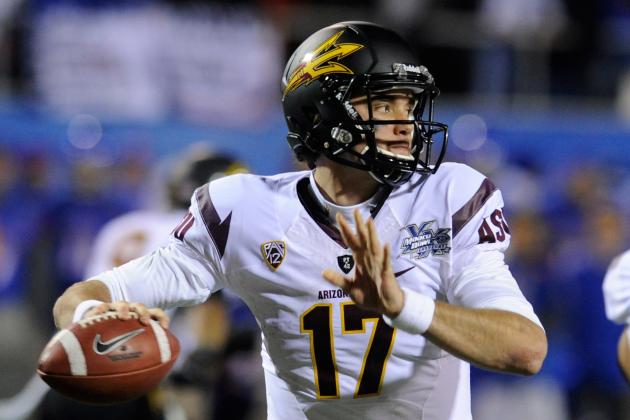 Ethan Miller/Getty Images

To say that Arizona State quarterback Brock Osweiler has the frame of an NFL quarterback is an understatement, as the junior, who threw for over 4,000 yards and 26 scores last year, is a startling 6'8" and 240 pounds.
Osweiler has a strong arm, but has struggled with inconsistency and poor technique and decision making in the past. It will be essential for Frankenweiler (6'8"? Geez.) to put on a strong showing that demonstrates he has a future as an NFL starter and not a project that may one day grow into a capable backup.
San Diego State quarterback Ryan Lindley put up some ridiculous numbers over his career with the Aztecs, throwing for over 13,000 yards and 90 touchdowns in four years under center.
However, Lindley completed only 53 percent of his passes as a senior, and accuracy was again an issue for the 6'4" 230-pounder at the Senior Bowl.
Should Lindley continue to have trouble putting the ball on target at the NFL Combine and at SDSU's pro day, there's a very real possibility that he could fall from late draft "project" quarterback to undrafted free agent.