Cris Carter's Beef with Randy Moss Reeks of Jealousy
February 15, 2012

Jonathan Daniel/Getty Images
Cris Carter and Randy Moss weren't just teammates in Minnesota. Carter, a veteran at the time of Moss' start in the NFL, took the younger receiver under his wing and treated him like a brother.
They eventually parted ways when Carter left for Miami in 2002 and ultimately ended his career soon there after.
Nobody knows Moss the way Carter does other than Moss himself. The two players' career paths don't just intertwine with their time in Minnesota, either. Both men are ranked in the top 10 of career receptions, yards and touchdowns.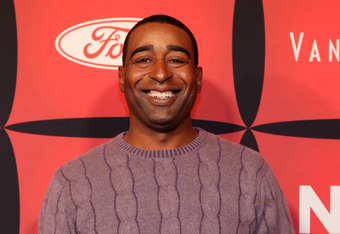 Robin Marchant/Getty Images
They're two of the best receivers to ever play, not only their position, but the game of football.
However, even with all these niceties, it isn't surprising at all to see them take shots at one another in the media.
Carter is now an NFL analyst for ESPN.
On the "Mike and Mike" show this week, he had this to say about his former teammate:
The one thing you have to address with Randy Moss is not a conditioning thing. It's not an age thing. ... I believe it's the elephant in the room. It's that thing called quit.

And Randy, not like any other superstar I've met, he has more quit in him than any of those other players. So I need to address that. That's what Belichick did when he brought him over from Oakland (in 2007). He told him he wasn't going to have it. But Randy, when things don't go well, like no other player I've ever been around or associated with, he has a quit mechanism in him that's huge. That needs to be addressed before he signs with any team.
Moss, who is currently retired but open to making a comeback, tweeted in response: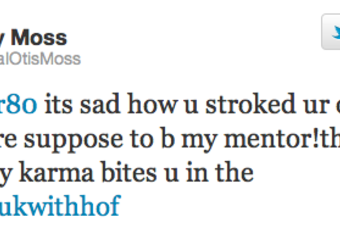 He later tried to clean it up by tweeting, "Cc no matter I still luv u bruh." However, the damage had already been done. Carter has just been left out of the Hall of Fame for the fifth straight year.
Ronald Martinez/Getty Images
The hashtag was far from understated. Everyone knows that Carter is still coping with the fact that he's not yet voted in.
Moss, meanwhile, is expected by many to be a first ballot Hall of Famer himself.
We know that Carter is paid to give his opinion and analyze players, but he also knows the type of personality Randy is, as evidenced by his first-hand account of Moss' "quit mechanism."
He knew he'd get a retaliation out of him, but he didn't care because Carter is as self-absorbed as an analyst can be.
His knock on Moss screams of two things: jealousy and truth.
We know Moss can sulk and quit; we've seen it time and time again.
However, Carter took this opportunity to knock Moss because he knows the younger receiver is going to get voted into the Hall of Fame whether he returns or not. He knows Moss is a better player than he ever was. What's more, he knows that the only thing he can do about it now is to knock him a bit when the opportunity presents itself.
Cris Carter deserves to be in the Hall of Fame someday, but he doesn't need to knock a friend and former teammate to validate it.