Manchester United: Top 10 Goals All-Time (with Video)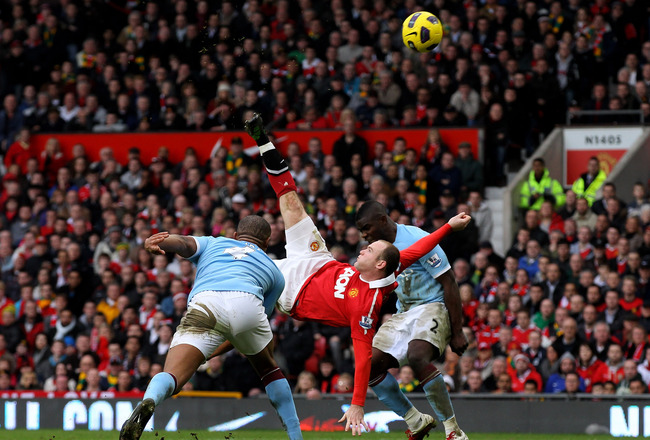 Wayne Rooney's Sensational Overhead Volleyed Goal For Manchester United In Their 2-1 Win Over Manchester City at Old Trafford - 12th February 2011
Alex Livesey/Getty Images
Wayne Rooney, Cristiano Ronaldo, David Beckham, Ruud Van Nistelrooy, Ryan Giggs, Eric Cantona, Sir Bobby Charlton, George Best, Mark Hughes, Ole Gunnar Solskjaer—they all have something in common at Manchester United.
Those 10 players quite possibly scored the 10 best goals of all-time for the Red Devils.
Of course, that statement is up for debate, and it is a highly subjective matter deciding which goals are the best.
Some honourable mentions include Nani's goal against Middlesbrough, that Paul Scholes thunderbolt against FC Barcelona, Federico Macheda's winner at home to Aston Villa, the Carlos Tevez game-clincher at Liverpool or Ruud Van Nistelrooy's goal away to Charlton Athletic.
And those are just a few of the sensational Manchester United goals scored in the past decade, with greats like Jack Rowley, Joe Spence, Denis Law, Dennis Viollet, Norman Whiteside, etc., all scoring phenomenal goals in Manchester United's history.
With so many great goals to choose from, here are 10 that could be Manchester United's greatest. Of course, if you think some of them are not the best, please say below which ones should be on this list.
Ole Gunnar Solskjaer vs. Bayern Munich
There's no other goal to start with than the most important one in Manchester United's history—that winner at the Camp Nou against Bayern Munich to win the 1999 UEFA Champions League and the Treble.
In the last minute of stoppage time, David Beckham whacked the corner in. Teddy Sheringham—who had just scored a sensational late equaliser in the 91st minute—flicked it on, and the "baby-faced assassin" that is Solskjaer did what a few minutes earlier seemed impossible—he scored the winner for Manchester United.
It was little more than a tap-in technically, but for the Red Devils, it was the most important goal in their history.
George Best vs. Sheffield United
From the most important to the best—George Best to be precise.
Remember when Diego Maradona dribbled past loads of players, then struck the ball across the goalkeeper and in off the post? And when Lionel Messi did it against Real Madrid in El Clásico?
They were copying George Best and his vintage 1971 goal against Sheffield United.
Sir Bobby Charlton Wonderstrike
From a man called Best to a player who truly is Manchester United's best.
Sir Bobby Charlton, United's all-time highest goal scorer, scored many sensational goals throughout his career, but his best, and one of Manchester United's best, is one to see.
From the edge of their own penalty area, the ball breaks with Charlton starting off the attack, keeping up with play and receiving it back in the middle, before exploiting the space in the centre and firing in a sensational 30-yard screamer.
Mark Hughes vs. Oldham Athletic
Mark Hughes probably never scored a better goal than the one he did against Oldham Athletic in 1994.
It was the FA Cup semifinal at Wembley, and Manchester United were 1-0 down with one minute left of stoppage time. A lot of Manchester United fans had already left the ground disappointed, and many more were preparing to leave disheartened.
But then in one final attack, the ball gets flicked back into the penalty area, Hughes runs past two defenders, meets the ball and from 15 yards and volleys the ball past the Oldham keeper and into the back of the net.
Manchester United won the replay 4-1 at Maine Road before going on to lift the 1994 FA Cup with a 4-0 thrashing of Chelsea.
Eric Cantona vs. Sunderland
The run, the link-up play, the finish, the celebration.
Pure magic, pure Eric Cantona.
David Beckham vs. Wimbledon
It was the goal that made David Beckham as a Manchester United player.
Everyone knew the kid was special, but when he showed the vision, intelligence, decision-making and technique to spot Wimbledon's goalkeeper Neil Sullivan off his line, and then proceed to kick the ball over his head and into the back of the net, this young player was no longer special.
He was a Manchester United legend.
Ryan Giggs vs. Arsenal
It was the second half of extra-time, and the game needed a moment of magic.
Ryan Giggs intercepted a Patrick Vieira pass in his own half, and ran with the ball all the way into the opposition penalty area, beating four defenders, before bombing the ball past a helpless David Seaman.
Out of nowhere Giggs had dumped Arsenal out of the FA Cup, and provided Manchester United with the momentum they would need to win the Treble.
The goal was vintage Giggs, and vintage Manchester United.
Ruud Van Nistelrooy vs. Fulham
Ruud Van Nistelrooy should go down as Manchester United's greatest ever striker.
He scored 150 goals in 219 United games—making him United's most prolific player of all-time—and was king of the penalty area, beating all kinds of defences.
And to anyone who claims he was just a goal-poacher, watch this classic Van Nistelrooy goal.
Cristiano Ronaldo vs. FC Porto
This goal against FC Porto from 2009 in the UEFA Champions League was pure Cristiano Ronaldo magic.
The vision, power, control, accuracy, technique—all blended together beautifully, allowing the ball to slowly rise upwards and glide into the back of the net from 40 yards out.
It was a goal that summed up Manchester United and Ronaldo in one word—unstoppable.
Wayne Rooney vs. Manchester City
This goal sums up why Wayne Rooney is one of the best players in the world and why Manchester United are one of the best teams in the world.
When a team has players who can score goals like this, there's just no stopping them at times.
The positioning, anticipation, timing, technique, power, accuracy and ingenuity made this a goal like no other.
Joe Hart and the Manchester City defenders could only watch as Rooney scored one of the greatest goals in Premier League history.
Keep Reading

Manchester United: Like this team?