UFC on Fuel TV 1: Final Main Card Prediction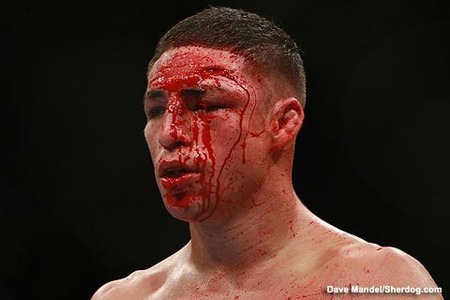 Diego Sanchez/ Dave Mandel for Sherdog.com
Come later tonight, Diego Sanchez and Jake Ellenberger, two welterweight contenders, will square off in the main event for the UFC's first card on Fuel TV.
A rarity will occur when a six-fight main card will take place as a bevy of talented fighters will be prominently showcased, though all the preliminary action could be caught on Facebook.
The main card is stacked with talent and the winners will likely move into title contention in their respective divisions. Who will come out on top?
Diego Sanchez/ Dave Mandel for Sherdog.com
Begin Slideshow

»
Menjivar/ Scott Petersen for MMAWeekly.com
It's a battle of young versus old.
Is Menjivar, a 10-year veteran of the sport, too over the hill to be taking on a hungry up-and-comer like Albert? Nah.
Expect the Canadian to wade forward with his brilliant array of strikes, though Albert will be there every second of the fight to answer Menjivar blow for blow.
In the end, it will be the accumulation of strikes thrown and landed by Menjivar over the course of three rounds which will earn him the decision win, though Albert will garner the praise of the fans thanks to his gutsy performance.
Ivan Menjivar defeats John Albert by Decision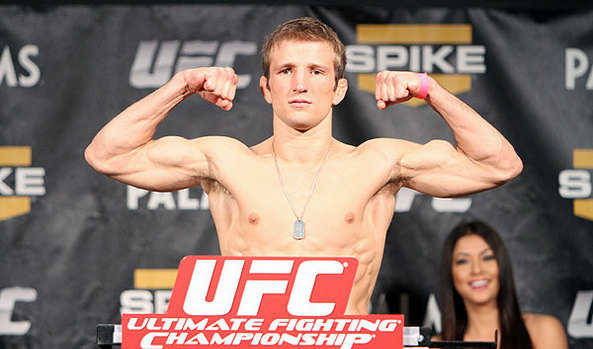 Dillashaw/ Scott Petersen for MMAWeekly.com
Stylistically, a guy like Watson will always have issues with wrestlers, thanks to his lanky frame and background as a kickboxer.
For Dillashaw, this is a walk in the park for the Team Alpha Male product, as an opponent of Watson's stature is tailor made to show off his technical prowess on the ground.
"The Gazelle" is tough, so he should meet the final bell while tagging Dillashaw a few times whilst standing, though The Ultimate Fighter finalist will have enough gusto to take down Watson time and time again, keep him there and punch away with ground-and-pound blows.
TJ Dillashaw defeats Walel Watson by Decision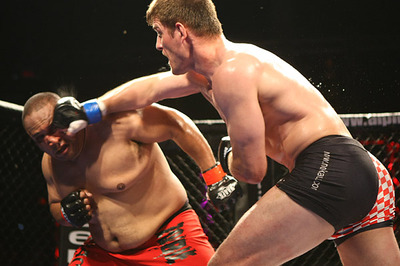 Miocic (right)/ Sherdog.com
Philip de Fries' biggest skill set lies on his grappling skills, but what happens when the Brit is pitted against a collegiate level wrestler with heavy hands and a true striking acumen?
That's what we'll witness later tonight, as Stipe Miocic will shrug off every takedown from De Fries, while landing long jabs and punches over and over again.
Eventually, a Miocic right hand will find its mark, where the avid Mirko Cro Cop-fan will pounce on his opponent and close the show with ground-and-pound blows.
Stipe Miocic defeats Philip de Fries by TKO, Rd. 2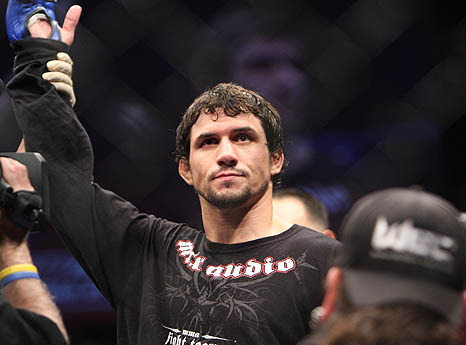 Aaron Simpson/ Laron Zaugg for MMAWeekly.com
A Brazilian jiu-jitsu whiz hailing from the Nova Uniao camp, Ronny Markes proved that he belonged in the Octagon when he defeated juggernaut light heavyweight Karlos Vemola in this UFC debut.
His grappling skills are up to par. However, a former two-time NCAA Division I All-American in Aaron Simpson will have plenty of tricks up his sleeve to stay away from the submission prowess of Markes.
Simpson will clinch with Markes early, keeping him against the cage where he will grind away with short pot-shots and knees in the clinch, tiring out Markes before he looks to finish the fight in the middle of the cage with some heavy shots.
Aaron Simpson defeats Ronny Markes via TKO, Rd. 3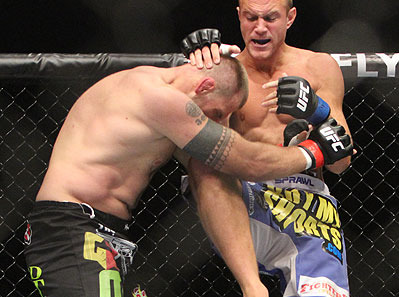 Herman (right)/ Ken Pishna for MMAWeekly.com
There's a reason why the 6'11" heavyweight Stefan Struve has been regarded as one of the top prospects in the heavyweight class. There's also a reason why his opponent Dave Herman, who has 23 fights under his belt, is only twice beaten in his career (via TKO and DQ).
Struve has shown marked improvement in his striking, though his bread-and-butter will always be his submission skills. A guy as well-rounded as Herman will always be cause for concern, as the Team Quest fighter will be away to maneuver himself away from the mat and look to land that telling blow on the feet.
He's not the most technical fighter in the world, but Herman almost always gets the job done. Expect for the heavy hands of "Pee-Wee" to find their mark on the chinny Struve, who will wilt early from the telling blows.
Dave Herman defeats Stefan Struve by Knockout, Rd. 1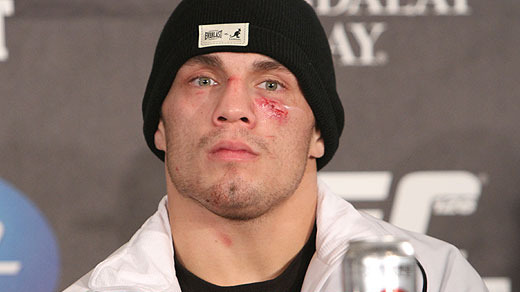 Jake Ellenberger/ Ken Pishna for MMAWeekly.com
In this highly anticipated five-rounder, contenders Jake Ellenberger and Diego Sanchez will enter the cage.
Though both their strengths lie in their grappling skills, both men have stark differences.
Ellenberger is the much bigger man of the two and is by far one of the most powerful men in the welterweight class. Wielding collegiate level wrestling skills and some true one-punch knockout power, Ellenberger remains a dangerous matchup for anyone at 170-pounds, especially that of Sanchez.
"The Dream" has a tendency to eat shots early, though against "The Juggernaut," that's a recipe for disaster.
Expect Sanchez to wade in recklessly looking for the takedown, though Ellenberger will shrug off all attempts while bludgeoning the face of Sanchez early with some powerful hooks to the dome.
Eventually, an Ellenberger right hand will land flush, sending Sanchez to the mat where he will become victimized by some heavy-leather.
Jake Ellenberger defeats Diego Sanchez via TKO, Rd. 2