UNC Basketball: Why Harrison Barnes Will Etch His Name in Carolina Lore
February 15, 2012

Streeter Lecka/Getty Images
As the confetti falls from the rafters of the Superdome in New Orleans after the North Carolina Tar Heels win the 2012 National Championship, college basketball media and fans will look back on the season that was and wonder how it all happened.
The emergence of Harrison Barnes steadily grew throughout the months leading up to the 2012 NCAA tournament, and with each game that passed, he became more and more of that story we all dreamed he was destined to be. A destiny that we've conjured in our minds for over two years now.
It all began on November 13th, 2009 when he began his future as a North Carolina Tar Heel, by announcing his decision to attend the school by placing a Skype call to head coach Roy Williams. By picking the Heels over Duke, Kansas, UCLA, Oklahoma, and Iowa State, he started a frenzy of daydreaming fans thinking of championships, Duke domination, and countless awards and accolades for a rising star.
It was easy to envision his jersey hanging from the rafters at the Dean Dome, surrounded by historical UNC icons such as Jordan, Worthy, Carter, Wallace, and Stackhouse. Looking back now, it's easy to see that the expectations placed upon the young player were far too great.
He entered the 2010 season with a dizzying amount of praise and adoration. He was voted as the first freshman in Associated Press history to be voted as a preseason All-American, before ever even putting on his jersey in Chapel Hill.
He started the season slow, but gradually began living up to the expectations. By the end of his freshman season, he was playing like a star. His list of accomplishments included; 2011 ACC Rookie of the Year, Second Team All-ACC, All-ACC Freshman Team, most points by a Carolina freshman in the ACC tournament since Phil Ford did it in 1975, and most points in NCAA tournament by a freshman in Carolina history.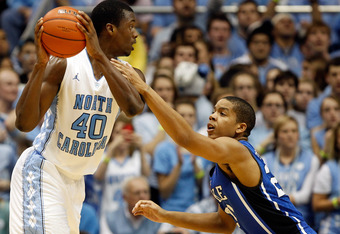 Streeter Lecka/Getty Images
His numbers were decent, but they won't blow you away, with averages of 15.7 points and 5.8 rebounds. The same can be said with this season, where he is averaging 17.5 points and 5.0 rebounds, which seem to mirror one another.
Just like last season, the sophomore is slowly but surely picking his game up as the season progresses. Take a look at the Duke game last week, where he dominated the defensive-minded Blue Devils from start to finish, finishing with 25 points, putting the team on his back before their late game collapse, which was no fault of his own.
When he has his game going along with his killer instinct, it's nearly impossible to stop the 6'8" small forward. Following that game, he notched a double-double against Virginia with 14 points and 11 rebounds. 
For whatever reason, it takes Harrison Barnes the duration of a season to round himself into his star playing shape. There's no denying he has gotten better as the season progressed in both his freshman season as well as this season.
In 2012, he knows that the expectation of his Heels team is to win in New Orleans, and bring the championship trophy home to Chapel Hill. He is an intellectual student-athlete who works tirelessly on his game, and most importantly, he wants to be great not only individually, but he wants the same for the teams he plays for.
The pressure of winning at UNC is something he has grown accustomed to, and he won't let it affect him as we enter the home stretch of the regular season. He has the poise of a veteran and knows that the Carolina team has the pieces to win a championship, and that he must be the leader of the team for it to happen.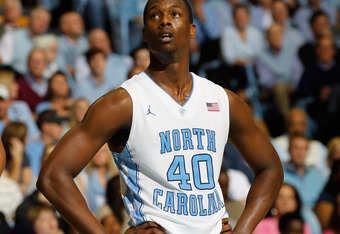 Streeter Lecka/Getty Images
What may factor most into the ascension of Harrison Barnes' season and the legacy he leaves at North Carolina may ultimately have been fueled by nemesis Duke and their brash freshman star Austin Rivers. Publicly, he got the better of Barnes, most specifically the game winning three-point shot as time expired, and you can believe that he won't take kindly to it. 
Expect a killer instinct to remain in place for the rest of the season as he gets set to destroy anyone in his path. He was labeled a star before he ever played a game in Carolina blue, and he will make sure that he doesn't leave the University of North Carolina before he lives up to not only the expectations bestowed upon him by the rest of the county, but by his own sky high expectations for himself.
Harrison Barnes may not play with the verbal aggression and fancy style that many other college stars play with, but there's no denying he is one of the most talented basketball players this country has to offer. Don't believe me?
You will when he has the last laugh in New Orleans. Letting the confetti streams rain down on him while he holds the University of North Carolina's sixth national championship trophy, Harrison Barnes will be crowned 2011 NCAA Basketball Tournament's Most Outstanding Player.
A fitting end to a career of a quiet superstar who will always be revered for his two seasons as a North Carolina Tar Heel, one filled with individual accolades, but more importantly to him, team immortality.